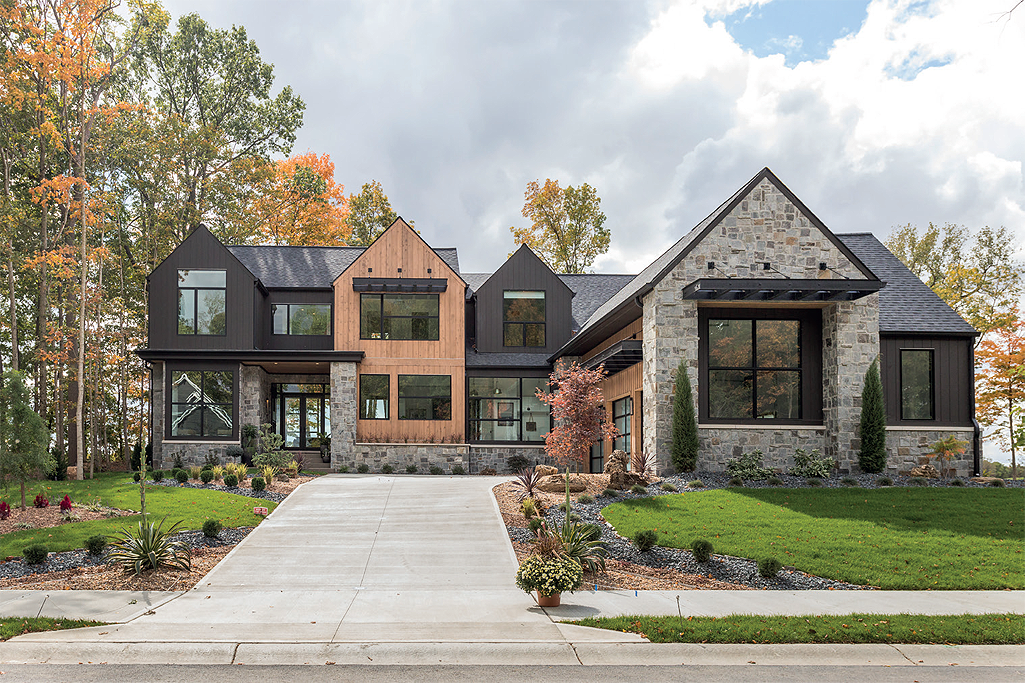 Honesty integrity and quality
For someone looking to source a custom home builder in Central Indiana, Kent Shaffer Homes has to be one of the first ports of call. For nearly 30 years the company has been the gold standard of custom home construction in this region, and having now built over 250 industry-recognized premier homes in some of the most desirable neighborhoods, Kent Shaffer Homes and its team can design and build a house from the ground up, or offer a selection of move-in ready homes where available.
With three decades of construction experience under his belt, Company President Kent Shaffer has seen all the ups and down that this exciting market sector can bring, and he is now joined by his daughter Kristen in the business, who represents the third generation of builders in the family. Kristen noted that over the past two years there have been some exciting times for the business, with continued growth in the luxury real estate industry. She particularly highlighted the HOMEARAMA events that Kent Shaffer Homes has been part of, as standing out – HOMEARAMA is a premier annual event that features the latest and greatest in home and landscape design. "We now have the last two HOMEARAMAs under our belt, and we won a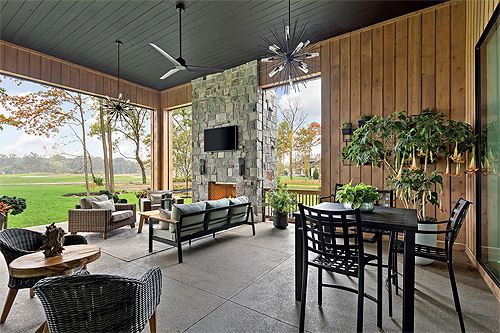 People's Choice Award in one, for our custom business," she revealed. This was in 2018, when Kent Shaffer Homes' Modern Farmhouse in Chatham Hills was selected as a winner.
Kristen also highlighted the 2020 build from Kent Shaffer Homes for HOMEARAMA as a stand out project undertaken by the business during the last 12 months. "It was so fun seeing peoples' reactions to the show-stopping great room and view," she said. "It was such a breath-taking blend of soft wood, steel, and stone, as well as such a departure from some recent building trends that we have been meeting with new and future clients non-stop since the show."
A 7700 sq. ft. modern-industrial style home that blends steel with natural materials, this particular build is located in Holliday Farms, Zionsville – one of the neighborhoods where Kent Shaffer Homes is creating a beautiful new community. Holliday Farms features generations of history and stunning natural surroundings, including beautiful, rolling terrain, and golf designed by world-renowned architect, Pete Dye.
Continued success
Another of its developments, Chatham Hills, combines beautiful landscapes and surroundings with a true sense of community. Members of Chatham Hills have access to exceptional recreational amenities, a spectacular 62,000 sqft. Clubhouse, fine and casual dining options, and year-round programs and activities. Kent Shaffer Homes currently offers the ability for families to build on incredible home sites on the course in Chatham Hills.
"Holliday Farms in Zionsville, and Chatham Hills in Westfield continue to give us the opportunity to push the envelope with our builds," said Kristen. "While some builders are very successful with building 25-40 'custom homes' a year, our 10-15 gives us the opportunity to keep the process personal and ensure the result will be the house on the street people slow down to look at."
The properties that are constructed at Holliday Farms, Chatham Hills and indeed all of Kent Shaffer's communities all continue with the Shaffer family practice of constructing fine homes. The Shaffer family maintain a tradition of attention to detail and fine craftsmanship with a unique perspective in the design and construction process. Kristen highlighted some aspects of the business that set it apart from the competition. "First, only using the highest quality materials, the best craftsmen, and a refusal to compromise on quality have been our recipe for over 30 years. Second, as a daughter and granddaughter of well-known builders, I have built on what worked for them as well as brought a new and expanding vision to our company that many of our clients feel more comfortable and excited about There unfortunately just aren't a lot of women out there in my field. Clients like that unique point of view to the process. Last, it has been the increasing level of competition. The more our clients shop around, the more they realize there is a reason for our continued success and good name."
As her role within the business has grown, and her years in the industry accrued, Kristen has noticed a change in the perception of a younger woman in what is traditionally a 'man's world'. "There is a broader acceptance of a younger woman building your dream home," she confirmed. "Before, clients knew I was involved but still wanted to see Kent around. The more my portfolio of builds has grown the more clients have come to us specifically to work with me, which is gratifying."
Culture & values
Having referred to the communities where Kent Shaffer Homes has created dream homes for its clients, it is worth mentioning a few more as the company has built extensively in the greater Indianapolis area: West Clay (Carmel), Stonegate (Zionsville), Austin Oaks (Zionsville), and downtown Indianapolis in the Historic Herron Morton Neighborhood. These communities are all located close to excellent schools, shopping, dining, and all the conveniences of city life but away from the hectic pace. Furthermore, the company also builds on custom lots that clients have purchased and if a customer is looking for an individual lot outside of a neighborhood, Kristen can help with that too, as she is also a certified Realtor/Broker with FC Tucker in order to better handle client needs.
If a client decides that Kent Shaffer is the company they trust with their home construction project, then continuing with the family feel and also showing a remarkably hands-on approach, Kent and Kristen are personally involved through the entire process. Kristen explained that retaining the same culture and values that have served the business over the years is very important and that these have been inherited from previous generations. "It's simple, I wouldn't be who I am today without growing up on job sites. The decades of experience I can draw from my father, uncles, and grandfather is something that can't be quantified. The Shaffer name goes back far enough that I am now in a unique, and amazing, position where I have built dream homes for children and even grandchildren of clients of my father's and grandfather's."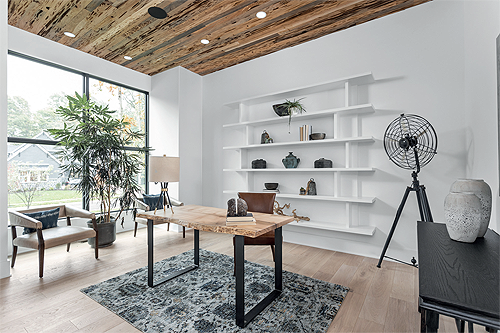 This dedication to serving both the old and new generation is something that Kristen holds very dear, and this philosophy directs the strategy for the future. "Continued steady growth, rather than a flash in a pan, is my business model. Even if there is an 'eventual' economic slowdown, it was those times in the past the Kent Shaffer Homes really earned its bonafides by continuing to build as the 'flashy new cars' went out of business. There are little ones building pillow forts in homes that I have built, that will one day be coming to me to build their homes," she said.
Game changer builds
Having already discussed the 2020 HOMEARAMA house and its success, it must also be noted that the results that Kent Shaffer Homes enjoyed with that project were achieved during what have been extraordinary trading conditions, brought on by the coronavirus pandemic. Kristen admitted that it brought challenges, and went into highlight how the business had addressed them. "Material supply was affected greatly by the pandemic," she said. "In some cases, pushing schedules by a few weeks to disruptions. Some of this has also led to increases in pricing. Dealing with these challenges are like any other challenge, just be honest with people. These are man-made products, and as such circumstances will always arise. Communication, honesty, and the philosophy of 'no such thing as a 40-hour work week' helps to overcome these challenges and in the end, the client has always understood and left happy."
She continued: "To our surprise, our business during the pandemic has been at its best in three decades. Our work with the best architects, designers, and craftsmen has driven our success. Our marketing is almost entirely word of mouth, so ultimately our successful growth is owed to our satisfied clients sharing their experience with friends and family."
As we enter 2021, it was gratifying to hear that this year is also already looking like it will bring even further success to Kent Shaffer Homes. "Part of me hoped for a short breather after HOMEARAMA but there is no rest for the successful," Kristen exclaimed. "We are under contract for some game changer builds with high profile clients. We are also doing some really impressive luxury remodels. Still, what I love the most is closing day with a family when it dawns on them that the project is now a home and they can get down to the important business of making memories."
Kent Shaffer Homes
www.kentshafferbuilders.com
Services: Custom home construction