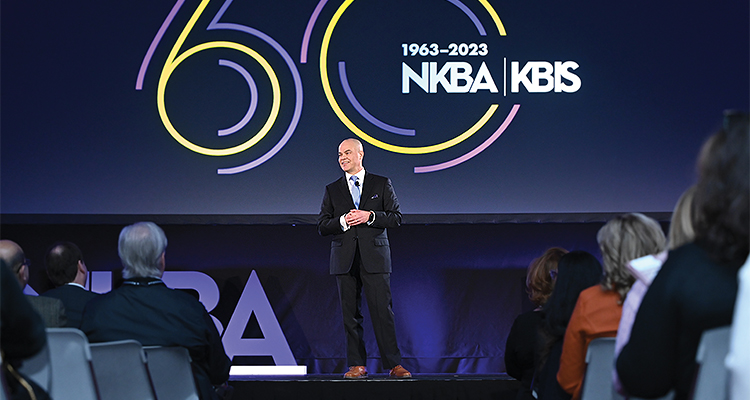 Insight from the CEO of National Kitchen and Bath Association on how to lead the home renovation industry
For 60 years, the National Kitchen and Bath Association (NKBA) has been the cornerstone of education, information, and networking for the industry's varied market segments ranging from design and remodeling to manufacturing and retail. Established in 1963 as a network of kitchen dealers, NKBA has evolved into the world's leading trade association for the kitchen and bath industry, providing an unparalleled network of peers, tools, research, certification, and events to thousands of professionals.
Today, it has an increasingly global reach and has become synonymous with KBIS, one of the largest trade shows in North America that NKBA owns. For the last decade, however, Bill Darcy has been steering the non-profit trade association towards newer horizons in his role as CEO. In this discussion, we gain insight into Bill's perspective on the home industry, the 2023 KBIS expo, as well as his mentorship under Roger Penske, and his vision for the NKBA's future.
Road less travelled
Bill joined the NKBA in 2006 as Manager of Marketing Partnerships, and rose through the ranks to Manager of Business Development, Senior Manager of Marketing, Director of Marketing, and Executive Vice President, before he was ultimately promoted to his current position as CEO in 2012. "My path is a bit unusual in that I went from focusing on tires to tiles," he begins.
"Prior to the NKBA, I spent seven years in corporate sales and marketing with Penske Motorsports/NASCAR, where I managed a staff that oversaw more than 50 multi-venue sponsors, and contracts totaling to more than $200 million. I think having a marketing background has allowed me to maintain a member-first mindset within the whole organization, instilling in me a deep commitment to consistently deliver the utmost value and strive to exceed expectations."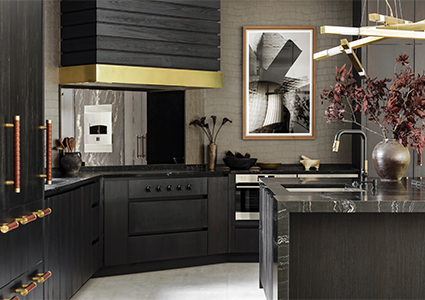 As part of Bill's impressive resumé, he was fortunate enough to have been mentored by one of the greats: Roger Penske, the Founder and Chairperson of Penske Corporation. "Roger was an early mentor for me and a huge influence on my professional development. Back in my mid-20s, having one-on-one interactions with Roger truly shaped my foundation for how business leaders plan and execute successfully. While no one defined the culture at Penske, you just knew what it was. Effort equals results was the expectation. You were inspired to work hard and deliver excellent results because you had this internal desire to make Roger proud and do things the 'Penske way'. This formative experience taught me what true leadership looked like, something I've carried with me throughout my career."
During his time under Roger's tutelage, Bill learnt there were no limits to hard work for a hard-working person. "Pushing yourself to make sure every 'i' was dotted and every 't' was crossed, double and triple checking and treating each customer with a level of professionalism, courtesy and follow-up like they've never experienced before. When you did this, those with whom you interacted knew you worked for Roger."
Overcome adversity
Throughout his tenure, the landscape in the home remodeling industry has shifted dramatically, impacting manufacturers, designers, and retailers in a range of unique ways. "It's my job to not only help our members adapt, and navigate industry trends and larger housing market changes and economic turns, but also to make sure the NKBA team has the support it needs to be a critical resource for our members from the research and marketing front. For example, our industry saw a decline and then resurgence during the pandemic, and, in my role, that meant my message and mission had to quickly evolve from 'business as usual' to promoting safety and advocating in support of our members during the heart of the pandemic."
According to Bill, leading KBIS during such a turbulent and unprecedented period was one of the most challenging moments of his career. Although his goal was to hold on as long as possible before cancelling the KBIS live expo in 2021, Bill was then tasked with making a substantial investment in technology to deliver an augmented reality experience for members to participate while they were at home. "I then needed to make decisions to continue investing in the show to bring it back in person for 2022 when times were still very uncertain. Seventy-thousand attendees showed up at our show in Orlando, making it the most attended event at the time in North America, possibly the world. We continued to invest to make the 2023 show in Las Vegas, which was one of the most successful in our 59-year history of the event."
Voice of the community
Organizations like NKBA represent the best interests of its membership. They also help cultivate industry standards, promote community, establish and support networks, and offer certifications that raise the level of professionalism. While each of these advantages make the work incredibly rewarding, Bill highlights that earning the trust and confidence of NKBA's Board of Directors and staff throughout his tenure has been equally fulfilling. "Over the last 11 years as CEO, I've pioneered a few initiatives that have significantly shaken up how we've operated as an organization. From overhauling our digital infrastructure and investing in market research to working with volunteer leadership to restructure the NKBA governance – their support for my vision has allowed me to transform a half-century old trade association. In the process, we've successfully positioned NKBA as a peer to the strongest, nationally recognized trade groups."
Furthermore, in 2013, Bill helped establish NKBA's Thirty Under 30 Program to spotlight millennial kitchen and bath professionals, including independent designers and remodelers, rising in their careers. "Each year, we search for 30 outstanding young professionals across all market segments who possess the passion, creativity and brilliance to be the voice of the next generation of kitchen and bathroom experts.
"Our Thirty Under 30 initiative is designed to celebrate the future rockstars of our industry and propel their careers forward with opportunities to help identify significant trends, innovation and technology, sustainable business practices, and emerging business models at KBIS. We now have 330 alumni that continue to engage and represent the future of our industry. We are excited to expand this group to 360 when they arrive at KBIS 2024 in Las Vegas," he shares.
Remain agile
In the meantime, the industry is working to overcome a few hurdles that have resulted since the impact of the pandemic. Consumers can expect prices of kitchen and bath products to increase slightly in 2023, with dealers estimating an increase of two percent. However, price increase expectations are down from previous highs.
Additionally, NKBA's Q1 2023 Kitchen and Bath Market Index indicated that slowing demand and additional manufacturing capacity has allowed manufacturers to catch up on backlogs and reduce overall lead times. "Our index reports that ten weeks is the longest consumers will wait for kitchen and bath products, with appliances having the longest average lead time," says Bill.
There is also the global labor shortage. "I was invited to join the Operating Committee of the National Housing Endowment's Skilled Labor Fund in 2017 to support their mission of filling the gap in the skilled labor workforce. By establishing and promoting grant opportunities within the SLF with preferences given to programs operating in partnership with local industry associates, and focusing on graduating university-trained managers, we are directly addressing the nation's labor shortage," Bill explains, adding that he also created NKBA's #NextUp initiative, which seeks to support education and build interest in the skilled trades specific to kitchen and bath.
Set ambitious goals
As Bill's journey has proved, the home remodeling industry has demonstrated it is one that is continually changing. Therefore, it is vital that businesses retain their ability to be flexible and innovative to stay ahead of the curve. "Who could have predicted the massive consumer interest in home remodeling and DIY projects that went into overdrive during the pandemic? With dining out no longer an option, just as more people were spending time in their kitchens becoming expert chefs in their own right, so too did we see homeowners' level up their knowledge and interest in kitchen renovations and bathroom upgrades. Businesses, specifically NKBA members, were very quickly able to double down on creating opportunities for a whole new type of consumer that is more knowledgeable and knows exactly what they want when it comes to products and standards."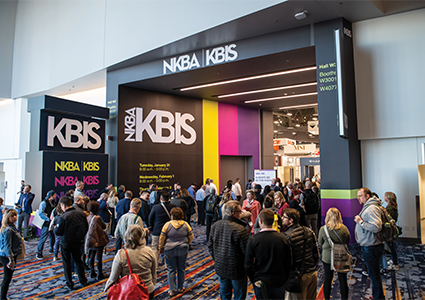 NKBA's recent midyear Kitchen and Bath Market Outlook update indicates a strong long-term vision for residential kitchen and bath remodel spending, despite uncertain short-term economic conditions. "The most optimistic contributing factor to this expected growth is a current record-high 22.4 million homes in their prime remodeling years (20-39 years of age), and an additional 2.2 million in the next five years," says Bill. "With home equity also hitting an all-time high, combined with repair and remodel projects being deferred beyond 2023, we are experiencing the perfect storm for significant industry tailwinds."
Despite the hurdles, Bill hopes to see NKBA continue to expand its worldwide influence, particularly through Global Connect, the omni-directional initiative Bill spearheads to support international manufacturers and distributors interested in entering or expanding within the North American kitchen and bath market. "Additionally, I want to introduce the global design communities to North American kitchen and bath products.
"The goal is to bring together domestic and international professionals by helping them make connections to develop effective business strategies for the global kitchen and bath marketplace. Designed to offer international program members the opportunity to learn, network and better understand the North American kitchen and bath sector, the Global Connect Program provides access to NKBA proprietary market research, vetted NKBA Business Advisors, VIP access to NKBA Global Connect events, and much more."
Stay authentic
Other developments that consumers should anticipate from NKBA in the near future: "In North America, I'd say it's our continued commitment to host KBIS as the premier global kitchen and bath event that grows in its ability to showcase brands from around the world. And there's the continued growth in our Global Connect program, with its expanding membership of brands seeking to enter the North American market and the launch of several international events in 2024. Of course, I have to mention the continued strength of our Global Connect Pavilion at KBIS, featuring international pavilions from the UK, Brazil, Italy and Turkey. This is just another indication of NKBA's growing global influence in helping to lead the international kitchen and bath and design communities throughout Europe, the Middle East and South America."
In closing, Bill's advice for other businesses looking to succeed in such a saturated market, "Remain true to your mission – show up for your customers to provide the highest level of professionalism and service. Go above and beyond, and the difference will demonstrate incredible success.