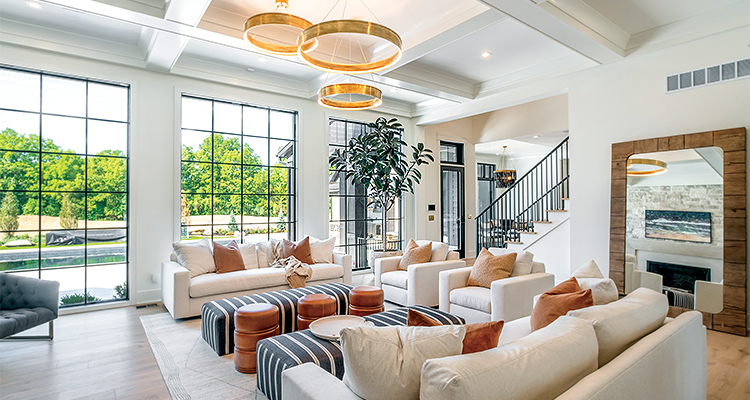 In this story of friendship and design excellence, GA White Homes and Westwood Collective showcase exceptional homebuilding
Great things happened when these two Ohio-based businesses came together. Westwood Collective has been in the apartment business since the purchase of its first property in 2006, while GA White Homes (GA White) has remained a specialist in both the custom home and commercial construction sector for more than 30 years. It was a lake house in South Vienna, Ohio, that merged the paths of the two companies. "Through our development activities," begins Andy Warnock, Founder and Managing Partner of Westwood Collective, "we've been exposed to countless builders. The quality, communication, and overall relationship felt different with GA White when we met them."
Chad White, a Partner of GA White, is flattered by Andy's remarks. "Like Andy said, we met on a whim out in the small town of South Vienna. We built another house on the lake out there, which is how Andy found us." The rest, as they say, is history.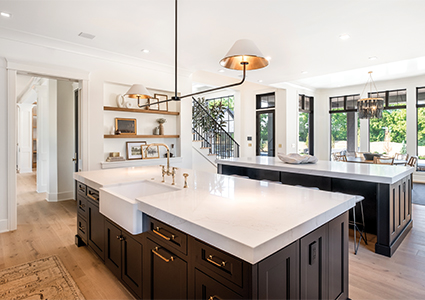 As fate would have it, the two companies have since continued to strengthen their working relationship. According to Andy, "It's no different than a courtship. When you're dating someone, you want to really get to know them as a person. And that's what happened here."
"Very well said," Chad adds, with a chuckle. "I know I can pick up the phone and call Andy to talk through any challenge. Regardless of how crazy an idea sounds, we're always willing to listen to one another. So, I think a great part of having a partnership like this is the confidence in knowing the sky's the limit."
GA White takes great pride in being a true custom homebuilder. "Essentially, we start with the design and stay with the client through to the finishes, and we've been doing it this way for nearly four decades. Since my father founded the business, we've remained a small company with that family feel. We complete 15 or so projects a year and truly enjoy doing what we do. Our biggest selling point is that we want the client's experience to feel different than other homebuilders. We're hands-on in every facet of the process because creating high-quality finishes is what I want the company to be known for."
Part of the family
The partnership continued to flourish when Andy hired GA White again, but this time to work on his personal residence in Hilliard, Ohio, which became a flagship project for the duo. "My wife and I bought a 25-acre farm to develop back in 2019. Because we had such a great experience with Chad and the team at GA White, it made all the sense in the world to bring them in.
"In this industry, hiring contractors and maintaining good relationships is everything. Once you've worked with someone, it's important to build up trust to maximize the outcome. These are highly customized home designs that require constant communication, intricate design work, and specialty subcontractors. They need a builder that can handle the process with precision. With GA White, I knew it would work and I was confident in the result," shares Andy.
The working relationship between the two business leaders is so deeply entwined that it has spilled over to their personal life. "Andy and his wife, Ashley, have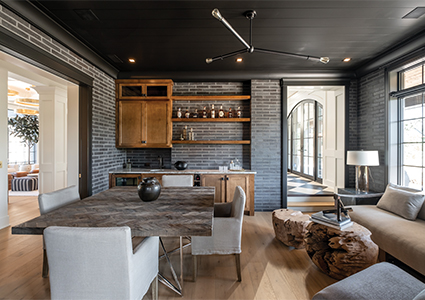 been phenomenal to work with all the way through," explains Chad, "and I give props to Ashley; she has a knack for this industry. She was the glue that kept a lot of the work together. We can have very open conversations with the two of them, which goes a long way when doing a custom build, and throughout this time, we've had the privilege of getting to know them and their family. I would trust them with my life," he emphasizes.
Andy echoes Chad's sentiments. "The best part of business is when you can form a friendship with the people you're working with. Sometimes you deal with people who aren't honest and transparent and you end up feeling incredibly guarded. I never have to think twice in our relationship with the White's or whether they're being fair – you can feel it both ways. There are times when split-second decisions must be made, and I trust that they're going to make the decision that I would choose 100 percent of the time," Andy expresses.
Perhaps this is why the Hilliard House was such a success. The home is a staggering 11,000+ square-foot build, with seven bedrooms, and six and a half bathrooms, including a pool house. Its intention is to be an entertainment hub for the whole family. "There is an au pair suite above the garage, which is a one-bedroom apartment. There is a detached three-car garage with an indoor basketball court. It also hosts an inground swimming pool, a par-three golf course, and a football field in the backyard. It's truly a dream come true," Andy details.
"There's a theatre room, a fitness room, and two kid's lofts for gaming. Across the house, we used a cedar composite shingle, which looks like a wood material, and it gives the house a high-end, unique look without the maintenance of wood," he continues.
Chad adds that the business implemented an extensive amount of interior detail. "There are custom handrails and the wallpaper is exquisite. The gold light switches are a conversation piece. The office meeting room is fully clad in brick. It has a homey feel, and every room you walk into has something different to offer."
Of course, in building a personal home, especially one of this proportion, Andy admits that no expense was spared. "I always say, 'in everything we do, we should be pursuing excellence,' which is why I believe we work so well with Chad and his team. They have exceptionally high standards. So, whether it's our house or we're doing a house-flip, we simply don't compromise on quality. I want anyone who walks into a home done by us to experience that 'wow-factor'. It's important that the features of a home stand out, especially in a competitive marketplace."
With a seemingly unbreakable partnership and exciting plans to continue to build dream homes, the future for these two companies looks promising. "We're now involved in a handful of projects in Longboat Key, Florida, where GA White also has a presence.
We're hoping to grow in that market as well, whether in new construction or continuing to do rehabs of existing sites down there. We're looking forward to reaching our full potential together," Andy highlights.
For other businesses intrigued by what it takes to establish a relationship like the one shared between GA White and Westwood Collective, Andy has this to say: "Once you get below the surface, that's when you start to decide whether this is truly a partnership or merely a once-off transaction. For us, it has become a relationship that will stand the test of time, and I'm really proud of that. Who knows what the future holds and where that might take us, but the advice I'd share with other businesses is to know the human side of the people that you're working with and make sure that you share the same traits and characteristics – it'll take you further than you'd ever expect."