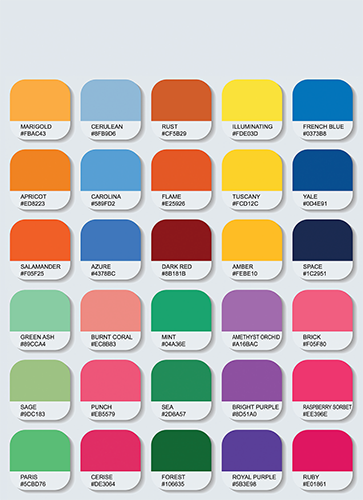 As 2022's interior trends are being discussed, research by Checkatrade uncovered which of 2021's most predicted trends actually made into our homes – and which were left behind – after examining thousands of searches from homeowners on Checkatrade and Google (in the UK).
Despite Dulux naming warm, natural neutral 'Brave Ground' as its color of the year in 2021, while Pantone suggested we'd be embracing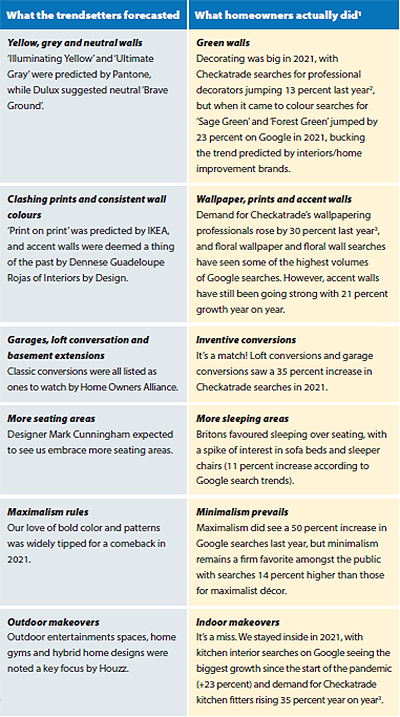 'Illuminating Yellow' and 'Ultimate Gray', research1 undertaken by Checkatrade reveals neither made it anywhere near our homes last year – instead, Google searches for Sage Green and Forest Green shot up by 23 per cent year-on-year – putting green in pole position for the leading shade of 2021.
And despite predictions of consumers turning to maximalism in 2021, minimalist aesthetic remains the firm favorite. In fact, Google searches for maximalist interior design ideas were 14 percent lower than those for minimalist décor.
Across the board there has been a widespread disconnect between the predictions made by designers and what actually made it into our homes – suggesting we should take this year's trend predictions with a pinch of salt as we enter 2022.
"It's been hard for any of us to predict the past year – and it turns out that our homes aren't exempt from this,'' comments Mike Fairman, CEO, Checkatrade. ''There's no doubt that we're all heavily influenced by trend forecasters, influencers and social media – but the nation's cultural mood appears to be one which is resistant to making kneejerk changes – perhaps unsurprising after another year living through the unexpected.
"Homeowners have used 2021 to make wise investments in their homes which will stand the test of time, and which fit their own unique lifestyles. We'll watch with interest to see whether this is a trend which plays out in 2022."
1 (sources: Google Trends, Google Ads Planner, Meltwater social listening)
2 & 3 Checkatrade data: 1 Jan 20 to 30 Nov 20 vs. 1 Jan 21 to 30 Nov 21
For further sources, contact the editor.
Checkatrade, founded in 1998, is the UK's number one website for finding a tradesperson. Owned by Homeserve Plc, Checkatrade's trade members have been through 12 checks each to verify their skill, reliability and trustworthiness. The site boasts over five million published customer reviews, making it easy to find the perfect trade or service anywhere in the UK.
www.checkatrade.com