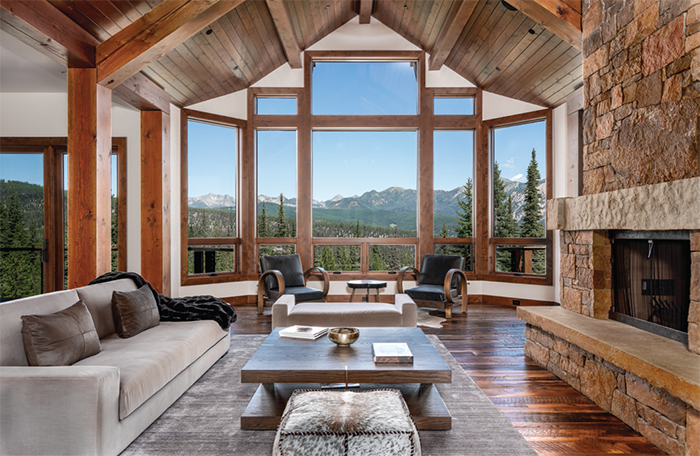 In 2001, Haas Builders made the choice for a more qualitative business approach in the mountains of Big Sky, Montana, over the quantitative style in Park City, Utah
Big Sky, Montana, is home to impressive mountains and rivers, a thriving ski industry and Haas Builders. John Haas, President, attended engineering school at the University of Illinois before moving to Park City, Utah to establish the company in 1989. His company remained there until 2001, while he sought the need for a change, which triggered his relocation to Big Sky and subsequent alterations to the business' direction and style.
"Haas Builders is a boutique building company, resultant of my specialization in custom home builds in ski resort towns," John says. "By choice, we only work on two or three houses at a time, which allows us to focus our energy directly on our clients for a truly personalized experience. This is especially true for me as well, as I have always believed in creating one-on-one interactions during the building process. Even though Haas Builders' core is its incredible team, I personally interact with our clients on all decisions from start to finish.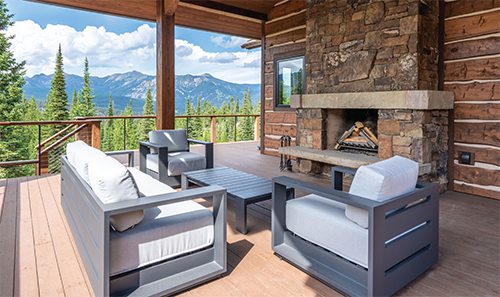 "When I first started, Haas Builders became bigger than I had hoped. Although this was originally the trajectory I wanted the business to follow, I soon realised that I wasn't happy with it. I decided I wanted to take things back to the basics and focus on offering people a more personalized experience, so I slowed down and reeled it all back in. In addition to delivering a high-quality finished product, it is the overall experience with the client which builds a bond that inevitably leads to friendship. My ultimate goal is to construct an experience for my clients which they will remember forever."
Constructing community
The beautiful homes which John and his team design and build encapsulate the surroundings in which they are situated. Haas Builders places great importance on sustainability and sourcing environmentally friendly solutions from the wider industry. The company is not only a member of the US Green Building Council and National Association of Home Builders Green Building Council, it's also certified by NAHB, Energy Star and the Leadership in Energy and Environmental Design (LEED) Council.
"When it comes to environmental responsibility, it really starts at the beginning," John explains. "From how we design a home and source the materials, to reusing and recycling leftover products on a job site. When it comes down to the actual construction side of things, we utilize all the energy-efficient products available from our suppliers. We do a lot with geothermal technologies as well, to help reduce the amount of fuel required to heat the home. We installed such a system for a commercial building which houses our local brewery, and uses the technology to power its boiler for beer brewing. We always try to integrate as much technology as we can!"
With community as a constant focus, Haas Builders helped create, build, and donate the space for the Big Sky Recycling Center. The center has become a staple, allowing the community to help the environment by recycling over two million pounds annually. Haas Builders has also helped build a Habitat for Humanity affordable house project for Big Sky school teachers, where they donated some of their leftover products and completed the framing of two buildings.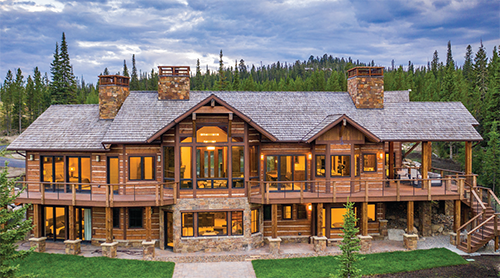 Custom to commercial
Another example of Haas Builders diverting away from its traditional style of home building can be seen in the local town infrastructure it has been involved with building. As John details: "High-end, single-family homes in the mountains have always been the mainstay of our business, but over the past several years we've branched out into commercial projects as well. So along with our custom homes, we are also building some of the commercial buildings in the new downtown area of Big Sky. It's pretty cool to be a part of the construction of our new downtown, something which will be here forever, so we are really excited to be involved. When I moved to Big Sky, this area was literally a sagebrush field, and now it is in the process of becoming our main street. Haas Builders is currently building its sixth commercial project in the new downtown area, which is a three-story building which will be home to eight local businesses and two levels of loft-style condos just released to the market."
Perhaps more in tune with Haas Builders usual area of expertise is a custom home in the Spanish Peaks Mountain Club in Big Sky, which was completed in 2018. This single-family home set on two beautiful acres, encompasses six bedrooms and six bathrooms, along with two half bathrooms, across its 6200 square feet of livable space. This $10 million property was designed and constructed alongside the owners, architect, and interior designer, working onsite with John and his team every step of the way. It features large windows and deck areas for enjoying the surrounding natural beauty, and it looks out over the golf course and ski resort, and includes a ski/golf room for accessing the slopes and links.
"I never wanted Haas Builders to be a big flashy company, and I am happy with the size we created in our boutique building segment, as long as we can keep giving back to our community of Big Sky. We help philanthropically with many of the local non-profits, including school scholarships, sports, art programs, and programs helping the environment. My ultimate goal is to keep the company producing amazing custom homes, by having an amazing team of employees and utilizing many of the same subcontractors for over 20 years," John concludes. Haas Builders feels incredibly fortunate to be part of this small, yet amazing community, and hopes to continue building for many years to come.
www.haasbuilders.com
www.thefranklinbigsky.com