How VAS Construction Inc. continues to deliver dream custom design
VAS Construction Inc. (VAS) was established in 1983, in Stamford, Connecticut. Vincent Sciarretta started as an apprentice, working under his father's guidance. His father, Severino, specialized in superior quality construction in both the residential and commercial sectors, working as a developer for almost 50 years throughout Stamford.
Vincent went on to follow in his late father's footsteps by creating his own company. As Owner and President of VAS, Vincent has seen the company grow into a highly successful residential building service provider over the last 40 years. Vincent has moulded the business to be one of the most sought-after construction companies in Fairfield County. "My father taught me every aspect of the business in times when having the patience to do so wasn't easy," Vincent begins. "I'll be forever grateful to him and my mother, for wearing so many other hats while raising four boys. I don't believe dad, or I, had any real idea where the business would go. He taught me never to make assumptions, but to always stay focused and keep my eye on the ball."
Since we spoke with VAS last year, the business has continued to go from strength to strength. "The last five years have been fantastic!" Vincent continues. "I've been blessed with clients who have put their trust in me and my work, which has proven to be an overwhelming success for both parties. A total win-win!"
Vincent has enjoyed bringing together his knowledge of construction and his appreciation of old-world craftsmanship, having been taught masonry by his father at a young age. Alongside being trained in European masonry methods, his father also taught him how to manage, supervise and schedule large construction projects.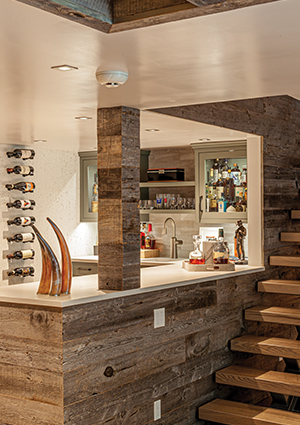 Award-winning projects
His professionalism, hands-on approach, and expertise are integral to the successful completion of a variety of projects. Specializing in new construction, spec homes, high-end renovations and remodeling, VAS is known for its immaculate attention-to-detail. "I build every house as if I were going to live there myself; that way, it's a guarantee of never having any issues. Each one has amazing character and detail," he enthuses.
Whether small or large, Vincent approaches every project with skill and an eye for design, delighting in working closely with clients and in delivering on successful project completion. Whether a 2000-square-foot addition, or the new construction of an 10,000-square-foot residential home, the scope of each project will detail the essence of a VAS original.
As a premier builder of fine luxury homes throughout Fairfield County and Rhode Island, the company's portfolio displays a diverse selection of home styles from modern to Dutch Colonial and is proud to create award-winning masterpieces. From Best Custom Home to Best Residential Remodel, VAS has been recognized with a HOBI Award, on multiple occasions throughout the years. The HOBI Awards are the homebuilding industry's premier honor presented each year by the Home Builders Association of Connecticut.
Bespoke detail
VAS can help clients to design and build a home from scratch with every aspect built specifically to the individual's tastes and requirements. Equally, the company takes a personal approach to every remodeling contract. "Older homes can be more challenging," Vincent proposes, "because they tend to have been renovated more than once in the past and can require numerous structural beams and posts." That aside, the business will always ensure that each renovation flows seamlessly within the original home.
Initially, the team will inspect and review every issue that requires improvement or alteration. Then, they will concentrate on bringing all aspects of the home up to date. Using the highest level of craftsmanship and top-quality products, the team works closely with every client to prioritize their vision.
"It's all in the detail," Vincent affirms. Working with a wide range of master craftsmen, the company regularly draws on the expertise of subcontractors with a proven history of work performance and excellence.
Vincent's passion lies in working closely with clients to help design the interior of each home, specializing in trim detail, kitchen and bathrooms, thereby showcasing a true return on investment. Believing that the kitchen is the heart of the home, the team considers personal tastes, cooking routines, and the appropriate atmosphere for this important living space.
Kitchen cabinets are custom made in-house in Connecticut, using the highest quality materials and artisan skills. Clients are invited to select materials for countertops and backsplashes to realize their dream kitchen and Vincent personally keeps an eye on functionality throughout the entire design process.
Distinctive craftsmanship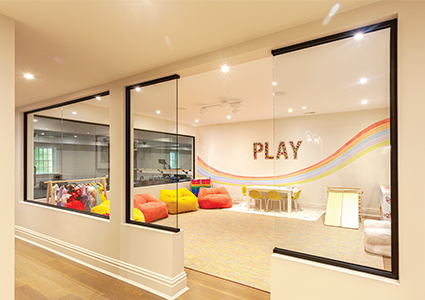 Vincent believes beauty is found in intricate design details, such as artful millwork, and fittings catered to comfort. Bathrooms incorporate stone features and tiles are handpicked to complement the color and design scheme. Homeowners are walked through showrooms and guided to achieve the perfect look that reflects their own style. With the addition of beautiful mosaics from Italy, Spain and Brazil, a unique look can be achieved in every bathroom.
This attention to detail extends to the exterior of VAS' projects, with stunning sweeping frontages, wood shingle style homes, and exteriors befitting the salty, sea-kissed shoreline of Rhode Island. All homes are landscaped with mature plantings that surround the home as well as extensive stonewalls, patios and VAS signature outdoor stone fireplaces. "When you drive by one of our houses, you will recognize the distinctive construction style of VAS, and yet, each project is different in its own way," confirms Vincent.
"Looking to the future, I have no concerns when it comes to the home building market in Connecticut," he concludes. "If the business can be as successful in the next three-to-five years as it has been to date, then I will be more than satisfied. I would like to convey, to both my clients and suppliers, a huge thank you! My
clients have always put great faith in me, and I will continue to strive to never disappoint. Equally, my suppliers have always shown me and my crew such amazing support and I am forever grateful."