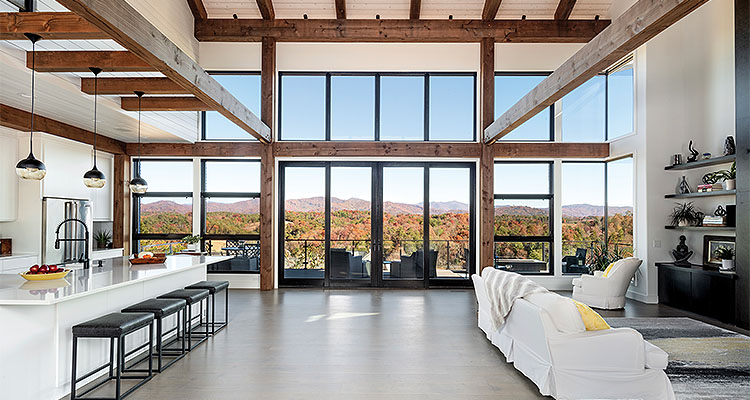 How Timberframe Horizons is raising the bar(n) with sustainable wood
Simplicity is key, or so the saying goes. At Timberframe Horizons, a decade-old home builder based in Asheville, North Carolina, this adage is true: by doing the basics well, and crafting beauty through simplicity, the family-run business has built a strong reputation within its area.
And what is simpler than timber? The building material is neither new nor revolutionary, but again, Timberframe Horizons isn't focused on that so much as it is on using tried and tested approaches in novel ways. Proudly a member of the Green Built Alliance, a nonprofit dedicated to advancing sustainable living, green building, and climate justice, Timberframe Horizons is recognized for its design flexibility, the superior energy efficiency of its product, and the mellow warmth of its hand-crafted homes, which are undoubtedly made with love.
Creative construction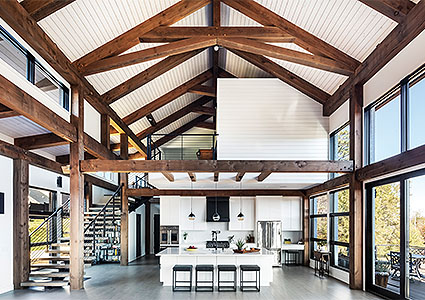 "What is interesting," begins Tom Rouse, Owner at Timberframe Horizons, "is that many people often don't realize we are not buying aftermarket timber packages; rather, we go straight to the source – we go to the managed forests where the trees are cut, we go to the sawmills where the logs are sawn, and we bring it all to one facility, and craft modern timber frame structures with old world technique."
This approach proved particularly beneficial during the pandemic, a time when many construction companies and home builders were hit with vast material shortages and skyrocketing costs. Since Timberframe Horizons had that established point of contact, it was spared much of the financial shock; but then again, there are very few companies dealing in exclusively timber-made homes.
Yet that is precisely what makes Tom's company so special. Indeed, whether you want a contemporary-, craftsman-, or modern mountain-style home, Timberframe Horizons can bring that vision from the place of dreams into the tangible realm of reality through the natural power of wood.
"I have been completing these timber-led designs and buildings since the late 1990s, so I have seen many different styles and ways in which houses can be built," reveals Tom. Like an archive, he draws from that winding stream of experience, finding new ways to blend traditional framing techniques with modern timber building methods.
"It's all about balance," he continues. "The awe-inspiring feel of our timber frame homes is made possible with a highly experienced design and build team. Clients appreciate our 3D CADWORK software for visualizing the architectural and technical drawings we provide: a true relationship between the building structure and the elements of architecture."
But that is, at least in part, the beauty of timber: it demands the best of you. With sites like Pinterest and Houzz taking the world by storm, clients always have something in mind – and, more often than not, that something is extraordinary.
However, that is not something Timberframe Horizons shies away from. "Ultimately, we are trying to create something that astonishes our clients," he explains. "We don't like to force anything. We put on our creative hat and go to town – and our houses reflect that. They are all so great. That is the beauty of what we do: nothing is run of the mill."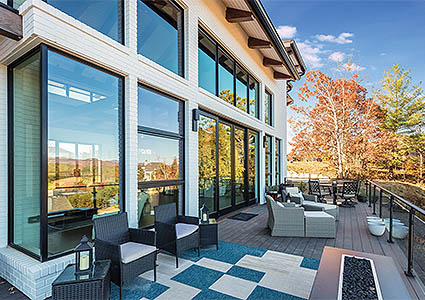 "Everything has an artistic touch to it, and the whole team will pour their creativity into the project at hand," he goes on. "We utilize traditional wood joinery and technique in each home, but in a way that really accentuates, particularly on our featured project, modern lines to conjure up that contemporary look. Out by the mountains, this house embraces the simplicity of nature: we have brought the outside in and kept everything as clean as possible."
Traditional skills
Yet despite all this, Tom still has a humble approach. "True, we have made significant accomplishments in a short period since our founding in 2013, but we still must always strive to find the best pathways to achieve our customer's dream," he says. "The business may be new on a busy block – but the team has over two decades of experience."
And that hasn't gone unnoticed.  Timberframe Horizons shared a glimpse into their year ahead in the turnkey custom home division (a mountain-modern design with an abundance of glass and a traditional craftsman-style house). The year ahead also holds strong for custom timber frame sales to general contractors, organizations and private clients. For people already working with an architect or builder, Tom's company provides the custom timber frame. Be it trusses, the great room only, outdoor living space or party barn, they have it covered. "We want to stay on a continual path of growth, and we want our employees to grow with us," concludes Tom. "That's imperative since, approximately, for every five people leaving the industry only two are coming into it. Indeed, we are starting to see less of the tradition handed down through the generations, and that is a great shame. Going forward, I want to create a place where we can educate people and keep those important traditions and skills alive."