How the pandemic altered long-term consumer preferences By Belinda Sward
A continuing evolution
Prior to March 2020, developers throughout the country were busy responding to trends that catered to the ways in which people lived, worked and played – large, open floorplans, communal gathering spaces and retail-driven residential were among the hot amenities in single- and multi-family developments. Once the realities of Covid-19 were realized across the industry, these trends were replaced with an emphasis on health, mental and physical wellness and living differently to accomplish a balance between personal and work life.
As a result of these consumer attitude shifts, the pandemic has fundamentally changed what people want from their for-sale and for-rent homes, apartments and communities, and developers should expect these changes to last. Included in this shift is the emergence of the home as an extension of residents' lives, which means it must be developed to enhance working, living and learning. These impacts include different types of workspaces, blurring of leisure and work life, combination of indoor and outdoor living, incorporation of green and sustainable attributes, importance of organic gardening and healthy foods, and designated places for relaxation.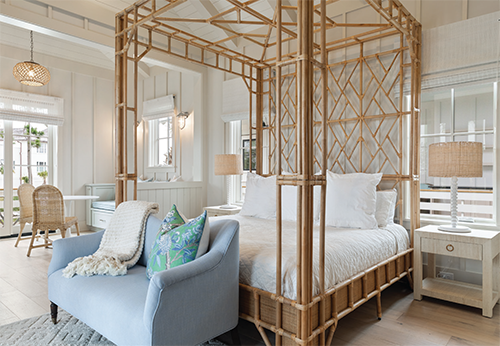 While real estate development often consists of responding to economic and societal trends, well-crafted research can provide data allowing developers to look further down the pike and predict what buyers and renters will want and need. Recent research by Strategic Solutions Alliance on behalf of The Beach Company, a Charleston, South Carolina-based real estate developer with projects across the southeast US, illustrates some specific home features that resulted from these post-pandemic consumer trends.
Storage
Since Covid, the home has become a hub for various activities. Consumers' spending habits have drastically changed in response to both the pandemic and inflation. While consumers were already buying in bulk, the pandemic gave way to consumers storing up for a broader array of products as well as better organization of things stored. Therefore, renters and homeowners are keeping items longer and are looking for more well-designed storage. Useful storage space saves time and money and has become especially necessary in kitchens, bedrooms and closets. Some are even eliminating extra closet space by adding built-ins, including workspaces. This also applies to garages and storage facilities. In The Jasper, a luxury mixed-use community in downtown Charleston, South Carolina, The Beach Company has incorporated these types of extra spaces in the form of larger walk-in closets and flex rooms.
Workspaces/ Multi-Purpose Rooms
In the past, dedicated workspaces in homes were associated with defined offices. However, creativity sparked by the pandemic has changed this. A workspace need no longer be as large as an entire room, but the space does need to be separated from the rest of the house and be suitable for both work and play. For example, workspaces may include kids' craft tables or a television. The still-large percentage of people working from home, either full- or part-time, request features such as sound proofing for virtual meetings to mitigate noise from gardeners, children or pets. According to Strategic Solutions Alliance's study, 80 percent of residents at Kiawah River, a Beach Company community near Charleston, South Carolina, wanted a defined workplace. These multipurpose office spaces can be a separate room, a room with a hidden, pocket or barn door to open and close, or something built into an indoor/outdoor space, such as a sunroom off the kitchen.
Private Outdoor Spaces and Gardens
Now more than ever, residents are seeking private outdoor spaces with natural flow from indoor spaces that serve as an extension of the home. This could be a porch located just off the kitchen or a sunroom with space to eat or access to outdoor areas such as a neighborhood park or green space. This is especially important in rental properties or homes that are close together and lack the green space for a spacious yard. This type of urban relief became essential while people were confined to their homes during the pandemic. In addition, the preferences for how these spaces are used have changed. For example, Kiawah River residents are looking for garden areas in which they can plant flowers, vegetables or herbs, meaning that developers must rethink implications for density and streetscapes.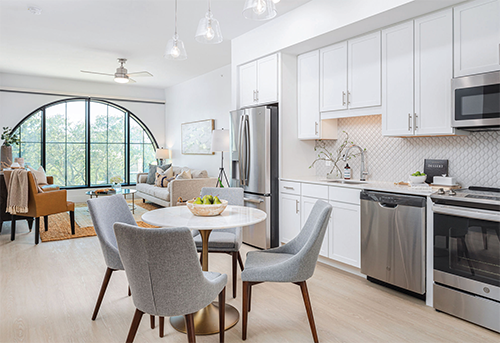 Kitchens
Regardless of a home's size, homeowners want kitchens optimally designed for cooking, storage and gathering. The pandemic prompted increased in-home dining and entertainment; a trend that is only expected to grow more prevalent. Functional, upgraded and personalized kitchens are now essential, and this is even more crucial in homes with smaller floorplans as a way of maximizing space. Features such as smart ovens, bartending built-ins (such as an undercounter fridge), island storage, pocket workspaces, high-tech and natural finishes have become vital in homes. In The Jasper, residential kitchens feature these types of built-in upgrades, including custom, soft-close cabinetry, quartz countertops and tile backsplashes, a suite of stainless-steel appliances and center islands with barstool seating and pendant lighting.
Technology
Smart home technology such as 5G connectivity, energy efficiency, savvy kitchen products and smart thermostats continue to be top of mind for renters and buyers. Specifically for energy efficiency, owners living in one home or multiple homes want to be able to control the air and lights and determine air quality through applications and e-windows. In terms of kitchen technology, determining water quality and having appliances such as touchless faucets and smart refrigerators have become the norm. In its most recent developments such as The Jasper in Charleston, South Carolina, The Foundry in Huntsville, Alabama and The Sterling in Wilmington, North Carolina, The Beach Company has incorporated this type of smart technology, including ButterflyMX, HelloPackage for package delivery and management, Crestron electronics control systems, Ring doorbells and electric vehicle charging stations in its latest and upcoming projects.
As buyer and renter standards continue to evolve, developers must adjust and provide designs that align with current and future trends. Covid-19 upended the real estate industry and caused a seismic shift in supply and demand. However, by utilizing quality market research and data, developers can gain a realistic snapshot of how these overarching themes can be applied to a variety of residential projects, from single-family master-planned communities to higher-density mixed-use projects, to stay ahead of the curve.
The Beach Company
www.thebeachcompany.com
Belinda Sward works at Strategic Solutions Alliance. Founded in 1945, The Beach Company has been a leader in residential and commercial real estate brokerage, development and property management for more than 75 years. Led by CEO John Darby, The Beach Company upholds a tradition of establishing landmark properties and communities by evaluating each development opportunity for its potential to improve the quality of life for our neighbors and contribute to the long-term economic vitality of the southeast region.