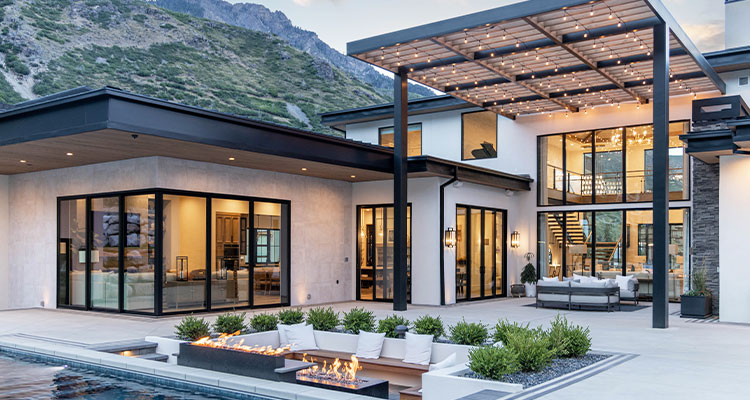 How Raykon Construction's core values drive its award-winning custom builds 
Casey Cloward, Owner, entered the modern homebuilding community in a different way to your usual general contractor. His first project as Raykon Construction (Raykon) involved building a piece of furniture commissioned by a customer, which resulted in excellent exposure for the company. 
"When I was starting out in 2008," he begins, "it wasn't like I had a business to take over, we were really just getting the ball rolling. My grandfather and father were general contractors with some great resources, including a woodworking shop that I had at my disposal. So really, I began my journey as a woodworker, then a finished carpenter, before becoming a cabinet maker. All of this evolved into being awarded my first custom home project in 2010.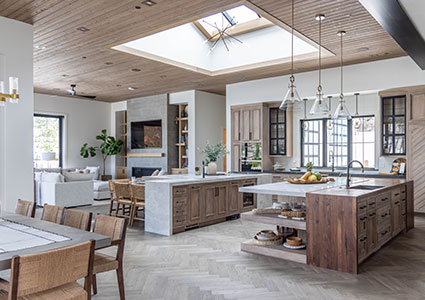 Come 2012, Raykon showcased two properties in the Utah Valley Parade of Homes, an enormous achievement for what was still a relatively small enterprise. "That year was huge for our branding," Casey adds, "and truly set the tone for what we wanted to be doing moving forward. Ultimately, it landed the company further opportunities in the custom home sector, which has led to us entering 19 homes over the last 11 years in the parade. 
"No other builder in the area has managed to achieve the same feat. We won the highest profile award: People's Choice, in 2019 and 2021, among several Judges' Choice awards throughout those homes.  It's a real honor to know that our peers deemed our homes to be the best contenders those years." 
Client collaboration 
Raykon currently operates across a 40-mile region that stretches from its headquarters in the southern part of the county, right up to the northern end of Utah Valley. Casey states that the company has not yet needed to extend this catchment area, on account of its local reputation. 
"We stick to our niche by effectively targeting our immediate market," he elaborates. "If people in the surrounding areas are looking for high-quality, custom homes, then they often tend to discover us through their own due diligence. We don't aim to only travel by word of mouth, but our reputation grows from project to project. We're one of the best around, and are always ready to prove it." 
The business' entry in 2020 led to the team meeting Heather Hansen and her partner Brandon, the homeowners of its 2022 submission: the Alpine Horizon home. Heather owns a design firm, and therefore was able to work closely with Casey and his team throughout the preconstruction phase of the home's development. 
"She was able to carry out the design, architecture, and interior design work, which was great," Casey says. "It was her personal home, which added a great deal of autonomy for us. Heather was really keen to showcase her talents and abilities, but at the same time, she and Brandon were incredibly understanding of all the challenges that we were up against. This was during the backend of Covid, so we were dealing with a number of supply chain issues, but they were ready to roll with the punches from day one.  
"Besides getting to partner with the ideal clients," he continues, "we were thrilled with the end product. Through practicing this very creative and opportunistic approach, we were able to master the surrounding hills and slopes and use them to enhance the property's views. Unlike many of our other homes, the Alpine Horizon wasn't set directly among the mountains, but it still looks out over some incredible ranges." 
Pillars for a positive outcome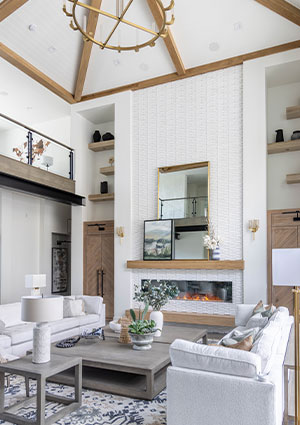 Working alongside Raykon offers clients an opportunity to witness its core values firsthand, namely: dependability, integrity, quality, teachability, pride, and attitude. Dependability was listed first and foremost by Casey, with the remainder falling naturally into place.  
"I sat down with my team around six years ago," he recalls, "to gather our thoughts and place collective emphasis on what we considered to be most important; Who are we? What are we doing? What are our considerations? How do we manage ourselves? Our motto is 'quality that you can depend on,' so naturally, dependability came first, and it outlines how we deal with each other, our customers, and even trade contractors. We all agreed that we are people who can be relied upon.  
"Integrity speaks to our trustworthiness. In our line of work, there's plenty of opportunity to cut corners, but that's not who we are. That kind of ties in with quality as well, and although most builders preach it as their highest order, not everyone practices it to the same extent that we do. Personally, it comes from my roots in carpentry and cabinet building, as there's a certain qualitative element to those trades that you don't see quite so regularly elsewhere.  
"Teachability is a key attribute in my eye," Casey concludes, "because we haven't got it all figured out, and probably never will. But the point is, everyone is here to learn from one another. We invest in classes for the team, attend the International Builders' Show every year, and really encourage people to continue educating themselves. This has a knock-on effect on the pride that everyone takes in their work. They should all be able to stand up for what they've created and feel a purpose in the ways that we execute our projects.  
"Finally, there's attitude. You're a lot more likely to turn whatever's handed to you into a positive outcome, when you've got the right perspective. We do that for one another when times are hard, it's all part of being a team. We get through the tough parts together, and come out stronger on the other side."