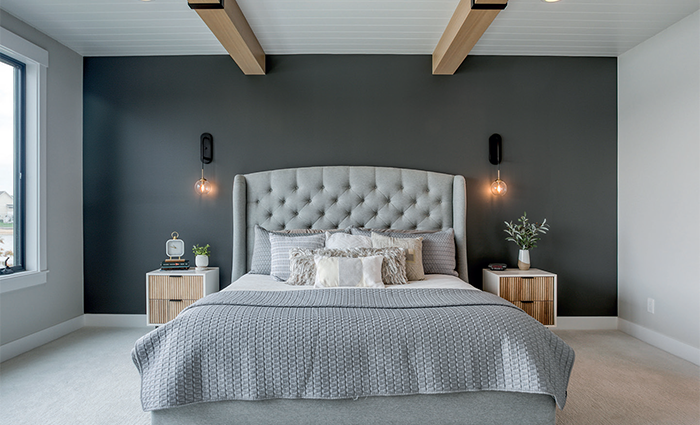 How Michigan-based Celebrity Builders is becoming a household name
BUILDING A NAME FOR ITSELF
Formed in 2003, by Michigan-based childhood friends, Troy DeHoop and Rob Vis, Celebrity Builders, LLC (Celebrity Builders) has transformed from a specialty partnership providing construction framing services to an in-demand custom home builder that places high priority on detail, craftsmanship and customer care.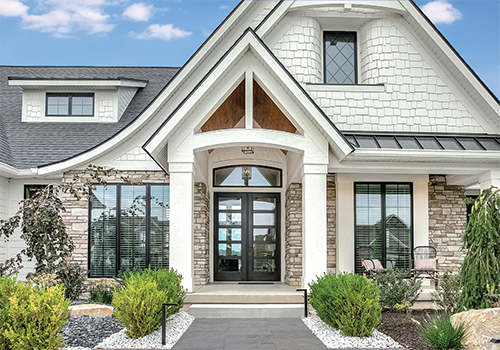 As President, Troy DeHoop, explains: "The house that I'm in right now is my home. I have an office here and I primarily work from this space. In fact, my home was our first parade home. A parade home is selected for prospective clients to come and tour. We meet people in the property and it's an ideal way to showcase what we can do. Since our inaugural parade home, we have hosted a Spring Parade every single year, with the sole exception of the pandemic."
Building trust
While the company's framing crews still provide a service for both Celebrity Builders and local contractors, the custom home building branch of the business is achieving stellar status. Troy points out that while business is booming, he and Rob have no intention of compromising on customer care. "We spend a lot of time with a client before we even begin construction. I, personally, sit in every design meeting with the client and architect to discuss desires and requirements, and balance that with the budget. While we want every client's home to be that of their dreams, it also needs to meet practical needs and be affordable. From architect drawings and interior design consultation to initial cost estimate, the first stage of our home-building process can take up to six months. Home-building is a process for us, not an instant transaction. The actual build can take anywhere from eight months to two years. Effective planning makes for a stress-free and fun experience, and this is why we don't intend to take on too many projects at any one time."
Indeed, Celebrity Builders doesn't just take pride in constructing homes; customer and supplier relationships are equally important. Troy continues: "We like to meet or speak with our clients at least every two weeks. Communication is key, being available and talking to our homeowners is essential. We have a current project that is actually a client's second build with us. That is pretty much the biggest pat on the back you can get. In fact, we will lose money before we lose a relationship. Grand Rapids, Michigan, is a little-big town, word spreads fast and negative experiences will be shared. We want to avoid that. We have genuine relationships with our clients and that is reflected in repeat business, invitations to our clients' social and family events and positive word of mouth.
"Clients are trusting us to build their dream home," continues Troy. "Most of our customers are looking to build their forever home. We always ask whether they envisage living in their home for years to come. Nine times out of ten, the answer is yes, and they choose Celebrity Builders to realize their dream because they have seen what we can do."
In terms of supplier and subcontractor relationships, it would seem that sometimes being an amenable and easygoing partner can be a drawback. As Troy expounds: "I think we have a nice relationship with our subs and suppliers. We are fun and easy to get along with. While we are proud to nurture respectful and loyal relationships, being easygoing can put us on the backfoot. It's crucial that we're not bumped down the schedule, and as such, this is a conversation in which we currently need to engage.
"The construction industry has changed over the last two years. Lead times are all over the place. To mitigate, we sometimes take delivery of products, ahead of usual schedule, to secure stock. Add the labor shortage into the mix and it can further complicate matters. Consequently, our subcontractors are struggling to stay on schedule and this has a knock-on effect on us. Ultimately though, it's crucial that our project schedules are not derailed, as it can be difficult to get back on track."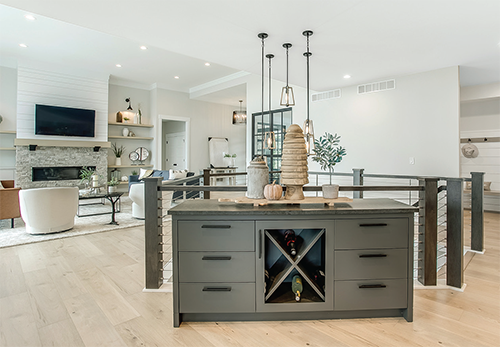 One notable project of which Celebrity Builders is incredibly proud is Georgetown Estate. The west Michigan little-big town mentality can be beneficial. The company's reputation preceded it and while other contractors were in the running, following a productive meeting, Celebrity Builders won the business. As Troy enthuses: "It's refreshing when a client truly trusts you to work your magic. That was a really fun project. Communication was easy and the client had total faith in us throughout. The project was not without its challenges however. Covid hit three months prior to completion, work was shut down and we were unable to feature the home in our Spring Parade. Luckily, the build was not delayed extensively. We abided by the rules and the client understood. Even now, we regularly return to carry out additional, little builds for them, which speaks volumes about the success of the project. It was a positive experience and we are proud to be their go-to guys."
Growing numbers
Looking forward, Celebrity Builders is delighted to have six new custom builds in the pipeline. While business will inevitably ebb and flow, often in line with raw material price fluctuations, the order book is looking buoyant. From a large, ranch-style home to a gated-community development project, the duo certainly has its hands full. "Although we're currently pricing projects, we are in the happy position of having to inform prospective clients that they'll need to wait until the beginning of next year to begin their build," explains Troy.
"We have a couple of really exciting projects on the horizon: one on Spring Lake with an infinity pool and 7000-square-foot residence and the other, in Holland, and the largest for the business to-date, will be 8000 square feet and boast a six-door garage. Both are in the pre-construction phase, waiting in-line, and ready to go."
Celebrity Builders boasts 11 employed framers and a burgeoning number of support staff who focus on surveying, estimating and scheduling. To accommodate its growing numbers, Troy explains that the plan for the business is "to secure its own premises with office space and a conference room. That is two years down the road and we currently have a realtor looking for suitable properties.
"As far as volume of work is concerned, I mentioned earlier that between eight and ten homes a year is where we're most content. I tend to work on the pre-construction and construction phases and Rob handles the fittings, fixtures and services. We complement each other in that regard. I am a schedule producer and he tends to finesse the project. I would say in five years from now, we will hold steady at around eight to ten houses. That is what we are good at and what allows us to build the customer relationships of which we're so proud. While we anticipate the number of projects remaining relatively stable, the size and customization of those homes will inevitably grow. While inflation is obviously a factor, we are evidently attracting more lucrative projects, involving bigger budgets and more customized homes."
www.celebritybuildersllc.com