How materials helped a stunning Los Angeles home prioritize sustainability
The perfect finish
A modern home nestled into an arching hillside in Bel Air, and offering expansive views of Century City, Downtown LA, the Hollywood Reservoir, and the Pacific Ocean, was completed by design-build firm HM DG INC in July 2022. The 7,500 square-foot, five-bedroom home sits on a 2.5-acre lot in a tucked-away neighborhood of exclusive homes. Designed by HM DG principal Hassan Majd, the firm also built the residence, which recently sold for nearly $12 million.
Commenting on the project, Hassan Majd, Principal at HM DG INC noted the flair in the finishing details. "In the kitchen and informal living space, the casework and paneling are all the same woodwork. That ties the house together and provides a (Finnish architect) Alvar Aalto sensibility. I love the way it [the master bedroom] enjoys the best views on the property, with an unobstructed view of Los Angeles and the Hollywood Hills."
The home prioritizes modern, sustainable living through its extensive use of Kebony wood. Kebony is a global leader in the production of sustainably modified wood, which provides the bespoke luxury home with a striking aesthetic, befitting of its unique location. Kebony wood was selected for its eco-friendly credentials and durable nature, which will stand strong against the extremes of the LA climate. A Norwegian company, Kebony uses a patented technique to transform sustainably sourced softwoods with hardwood-like properties such as dimensional stability, without compromising on appearance.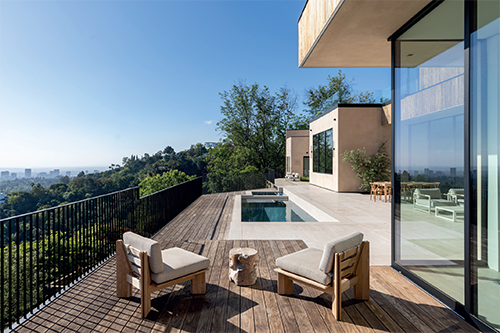 The striking exterior of the two-story home is covered on the first level with sand-colored stucco and with Kebony wood used on the second. The specialist timber requires zero maintenance, and ages from an initial golden color to a silver-grey over time.
Superior finishes
Inside, the home's entrance rises to a double-high volume topped by an inverted pyramid ceiling and reveals an expansive glass wall that opens to the pool and patio and a spectacular Los Angeles vista. Automated pocket doors completely disappear into the walls, perfect for the Southern California indoor-outdoor lifestyle.
The formal living area includes a fireplace, and just beyond that, two bedrooms are situated. The color palette throughout the home emphasizes warm, organic earth tones, with honed limestone floors on the first level and white oak on the second.
A staircase leads from the main entry to the second level. There in the center, under the inverted pyramid ceiling, the area is open to the main level below, giving the space an intimate feeling. This upper level – which has its own access to patios for indoor-outdoor living – includes an informal living room/family room/game room, the master suite, and two additional bedrooms.
The master bedroom, which juts out above the patio, is breathtaking. The master bath is appointed with dark charcoal grey marble with a leather finish, and the glass enclosure is suspended in the mid-air with the view of the Hollywood Hills and Century City and beyond.
Nina Landbø, International Sales Manager at Kebony was thrilled that Kebony can be seen in action on this impressive project, creating a sleek, modern look. "The warm, earthy tones of the home are complemented by Kebony and the surrounding hillside views, making for a serene escape from the hustle and bustle of the city," she concluded.
www.kebony.com