How Escobedo Group's DARIO Panelized System is changing traditional construction
The future is panelized
It has been a year since we were introduced to the Escobedo Group and its renowned DARIO Panelized System. Panelized construction is an innovative building system, which minimizes waste, environmental impact on site, and production delays due to the weather. One of the ways that the Escobedo Group is revolutionizing this industry is by working with engineers, architects, fabricators, and builders under one roof. The close integration of these disciplines and the shared commitment to quality and continuing innovation defy what can be achieved with conventional or even 'pre-fab' building. "As we continue to grow and innovate it's the passion and the dedication passed down to me from my father that continues to inform our decisions," David Escobedo, the founder and co-owner, says.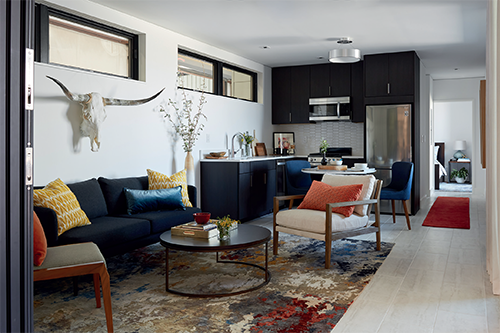 The Escobedo Group goes one step further in realizing its commitment to quality by transporting and installing its builds with in-house equipment and certified employees. "When we last spoke, we were working solely on strengthening DARIO and the overall process. Since then we've created DARIO Villas available in one, two or three bedroom floor plans with customizable interiors that are perfect for family retreats or vacation rentals especially in hard to reach locations. The Villas range from 900 to 1300 sq. ft. and can be erected, once on site, in a single day." The Dario system is not limited to these designs however; the Escobedo Group has worked with clients and their architects to realize luxury homes even in the remotest of locations. "We believe it is the future of construction. The Dario system allows us to bring these large-scale projects to life in a more efficient, sustainable, and faster way than conventional construction."
The panels are built with high precision and quality; two characteristics for which Escobedo has always been known. "There is nothing we leave to chance here. This system has enabled us to improve how we manage materials and energy. For example, we have extremely high insulating values making the finished product much more energy efficient and improving on indoor air quality. We also extrude our own metal studs exactly to the size needed using a high content of recycled steel. This means that clients who purchase the product are supporting innovative designs, energy efficiency, and a construction process that is more sustainable," Matt Escobedo, company President, shares.
Another aspect that has formed part of Escobedo's journey since we last spoke is the impact of the pandemic on the expansion of its catalog. "Something we saw happen during Covid-19 was the development of multi-generational living. Many of our clients have large properties, and they wanted to be able to create guest suites, offices, and spaces for their family to stay with them. This is how we came up with the DARIO Villas. For us, they are an excellent way to deliver the same quality of build in a faster, more efficient way," says Matt.
One of these Villa projects can be found in rural west Texas, where the biggest challenge was the location. "Rural areas, where a lot of our clients have properties, can be difficult to access. We are able to save on labor costs and limit project delays constructing the panels in our facility. From concept to move-in the West Texas Villa had a turnaround time of six months."
Customized solutions
Matt explains that while the floor plan is predetermined on a DARIO Villa, the Escobedo group can work with the client or the client's designer to customize the interior or offer in-house design consultation and state-of-the-art finishes. The Villas also have the option of a partial or wrap around deck.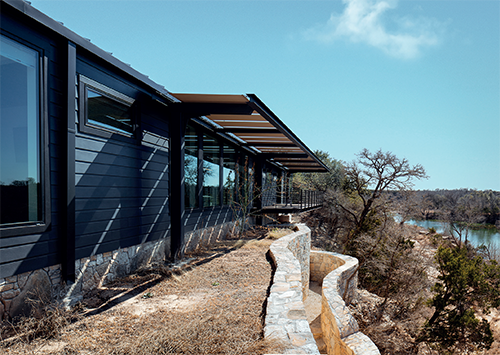 Another strength of the Dario panelized system is its flexibility as demonstrated in a rural Colorado project whose owner was also the building's designer. The Escobedo Group was able to realize its client's vision and despite the difficulties of the location, it was able to complete the entire ranch house including integrated mechanical systems, a shop and cistern in less than a year. It took a mere five-days from prepped foundation to dry-in.
Our conversation then turns towards how the company is able to separate itself from other builders in Texas and the surrounding region. One of the key benefits to the company's operation is that it is vertically integrated within its supply network. "Our 60,000 sq. ft. facility houses separate millwork, stone cutting, and metalworking shops. In addition to our designers, our team consists of unsurpassed craftsmen in their fields. Some of the team members have worked with me for over 20 years," says David. With over 100 people on staff the Escobedo Group completes 90 percent of its projects without subcontractors. The few parts of a project that are contracted out, are contracted to trusted vendors.
While Escobedo's operation is a smooth-running machine, for Matt, the system is continually being improved, and this will remain a focus as the business grows. "There are absolutely no limitations as to what can be done with DARIO, and that is a huge difference between a prefab and our panelized system. Pre-fabrication does have its restrictions, and we want to offer a solution for customers who want luxury home building that remains focused on quality while shortening the turnaround time."
The future is in innovation
The company's vision for the next few years then sparks a discussion surrounding the strategy for achieving it. David and Matt are confident in their team's creativity and dedication, and they are proud of every member who has brought the business to where it is today. "The future for Escobedo is in innovation. Our team will continue to develop and release new designs working with the latest technologies, as well as giving a place to skilled craftsmen. We are seeing interest all over the country for our product. Currently we are working on a handful of projects including a family retreat utilizing the Villas and a 20,000 sq. ft. luxury home."
Matt shares that plans for the company's growth are exciting. It was recently able to acquire an 11-acre property adjacent to its current site, which it will quickly grow into. "The Villas product is a fairly recent development and as interest in that product grows so will the company. We continue to work closely with clients to see the ways in which we can improve and how we can best support them."
In bringing our conversation to a close, Matt wishes to share the full potential of the DARIO Panelized System, and encourage others out there to inquire about its possibilities. "When architects hear 'panelized systems', they don't quite understand what it is. For some, they assume that it is going to limit their design capability, but it's quite the opposite. We've been able to demonstrate the system's flexibility as well as our own. We are very collaborative here; we love to cooperate with interior designers and architects. Escobedo Group believes anything is possible and we are in a unique position to put that to the test. For those interested in the DARIO system, it's important to keep in mind that it doesn't restrict creativity or design capabilities in any way. On the contrary, it might just help elevate them," Matt concludes. We look forward to seeing how the business remains innovative in its construction abilities, and how the DARIO Panelized System continues to take the industry by storm.
www.dariopanelized.com