How Emmett Leo Homes is creating a portfolio of well-informed consumers
Established in 2016, Emmett Leo Homes is a high-end, custom homebuilder in the Winnipeg, Canada, region, and the creator of a popular YouTube channel and blog. Having been involved in construction since the age of 16, Daniel Nagy (Dan), Founder and President of Emmett Leo Homes, took a huge risk, leaving his job as a Winnipeg firefighter to pursue his dream of running a luxury building company.
With a focus on transparency, quality, and client communication, Dan founded the business by concentrating on speculation home builds and high-end renovations, but after just three years, its project portfolio attracted the first custom home client. Fast forward to today, Emmett Leo Homes is one of the few go-to builders for luxury custom homes in Winnipeg, having built a formidable reputation for quality, ethical builds, and positive client experience.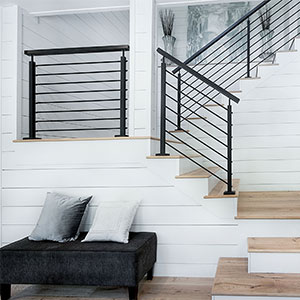 "We always reflect on and learn from the process after every project and strive to improve our offering to provide the most elite experience; whether it's updating a system, implementing new software, simplifying data storage, or enhancing our research on building science," Dan begins. "We've focused a lot on building science and value engineering to establish our own acceptable base specifications, which are currently much higher than the base specifications of standard builders.
"With the entry barrier for contractors being fairly low, the construction industry has gained a negative reputation over the years for being untrustworthy," he suggests. "So, I try to carry the moral compass that has made me successful in my personal life into the business, in an attempt to free the industry from our tarnished reputation. There is no such thing as business ethics – just ethics. The company's structure is completely transparent, and we embrace an ethical culture of positivity, integrity, respect, and honesty."
With ethics and trust in mind, Dan manages and produces content for the company's YouTube channel, which comments on a wide variety of topics, such as kitchen trends, costs of building a home, or common mistakes to avoid. He elaborates: "I strongly believe that being well-informed enhances the client's confidence during the build, so we share a behind-the-scenes look at what we do and educate people about the homebuilding process. We have gradually built our YouTube channel, which now has more than 30,000 subscribers, ranging from DIY'ers to our most elite clients."
Client care
The business operates a three-part process – design and planning, construction, and post-construction maintenance – which are further broken down into smaller processes to avoid overwhelming the customer. "We walk clients through the conceptual design during the preliminary phase and interweave interior design aspects to create an estimate of work based on the desired features," Dan explains. "Then, during the lengthy process of contracts, scheduling, and permitting, clients tend to need our guidance a bit more. We assist them in making important decisions and advise them of any potential issues along the way.
"Once construction begins, the client can sit back and relax while we get to work," he continues. "We update our client portal every day during construction with photos, videos, and general comments about the build. The portal also contains all the relevant documents, such as schedules, cost-to-completion reports, and information about the customer's selections and finishes. It helps us to take all the guesswork out of the homebuilding process, answering client's questions before they even think of them!"
Attention to detail
One of the company's largest and most challenging projects was an estate home just outside of Winnipeg in an area prone to flooding. Dan recalls: "We were building in one of the harshest environments, with a potential 80-degree swing in temperature from summer to winter, so we had to deliver a luxury build in
constantly changing conditions. I'll certainly never forget that the project flooded during the foundation stage, which really set us back in both schedule and budget, but we were open and honest with the client from day one.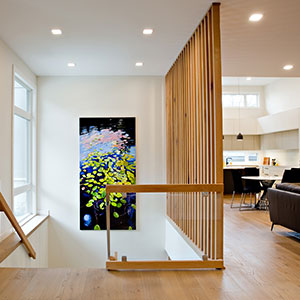 "In the end, we managed to get the project back on track and the client was extremely happy with how we communicated and solved the problem by moving forward with the most effective and economical method to resolve the issues," he adds. "There is no such thing as a perfect construction process from start to finish, but we pride ourselves on the fact that we effectively address any issues quickly, openly, and honestly."
In terms of other projects, "we have recently built homes with elevators, in-home spas, gyms, and golf simulators," says Dan. "We are currently building a concave radius standing seam roof, which requires a lot of detailed design and planning. In general, we are seeing a lot more interesting details entering residential construction, and we're really enjoying working with architects to build some incredibly custom homes with never-before-seen detail!"
Exceptional growth
Turning to the future, he proposes: "As our brand reputation and recognition grows, so does the number and size of the projects we complete, so we are looking at around 60 percent growth year-on-year in top-line revenue.
"We've grown quickly because of our ability to network with clients, educating and keeping them well-informed throughout the process, which has become engrained in the business over the years," Dan concludes. "We aspire to be the top builder in our market before long, with a complete suite of content on our social media channels, as well as a complete guide for those who want to start building their own home."