Edward G. Robinson, best known for gangster roles after his breakout performance in Little Caesar, was a prolific actor of the Hollywood's Golden Age whose 50 year career included 30 Broadway plays and more than 100 films, including The Ten Commandments and Double Indemnity.
The spectacular Beverly Hills estate that was home to Robinson during the height of his career in the 1930s is now for sale at $21.95 million. Nestled behind wrought iron gates, the mansion retains its classic bones with an elegant stonework and black trim facade that evokes old Hollywood glamor, but has been brought into the now with the latest in high end appliances, airy interiors, and a clean lined aesthetic. An inviting open floor plan, intricate design details and over half an acre of grounds make this 10,000 square foot, eight bedroom, ten bath palace an exquisite space for a celebrity buyer to entertain their guests.
The backyard is a private paradise with a beautifully designed waterfall pool, a spa, a waterslide, a stone patio and manicured landscaping, lined with mature trees. The formal dining room looks out on the yard through a curved wall of windows and features stunning custom wallpaper painted in the 1940s with an arboreal theme. The bar has tooled wood built-ins with marble counters. The library features elegant wood walls and one of the home's six fireplaces, while another is found in the formal living room. The spacious kitchen includes a butcher block island, floor to ceiling cabinets, a Sub Zero Fridge, American Range double range and oven and breakfast nook.
Upstairs from the grand foyer, the luxurious master suite features a double vanity, two enormous walk in closets, a spa tub beneath a skylight and French doors leading to an expansive patio, while other bedrooms include their own balconies, custom cabinets and views of the garden. An informal living room, play room and casual dining area provide ample spaces for the family to lounge when not entertaining. This piece of Hollywood history also contains staff quarters, a fitness room, a panic room with secret entrance, and a detached guest house.
The listing is held by Mauricio Umansky and Jon Grauman of The Agency.
Source: TopTenRealEstateDeals.com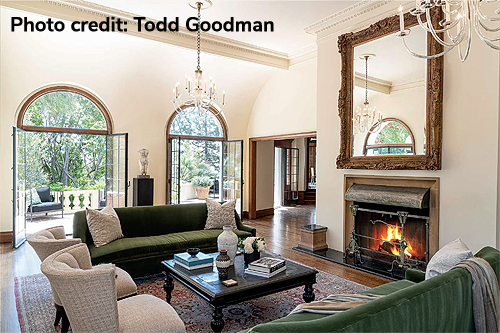 Historic W.C. Fields Mansion
Lived in and loved by some of the most powerful actors and entertainers in the world, the historic W.C. Fields Mansion in celebrity-rich-and-gated Laughlin Park is for sale, priced at $15 million. Though he didn't own the house, not believing in home ownership, Fields rented the home in 1940 and added a pool table, a ping-pong table and bowling lanes set up in the living room – but almost no furniture. A legendary party guy, he had three bars in the house, including a portable bar, and lived there until his death in 1946. Since then it has always been known as the W.C. Fields Mansion.
The Fields Mansion rooms are spacious with excellent indoor/outdoor livability taking full advantage of the mild California climate. French doors swing wide to the terraces and gardens from almost every room in the house, including the master bath. Designed by William M. Clarke in 1920 and spanning over 8,000 square feet, the home has been completely updated and features four bedrooms and five bathrooms with Italianate architecture influenced by the Beaux-Arts movement. Original designs and details are highlighted throughout with antique mahogany paneling, woodwork from a Spanish monastery, and beautiful archways along with four fireplaces. A special room is the elegant copper-and-glass sunroom that is perfect for dining amongst the estate's lush landscaping – a great place for an owner's orchid collection or to retreat during a rainstorm. Though Fields was, by far, the most eccentric resident, the home has attracted many other important residents, including Maurice Chevalier and Lily Tomlin. A few years prior to the house being built, the land was sold in a fierce auction with William Randolph Hearst losing out to the ultimate buyer.
Currently owned by Bobby Patton, the Texas oil magnate who co-owns the Los Angeles Dodgers, today's celebrity neighbors include Angelina Jolie, Casey Affleck, Emma Roberts and Kristen Stewart. According to the Los Angeles Times, Patton purchased the property in 2013 for $7 million.
Michael Maguire and Victoria Massengale of Compass hold the listing.
Source: www.compass.com
For details of these houses and other celebrity homes, please visit: www.topTenRealEstateDeals.com
https://www.toptenrealestatedeals.com/weekly-ten-best-home-deals/home/edward-g-robinsons-beverly-hills-palace-for-sale
https://www.toptenrealestatedeals.com/weekly-ten-best-home-deals/home/historic-w-c-fields-mansion-neighbor-to-cecil-b-demille-and-charlie-chaplain-mansions