Hidden Valley Homes offers an insight into the Nashville market and its generational changes
As one of Nashville's leading custom homebuilders, Hidden Valley Homes (Hidden Valley) constructs luxury, one-off homes, as well as completing large scale renovations and remodels. With over 30 years of experience, Hidden Valley has gained a formidable reputation for building high-quality, aesthetically pleasing homes that are functional and tailored to the homebuyer's needs.
Founded by Jim Spangler after his extensive career working for a large national homebuilder, Hidden Valley remains a family-owned-and-operated business. In the company's early years, Jim was responsible for the building process and his wife looked after the interior design element, with an aim to build just one or two houses per year. Today, the business has multiple employees and completes anywhere between 20 and 60 homes per year, depending on location, style, and size.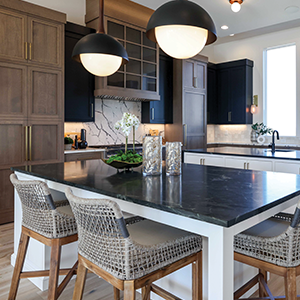 As one of Nashville's leading custom homebuilders, Hidden Valley Homes (Hidden Valley) constructs luxury, one-off homes, as well as completing large scaleJim's daughter, Lauren Pennington, joined the business in 2015 after completing her master's degree, and is now the Sales and Marketing Director, working alongside her father and COO, George Grundler. Lauren sits down with Modern Home Builders to discuss her evolving role within the company, as well as its latest projects and contemporary trends in Nashville, Tennessee.
"We are a quality homebuilder with a huge emphasis on functionality; we believe that it's important for your house to not only look beautiful, but also be practical, and we are great at balancing both aspects to deliver cutting-edge, functional homes," Lauren begins. "So, we really get to know our customers on a personal level and take time to understand their preferences, tastes, and unique lifestyle before we begin designing their home. This way, we consistently create homes that are specifically tailored to best suit the client's needs."
Consistent customer service Truly understanding customers is the key to Hidden Valley's success, especially when designing homes entirely from scratch. The team works with clients to develop their vision and select customized features, delivering a completely one-off design. Hidden Valley also offers estate lots in established communities, representing some of the most elite homesites in the greater Nashville area.
Additionally, in order to cater to a new, wider audience, the business established the Hidden Valley Urban (HV Urban) brand around five years ago. The original brand remains focused on the luxury, custom market, whereas HV Urban is concentrated on the Nashville suburbs, typically completing smaller projects on inner-city plots.
"We are passionate about open lines of communication," Lauren states. "My father, Jim, still meets clients on-site and they always have mine, Jim, and the relevant project manager's contact details, so that they can reach us at any time with their questions or worries. We often have customers call us just to tell us an idea they've had or to get our advice on something. Even as we've grown, our customer service has remained consistent, which is a valuable and, in our opinion, necessary trait in a homebuilding company."
Modern showpiece Hidden Valley is currently working on two unique homes. "One of our projects, Ballentine, is a 9000-square-foot estate home, which is progressing on schedule and in the framing stages at the moment," Lauren elaborates. "It's a modern prairie style house, so it has a very low-pitched roof, a lot of glass, and a huge floating staircase. It is a one-of-a-kind modern showpiece, sitting on 4.8 acres, with a large open floorplan, private gated entrance, and a full catering kitchen.
"We've also recently completed a home in the Franklin area on a hilltop lot," she adds. "The whole house was designed to center around the stunning views, so we put the most lived in rooms at the front of the house with floor-to-ceiling windows to appreciate the view. We designed both the guest and primary suites to face the hills, with huge, strategically placed windows enabling guests to admire the views as soon as they wake up!"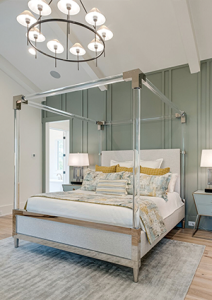 As one of Nashville's leading custom homebuilders, Hidden Valley Homes (Hidden Valley) constructs luxury, one-off homes, as well as completing large scaleNashville's core areas have historically been dominated by traditional design, characterized by small windows, lots of brick, and high-pitched roofs. "We are one of the companies that has moved towards modern style in our region, particularly in Brentwood and Williamson County," Lauren elaborates. "However, we have had to tailor the design to each neighborhood, as some areas lend themselves well to the modern look, whereas others tend to the traditional, so we must balance the two styles by delivering a transitional home that effectively blends them together.
"We didn't want to scare people away from new, modern designs," she goes on. "Instead of embracing multiple innovative design elements, we incorporate one or two new ideas at a time, for example floating vanities, and the marketplace has slowly adopted some of these trends over the last five years. In fact, we recently completed construction of a modern style community and we thought the buyers would be from the West Coast or New York, but all the buyers were locals; they wanted to get out of their traditional bubble and experience something newer, fresher, and cleaner!"
A promising future Moving forward, the future is set to bring generational change for Hidden Valley, as Jim looks to retire, giving Lauren and COO, George, more responsibilities within the business. "We want to maintain our quality and keep our customers happy throughout the process and my father has so much knowledge and wisdom to teach us along the way," Lauren concludes. "In terms of the Nashville homebuilding market, we will see more and more modern or transitional style homes popping up, so we are excited to see the transition of our company and keep up with new styles and trends."