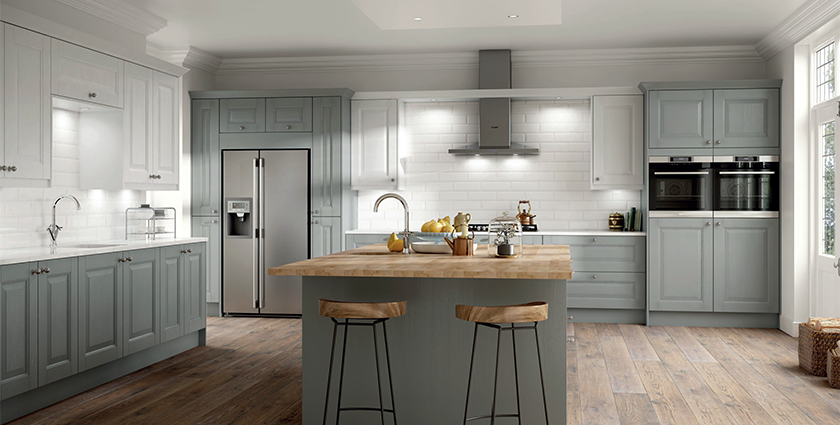 Despite many suggesting the popularity of open plan kitchens would dwindle after a decade in the spotlight, that doesn't seem to be the case.
According to More Kitchens, a UK expert in kitchen design and installation, more than 80 percent of the business' enquiries continue to center on open plan living and creating a more multifunctional space within the home, something largely being driven by the permanent adoption of remote working for large amounts of people.
Current data [at time of writing] shows us that on average over the last 12 months there are:
3,240 online searches per month for open plan kitchen online
2,390 online searches per month for semi- open plan kitchen living room
2,860 online searches per month for open plan kitchen living room
1,830 online searches per month for open plan kitchen diner
On top of that, kitchens are still considered to be the most important room in a house. For many, it's considered the heart of the home, the place where not only meals are cooked and bodies are refueled, but, increasingly, where time is also spent socially with friends and family.
It's for those reasons among others that so many people continue to explore opening up their kitchen and finding out what is possible within their home. Kitchens are exciting projects and come with so many possibilities, especially when it comes to being able to open up the space and do something completely different.
Within that, though, lies an important question: how do you know if opening up the space is the right choice for you and is it worth the investment?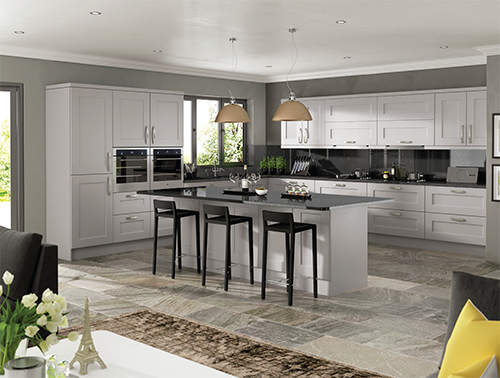 Finding the answer to that question can be achieved by asking a couple of 'why' questions…
The importance of establishing why opening up a kitchen is the right thing for you
While a few main reasons for wanting an open plan kitchen were listed above, a lot of the actual inspiration is being driven by popular TV shows, like Grand Designs and The Great British Bake Off.
When you're looking at properties on the TV, there is far more open-plan type living where houses, traditionally, would have been split into smaller rooms. However, houses in the UK are now being split into more open spaces than they ever were before. Even within new builds, it is far more prevalent.
While those two points are acting as inspiration, for any kitchen designer, it's all about asking why.
Many people that are considering opening up a kitchen currently have two smaller spaces, one of which is likely to be a dining room area with a partition wall splitting the two spaces up.
From a designer's perspective, there are a few key questions that need to be asked before a single wall is taken down. These are:
How often does the dining room get used?
Do you sit down as a family and eat?
Do you have friends around often?
What would be the main purpose of an open kitchen within your home?
How will this change impact the current setup?
Will doors and windows also be impacted?
Are you looking to create a square box, or does a more unique shape need to be considered?
What facilities are you hoping to get into your open plan kitchen?
Ultimately, it comes back to being able to justify a decision in order to come to a proper conclusion.
Each house is different in its own way and that provides challenges that need to be overcome, a lot of which the person wanting to open up the kitchen doesn't think about.
As a designer, it's thinking about how people actually use the house and how they use the space that they've actually got. The reality is most people, when you ask them, want a bigger kitchen and believe they've got to extend to get that space whereas you actually don't.
Answering the myth… does an open plan kitchen add more value to your house?
Some families invest in open plan living as a long-term investment, something they can enjoy now and reap the benefits later down the line when they come to move.
And although the reality is that opening up a kitchen doesn't add any additional space to a property, according to RealHomes, the average price a UK homeowner will pay for a kitchen renovation was £8,000 in 2021. Unsurprisingly, the kitchen ranked within the top ten factors homeowners take into consideration when buying a house.
That's the output, but what's the impact of that? Well, according to Chancellors, a good kitchen renovation can add up to 15 percent to the value of a home.
Given the trends, open plan kitchens provide a much more desirable and sought after living environment and you are far more likely to get much closer to what you are asking for your property if it's laid out in a way that someone else would also want to live in.
Rome wasn't built in a day… the truth about kitchen renovation timeframes
A big myth that needs debunking is the timeframe it takes to turn home improvement projects around, with many assuming it can be completed in a few days.
To undertake a conversion properly, you've got to put aside a lot of time. For example, while a bathroom conversion will take a couple of weeks, a kitchen can take a little bit longer and is dependent on what the end goal is.
A lot of the projects have a knock-on effect of some building work with walls being taken down and moved – huge changes that take time and need to be done a certain way.
I'd say a good kitchen conversion could take four-six weeks. It totally depends on the work being done.
Don't forget about legislation
A lot of people are also unaware of current legislation and how things have changed over the past years.
It's become the most challenging hurdle to overcome when looking at an open plan kitchen, purely because it has the potential to limit a design and may force you to look in a different direction entirely.
However, a lot is achievable compared to what it was ten years ago. It used to be the case that taking an internal wall out was an absolute doddle and far less complex. But removing a wall that spans the length of the house requires internal support and needs to be done in sections. As a result, sometimes it wasn't possible to do what you originally wanted.
That's changed now, but it still has to be done right. These things don't happen overnight. There's a lot of work that goes into the background and there's a lot of costs that go into actually knowing whether it's possible to do something.
It is always our advice to have a professional tradesperson be part of that conversation, rather than trying to take a wall down yourself and potentially adding further costs to the job.
Final thoughts
Everyone wants the home on Grand Designs. Great British Bake Off has inspired people to cook and bake more in their kitchens.
For that reason, open plan living is a trend that, contrary to other opinions, is not fizzling out. For most households, it is an achievable and cost-effective solution that is turning the kitchen into a place to embrace and adding long-term value to properties.
However, with the help of a specialist, it can be easy to establish whether an open plan kitchen is actually a right choice for you and your property. It all comes back to justification and how to make the best use of the space at your disposal.
And sometimes, that simply means you don't have to rip a wall down.
For a list of the sources used in this article, please contact the editor.
Julie Gokce is a Senior Designer at More Kitchens. Established In 1965 and based in Yorkshire, Passmore Group is a family-owned business specializing in the full design, supply, and installation of high-quality kitchens, bedrooms, and bathrooms. With a history now spanning more than half a century, the business has become the region's most trusted and experienced full-service home improvement company. Passmore Group is home of More Bathrooms, More Ability, More Kitchens, More Bedrooms and More Build.
www.morekitchen.co.uk