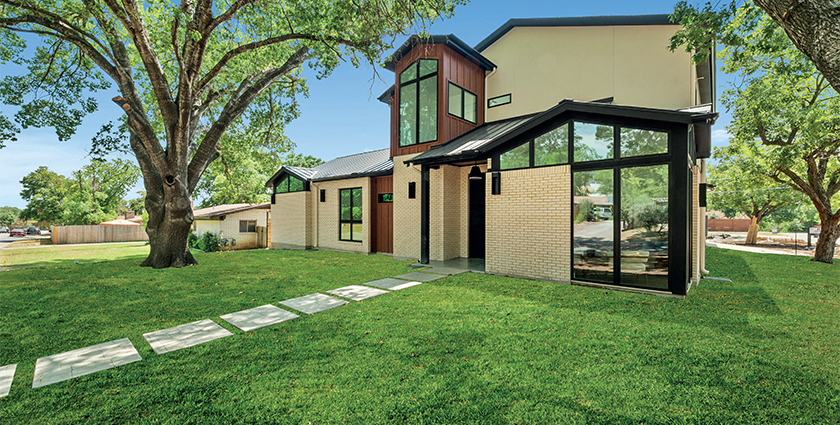 From the ground up
The award-winning Hayes Builders may still be a relative newcomer to the field, but the company is building its reputation based on architecturally unique, energy-efficient homes throughout Austin's Zilker and Barton Hills neighborhoods
It's been a rapid rise for Hayes Builders. Launched in 2015, the company undertook its first project in the Zilker Park area of Austin, Texas, before expanding into nearby Barton Hills. Within fewer than six years, however, Hayes had laid claim to the 2021 Custom Builder of the Year Award for Austin, as named by the Austin Business Journal.
En-route to this accolade, Hayes has positioned itself at the cutting-edge of architectural design, with upper-end homes tailored to each individual lot, giving its clients the very best in unique living. But one thing above all is driving the company's success. A standout among its peers, Hayes is a leader in the construction of energy-efficient homes. All of Hayes' projects come complete with LEED-certification, including a two-year housing and cooling guarantee, bringing approximate savings to a 3600-square-foot home in the region of $49 a month.
Speaking to Modern Home Builders, Steven Hayes, Founder and President of Hayes Builders, underlines the company's commitment to building responsibly, which includes the use of sustainable paints and glues, durable materials, and air filtration mechanisms. "We do everything according to specification to make sure our homes are extremely efficient," Steven comments. "They use very little energy, and they're long-lasting, which eliminates waste."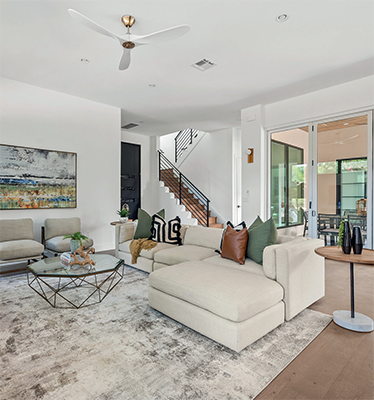 It's an ethos to which Hayes' clients have proved receptive. "As well as doing our part in building an energy efficient home, they understand that we have their best interests in mind," Steven continues. "We do what we think is right for the situation, and we'll navigate supply chain issues or other market strains to ensure we can deliver that."
Optimistic outlook
Despite much cause for celebration, the last few years have not been straightforward for anyone within the construction sector. The arrival of the Covid-19 pandemic placed a pause on a significant volume of building activity, and set the stage for an altogether uncertain trading environment. For Hayes, the challenge was to respond quickly to a rapidly evolving situation.
"In early 2020, everything began to shut down," Steve reflects. "Although most of Texas remained open, the city of Austin attempted to shut down home building, before the governor stepped in to allow our work to continue.
"At that stage, we had to become extremely efficient in our operations," he goes on. "We contacted our suppliers, vendors, and contractors to let them know where we stood on certain items, and how we wanted to reassess in the eventuality that things didn't continue in a positive manner. We were prepared for the worst, and we set our contacts' expectations for the possible worst. As expected, the biggest change was to make sure that all our employees were safe on the job site. Fortunately, though, things continued to move well here, and we were able to get back to business-as-usual without too much difficulty."
More than two years on, the impacts of the pandemic haven't gone away, as long lead times continue to complicate the vast majority of builds. In this context, communication with key partners is more important than ever. "Of course, delays do affect our trades in the field – we have to supply them with the materials they need to finish jobs," Steve reveals. "To that end, we're trying to stay ahead of events, having daily conversations with our vendors and suppliers to know what's coming.
"Every market is unique, but overall, Austin is still only at two months of housing supply," he continues. "Six months of housing inventory is considered equilibrium, so we're still way under that. Nevertheless, while things may have tempered a little, we still see Austin's long-term economic growth as going to be substantial, and we're super-excited to be here."
Steve's comments point to an optimistic outlook within Hayes Builders regarding the future of Texas's homebuilding sector – and with good reason. Job growth in the state is soaring, thanks to the arrival of a number of major manufacturers in recent years, including the likes of Samsung and Tesla, and shows little sign of slowing down.
"The number of companies relocating here is expanding, almost on a daily basis," Steve tells us. "It's definitely a huge driver of homebuilding, and will continue to be so. A lot of companies in the pipeline haven't even arrived yet. Instead, they're simply setting up their headquarters and moving in their top executives. Therefore, we still believe that the biggest growth in the Austin market is yet to come."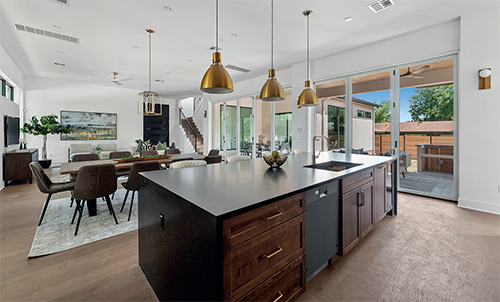 As Steve is keen to point out, Hayes Builders takes the same tried-and-tested approach with all of its projects. "To begin, we look at the design to make sure we have a house that complements the available light," he explains. "In the case of our recent corner-lot project at 2109 Ann Arbor, we were able to utilize the whole front side of the lot, putting the garage towards the back, with side entry into the back of the house. As a result, the house more or less wrapped around the yard, which in turn gave impressive views of downtown Austin."
Another recent project for Hayes is 3206 Westhill Drive, situated within Austin's most desirable 78704 zip code. "3206 Westhill Drive was an extremely elevated lot at the front, and lower towards the back," Steve indicates. "We were able to design the house itself to really be open to the back yard with the large trees. People would come in and remark upon how much it resembled a tree house, because of the way in which we were able to maintain all the large trees and foliage.
"That's how we approach projects," he says. "We make sure to design a house that's going to fit well on the lot, alongside the elements that make that lot unique. Then, from there, we get the ratings and the direction we need from our energy advisors to make sure that we can offset some of our most desirable flagship features, such as large windows that boast impressive views. Those windows won't have the level of insulation you find in a wall, so we then need to think creatively about how we can continue to deliver a high energy rating."
Moving into the latter half of the year, Hayes Builders hopes to close a total of six more projects. In doing so, the company remains focused on the lucrative 78704-zip code. "We're continually looking for new opportunities as far as the lots are concerned," Steve says. "One noteworthy fact about Austin is that one third of all jobs in the city sit within a three-mile radius of downtown. 78704 is within that three-mile area, and so it's set to remain a strong opportunity for growth, particularly in light of the ongoing uptick in demand.
"In another three to five years' time, we expect to continue on our path as a custom builder," Steve concludes. "We're set to maintain our current growth, focusing on each individual home rather than looking broader – for instance, thinking about how many homes we can secure in a given area, or the number of homes that we can build throughout the year. We remain oriented towards the lots themselves, identifying those that we think are unique, and developing high-quality products to fit."
Hayes Builders
www.hayesbuilderstx.com
Services: Custom residential homebuilder