Grove Custom Homes attributes its 25 years of success to teamwork, detail, and quality
Founded in 1998, Grove Custom Homes completes projects ranging from single-family homes and condominiums to commercial and industrial sites. However, the business specializes in residential properties, delivering specification builds, custom homes, and remodels throughout the Portland, Oregon, area.
Celebrating its 25th anniversary later this year, Grove Hunt, Owner and President, joins us to reflect on the company's achievements, growth, and latest projects. Having started the business just three years into his career, Grove has successfully navigated housing recessions and adapted to changes in the market, gaining invaluable experience and expertise along the way.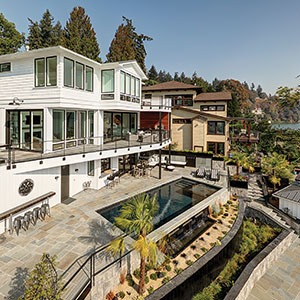 "I was really lucky to fall into working for a real estate developer when I left college, as I learned so much during those years and it set me up for an extensive career in homebuilding," begins Grove. "When I first founded the business, I spent the better part of 15 years building primarily specification homes; we weren't a big production builder, but instead completed smaller spec properties to an exceptional standard.
"Then, when we had the real estate meltdown in 2008, I got more into the high-end, custom world, and enjoyed working for a specific client right from the beginning of the design phase," he continues. "Those clients typically come from people within the real estate community, through referrals or architects, and so from there, I started to build a great team."
Mutual success
Grove has witnessed the business grow tremendously since its inception, now with a full design and build team to assist with projects. "We work with two or three landscape architects, a couple of pool companies, and a handful of talented interior designers," he explains. "I have a great relationship with our four amazing architects too; they often refer work to us, and we regularly refer work to them, as there's a mutual desire to see one another succeed.
"The first thing I do when we get a project is assign a specific team to it," Grove adds. "I believe that building a team from the outset enhances our rapport with clients and ultimately leads to successful project delivery. This way, we can get a sense of the customer's vision, style, and requirements, all while cultivating a successful relationship."
Grove is not only passionate about the company's customer relations, but also his own relationships with employees. "I'm passionate that everybody in my team feels like an important spoke in the overall wheel," he proposes. "I try to always reinforce my trust in them to make decisions and do their job to the highest standard, as I strive to create a positive work environment where employees feel like a valued part of the team."
Happy customers
Turning to its portfolio, the business has produced a handful of exciting, high-profile, custom homes in the Lake Oswego area. Grove elaborates: "This region has particularly large sites, ranging from half-an-acre-to-two acres, which allows the client and architect to build a sprawling home with great elevations. Most of these properties have mountain views and overlook a beautiful valley, so they tend to be designed with the landscape in mind. This means two things; customers typically want a design that blends the house with the landscape, and the design is centered around the views, which often results in huge windows and lots of glass.
"We are currently working on a jewel of a property in the Lake Oswego region," he reveals. "It's a two-acre plot with breathtaking views of Mount Hood, which is in the framing process right now. I think it could potentially be the nicest house I've ever built, so I'm looking forward to the construction journey and seeing the masterpiece take shape."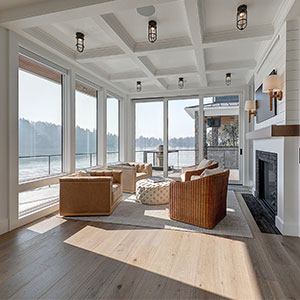 Additionally, Grove Homes is in the final stages of a large remodel, located on the Oregon coast, around 800 yards from the beach. The property is high up in the hills and is being remodeled with the dynamic views in mind, with plenty of glass being installed to maximize natural light and enable full appreciation of the surrounding environment.
"We are really good at what we do, and I'd say our niche is large projects," states Grove. "The custom home sector of the business really took off for us in 2010, and the success has continued ever since. Our projects have a typical build cycle of between 14 months and two years, so we only ever have four homes under construction at any time. This enables us to really get to know a client and take time to deliver all the details and specifications they want.
"One of the best feelings is walking around a house at the very end and seeing clients thrilled with their new home," Grove reflects. "It's great to see clients a few months after they've moved in and to hear their positive feedback about how much they love their home. I also love the construction process though; I enjoy it right from the excavation point all the way through to finishing touches, and everything in between. I love seeing all the pieces that come together to build something amazing from nothing!
"The business has been successful over the last 25 years because we have always done the right thing," he continues. "We consistently deliver high-quality craftsmanship, and we have many repeat clients, which is testament to our work. I believe that if you work hard and do the right thing, meaning you build a great product and are honest with your clients, then success is sure to follow."
People first
Grove's philosophy stems from his father: "My father always instilled a strong work ethic in me; he would tell me to be honest, and if you are going to do something, do it well and do it right. You don't come across individuals with this quality very often, so I do my best to hold onto them when I do!
"Of course, I would not be successful without my wife, Carey, who has supported me in growing the company. She is a real team player and has worked with me while progressing her own career as a successful realtor.
"I often think about the growth of the business in the future and although there are many uncertainties, one thing I know for sure is that to grow a business, you need support in place from the right people, but good people are increasingly hard to find," Grove concludes. "So, overall, future growth depends on our workload moving forward, but we will continually strive to be a high-quality, customer-oriented homebuilder."