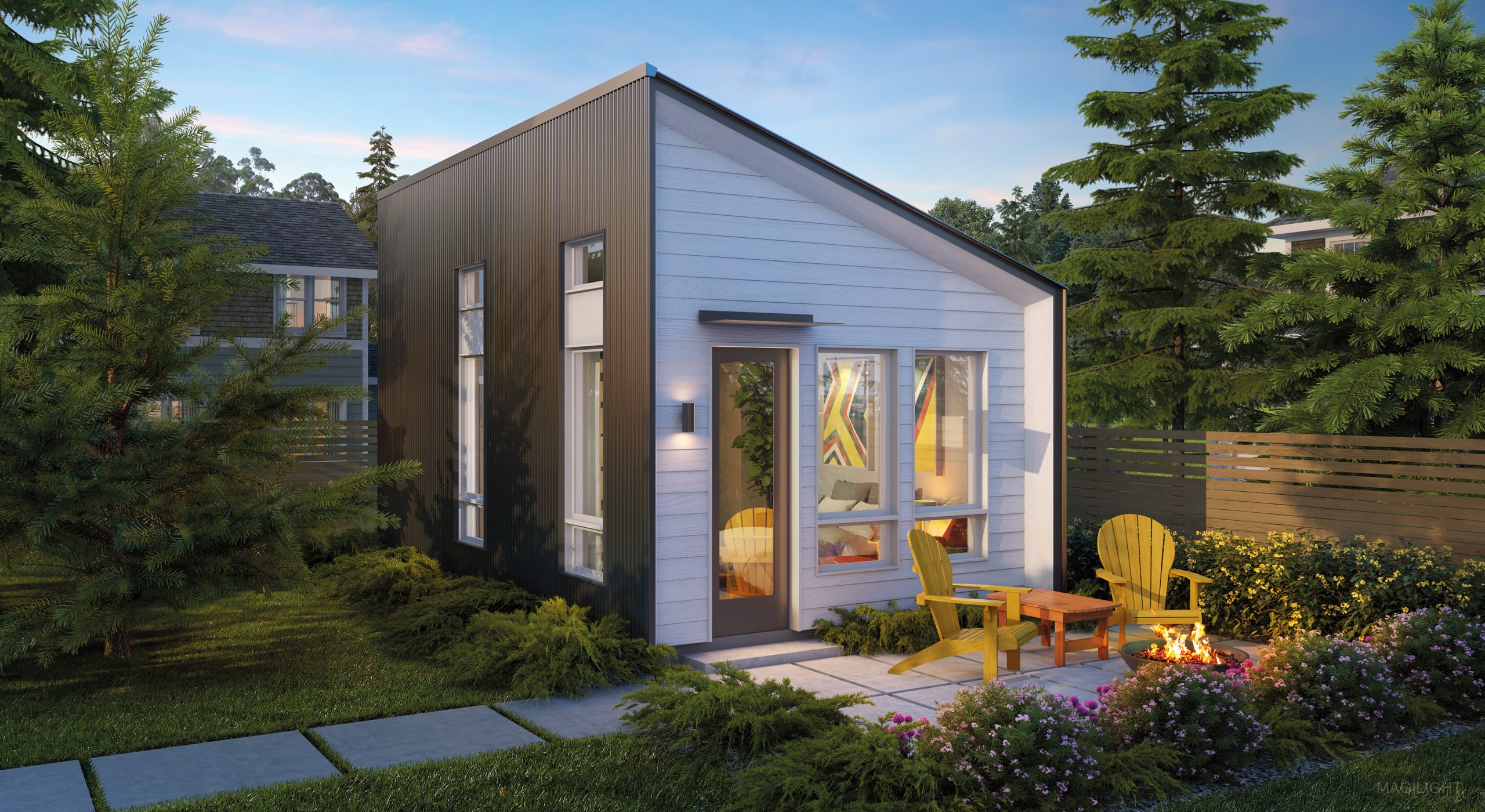 Building a better future
From the very beginning, Green Canopy Homes has been a company with clear intentions. Around the time that Aaron Fairchild and Sam Lai established the business in 2009, both Co-Founders had opportunities to work on lucrative, individual projects, but the pair instead decided to join forces in support of a shared goal – to make an environmental and social impact through the way homes are built. Today, in 2020, the mission is the same, but with a larger team, growing popularity, and more ambitious projects on the horizon; the collective intentionality behind Green Canopy is stronger than ever.
Based in the Pacific Northwest, Green Canopy is a vertically integrated Net Zero Energy residential developer, general contractor, and fund manager. Investor backed and board governed, the company has successfully developed a scalable platform for acquiring, buying, building, and selling environmentally sustainable and healthy homes in the urban infill walkable communities of Seattle and Portland. While these projects currently include rowhouses, townhomes, DADUs and cluster homes, Green Canopy is in the midst of diversifying and including multifamily projects. In the 11 years since its founding, the firm has built over 250 green-certified homes of a variety of building types, from single-family remodels to the new construction of large multi-unit projects.
"At the very beginning, we started with deep green remodels and then shifted into new construction," explains Sam Lai, now the company's Chief Acquisitions Officer. "Originally, we were focused solely on addressing climate change but as we've learned more we've realized how important it is to also focus on the sustainability of our communities. So, in addition to building sustainable homes, we are also working to ensure our homes are healthy and affordable. What makes us different is that we care not only about the product and its impact on the homebuyer, but also about its impact on the wider community."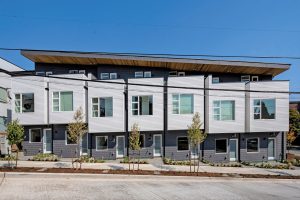 A disruptor in a largely inefficient industry, Green Canopy creates high performing, deep green, all-electric healthy homes that maximize land use, increase density and create more accessible housing units in walkable neighborhoods close to transit and jobs. Net Zero Energy and Net Zero Ready homes are a specialization, and over the course of its short history, Green Canopy has sold three times as many of these properties in Seattle and Portland as all other homebuilders combined.
"Back in 2017, we started the Net Zero research and development process, with a view to shifting our entire portfolio to Net Zero Ready at the very least," Sam says. "During the research process, we were shocked by how few Net Zero homes had been sold in Seattle and Portland and realized that the only way people would come to accept these properties as something normal and celebrate them as something valuable was to build more of them. In just three years, we've built over 40 Net Zero and Net Zero Ready properties. The key point for us though is not just to build them for the rich, but work to bend the cost curve downwards so that they can be available for everyone."
Community living
One Green Canopy project that helps to address this challenge has been the recent construction of seven homes on NW 63rd Street in Ballard, Seattle. Located in the heart of one of the city's most opportunity-rich communities, the Net Zero Ready properties are available to rent to families earning just 60 per cent to 80 per cent of the area median income. Completed in partnership with Washington State Housing Finance Commission, the homes are not only all-electric, healthy, and Built Green certified, but offer large, west-facing roof decks with mountain and sunset views, ultra-efficient mini-splits for heating and air conditioning, vaulted ceilings, natural wood features, and easy bike routes downtown.
"Building gentle density, such as rowhouses, townhomes, and cluster homes with accessory dwelling units, ensures more families can access highly desirable neighborhoods at price points lower than a redeveloped single-family home," declares Green Canopy CEO Aaron Fairchild. "Additionally, projects like this one help to serve a population that may not usually have access to Net Zero Energy homes or neighborhoods of opportunity like Ballard."
2020 has also seen Green Canopy continue work on a project in Portland that focuses on the construction of 15 cottages or 'tiny homes'. Backed by a private investor, each home is less than 400 square feet and will have a Net Zero Energy envelope. Similar work is being carried out on Seattle's Bainbridge Island, where a cluster of Net Zero Energy cottages is being built as part of a new shared community living development.
"The younger generations are challenging us to live a more minimalistic, sustainable, 'quality over quantity' lifestyle, and these projects really align with that," Sam states. "People are also realizing how important community is and as a result we need to create communities differently. Within our projects, that might involve shared gardens and walkways where there are chance meetings and interactions, while also providing people with their own individual space where they can close the door behind them. In the larger community, we as a company have a responsibility to provide cost-effective homes as an alternative to renting, in order to help improve the health and wealth of our society's whole ecosystem."
Despite the difficulties presented by Covid-19, Green Canopy's team, shareholders, investors and partners have remained patient, resilient and determined throughout 2020, using the year as a way to build the company's book of business and further pursue its mission, vision, and values. The commitment and application on show throughout the organization has been no surprise to Aaron, who has always argued that the success of Green Canopy has been largely due to the people engaged in the company's work.
"The people are the most important part of our business," he asserts. "We empower them to establish our values and hold us accountable to our values. They are a truly values-driven team dedicated to the mission and disciplined in their work. On top of that, our board includes some of the best regional and national leaders in real estate development, design and construction. We are fortunate to have them."
Aaron's words are echoed by Sam, who admits he is constantly reminded of the spirit of Green Canopy when speaking to members of the team. "I was on a call with one of our architects earlier today and we were discussing space planning," he recalls. "Now, there are a lot of skillful craftsmen and designers in this space that are doing their work because it's an expression of their ego, but I was paying close attention to the language my designer was using today and she was saying things like, 'I just really want our homeowners to enjoy this view, even when the weather is bad.' It was a very compassionate way of looking at our end user that I often take for granted until I remember that – whether it is a site supervisor in the field with muddy boots or the people in finance – everyone on our team feels the same way. There is genuine care here."
ADU project
This spirit of care was a driving force behind the inception of Green Canopy; it flows through the business today and will seemingly do so forevermore. The question is, where will the spirit take the company next?
Across the next three to five years, Green Canopy aims to triple its number of employees, increase its revenues north of $100 million, and become the largest builder of Net Zero Energy and highly sustainable housing on the West Coast. First up though is an extended focus on Accessory Dwelling Units (ADUs).
"Green Canopy is partnering with a construction technology company, NODE, to launch the f l e x, a Net Zero Ready, Built Green certified, modern, high-tech ADU for under $100K," Aaron reveals. "Our blossoming partnership with NODE will lower the costs of construction and increase the speed-to-build by constructing and designing highly sustainable products off-site in a warehouse and delivering to site for rapid assembly. We believe it can set us on a path to become the largest seller of Net Zero Accessory Dwelling Units on the West Coast."
Not only does the ADU project have great potential for profitability for Green Canopy, but it is another answer to a question that sits at the heart of the organization: how can we meet the needs of the community?
"That is the question we have to ask while still making a profit on healthy, Net Zero Energy homes," Sam remarks. "When you have a mission that is not just financially based but socially and environmentally as well, it becomes much trickier because a lot of time you are balancing priorities within the context of what is right in front of you. The f l e x ADU project is the result of us adapting to the changing context around us."
Green Canopy Homes
www.greencanopy.com
Services: Residential developer, general contractor, and fund manager