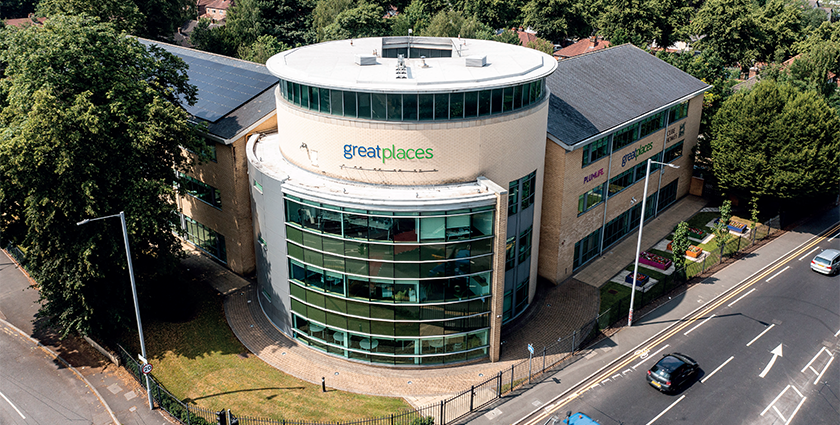 Great Places Housing Group
Building the future
As one of the largest house building associations in the North, Great Places Housing Group provides affordable social housing for the UK. Working in some of the region's most diverse neighbourhoods, the company works relentlessly to meet the differing needs of the communities it serves
Great Places Housing Group (Great Places) is the result of six different mergers that have taken place since the company's inception. Each new arm has brought a lasting cultural impact to the organization and its operation. The latest merger found the business teaming up with Equity Housing Group, which was formed in 1963, and subsequently added an extra ten years to
Great Places' history. "The work we do can be traced back to different organizations," begins Matthew Harrison, the company's CEO. "We've got quite a bit of stock over in Blackpool for example, where we merged with Windmill Housing Association. Another one was with First Peterloo Housing Association in 1996. That business was a specialist in supported housing, and that is now an aspect that has become intrinsic to what we do here at Great Places," Matthew highlights.
A significant proportion of the business' activity focuses on establishing independence and wellbeing for its customers, particularly for those considered to be the most vulnerable in society. However, this is only one of the myriad sectors that Great Places supports. "If I'm being honest, our work ranges across the spectrum of the housing market. We run a supported housing scheme for people with an alcohol addiction in Manchester. Although the concept of the project is not unique, we are one of maybe two other businesses that run it on a 'wet house' philosophy. This means that those with a tenancy do not have to abstain from drinking, because otherwise they often prefer to live on the streets, and we wouldn't be able to help them," shares Matthew.
"We also currently run Housing First in Greater Manchester, where we work with other organizations to get people off the streets, and help them sustain their tenancy. We provide homes for older people too and have our General Needs accommodation, which is most of the work that we do, and consists of housing for families, couples and single folk that just need affordable accommodation.
"Finally, we also support housing for sale. This aspect is managed through Plumlife, and our market sale is conducted through Cube Homes, which has recently completed a project where the homes sold for over half a million pounds each. So, as you can see, we really tackle the entire range of the market, working on a 'profit for purpose' basis," he says.
Matthew continues to elaborate on Plumlife and Cube, and how they both successfully contribute to achieving the business' goals in tackling the housing crisis. The former specializes primarily in shared ownership and leasehold management. "We even manage a marina in Manchester through Plumlife. We are one of the largest organizations operating this kind of activity in the north of England." Complementing Plumlife is Cube Homes, the company's commercial developer division. As Matthew referred to, this arm develops housing for market sale. It is entirely market facing and owns a small market-rented portfolio.
With this, we then steer the conversation towards the various projects Great Places has fulfilled. As we can imagine, the company's portfolio is highly impressive, and Matthew highlights that there are a few of which he is particularly proud. "We've been involved in some very interesting regeneration projects. We got involved in New Islington, Manchester, where 20 years ago, we were selected to be the organization that provided homes for people whose properties were being cleared. Today, we've got two more schemes in that area, which we're very pleased to be involved with.
"In a similar vein, we're also involved in Park Hill, Sheffield, which is a Grade II-star listed apartment scheme. Our role is mainly concerned with phase one, where we own a number of homes and manage the block – we've also got an office there. The building is internationally renowned, which, again, is a great thing to be associated with," Matthew shares.
Consistency of delivery
Most notably, Great Places has been successful in its bid to become a Homes England strategic partner, through which £241m of funding will enable Great Places to develop 4,920 grant-funded homes across the North by 2028. "It's obviously a significant undertaking for the organization, and it definitely has the majority of our attention right now. We have to establish the necessary resources to complete this work, and it is by far the single biggest project that we have ever been a part of. We are working incredibly hard to gain real momentum, but we are also so proud of our track record, which has helped establish the reputation we have to be trusted to deliver a programme of this scale. The top of our priority list is to commit everything we have to fulfil those contractual obligations."
A project of this size requires a reliable and hard-working team, which, for Matthew, is the essence of what makes Great Places the exemplary business that it is today. "We've built a strong set of stakeholder relationships based on consistency of delivery. One of the best messages that we get back from our stakeholders is that the organization has a reputation for delivering on its promises. We believe strongly in fantastic customer service, and we want to be recognized as a business that supports a social purpose that everyone can relate to.
"Our business model is predicated on the notion of being financially resilient, and if we maintain that, then we will be able to continue to deliver on all the projects that we want to. This also depends hugely on the team that we have; without them, we couldn't do this work. I cannot emphasize enough that at every level, our goal is to support our social purpose and persevere in the work we do," shares Matthew.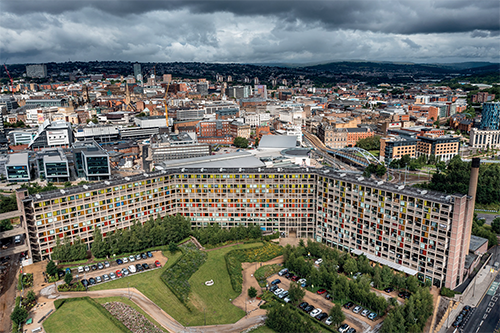 He also shares that he cannot talk about the organization's social responsibilities without including its drive for a greener future. At the moment, the business is in the process of navigating eco-friendly waters to ensure accurate execution, as some of the homes it owns will be difficult to move to net zero. "Over the last two years, we have been developing a strategy to get our Net Zero goals off the ground, but this is proving to be a bit tricky. For example, we own over 1,000 pre WW1 terrace houses and, as you can imagine, those present a number of challenges with regards to their sustainability potential, because of the era in which they were built.
Influential voice
"Our policy right now is to be driven by data, and try to ensure that we have as good a dataset as possible to make informed decisions about how to move forward. We're working towards our EPC C as a minimum standard by 2028, and we are well on our way to achieving that. This is the first step on the journey to achieving our Net Zero targets," he shares.
Today, the reality of the house building industry in the UK is riddled with challenges; from supply chain issues, to the increased cost of living, and each of these plays their role in elevating the current housing crisis. For Matthew, the future of the business will be to ensure that its customers are able to depend on secure and affordable housing, through an organization that takes pride in its responsibilities to the community. "We're part of a consortium called OSHA (Off Site Homes Alliance), which looks at developing modular housing options, so that we can provide capacity to meet the growing demand. Furthermore, we also have to ensure that all our stock is surpassing industry standards, such as fire safety, for example, which we all know has been at the top of everyone's priority following the Grenfell catastrophe. We need to be cognisant of the resources issues, both human and financial, to guarantee that we complete our work on time, and that our customers are safe.
"Although the market right now is turbulent, and there is still a great demand for our housing. We have to ensure that in every project we are providing excellent homes, regardless of the difficulties that we run into."
For Matthew, the highest priority is for customers of Great Places to be well looked after. As the conversation turns to the future, we ask him what his hopes are for his business as it tries to mitigate the current issues surrounding the house building industry. "We have to remain resilient to these challenges. They aren't going to go away any time soon, which means that we need to do our level best to ensure we can rise above them, and provide for our customers.
"I think the housing market is going to experience a continuous restructuring as we go forward, which means that when it comes to balancing financial stability and close-customer relationships, finding that sweet spot for many companies will be difficult, but I know we can do it." Despite these ever-growing challenges, Matthew concludes by adding that his biggest hope for Great Places is to remain an influential voice in the market place, which will only happen if the Group stays true to its social purpose. With this, he feels the business will maintain its position as a key player in the UK's housebuilding industry for many more years.
Great Places Housing Group
www.greatplaces.org.uk
Services: Home building association