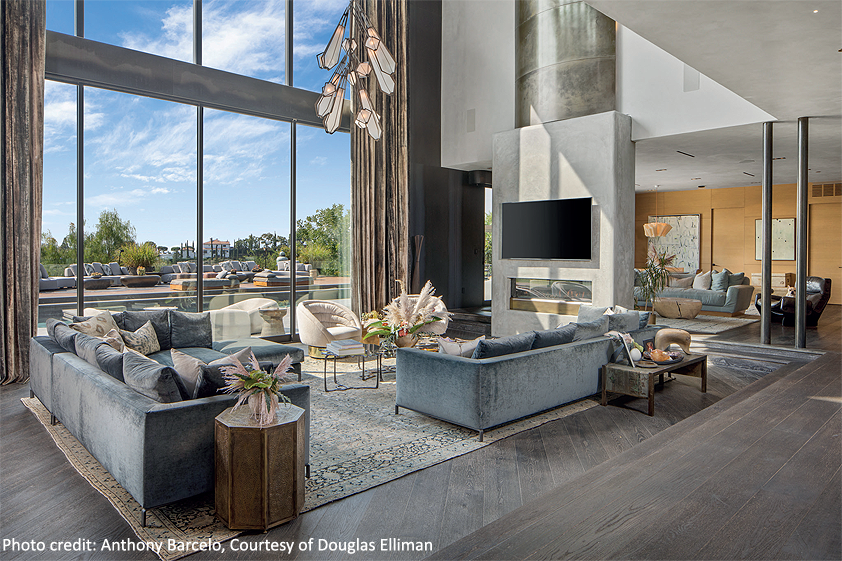 After settling in their new Beverly Hills home last summer, John Legend and Chrissy Teigen have not yet sold their other Beverly Hills home – the one they bought from Rihanna in 2016. It is the contemporary-style home where they lived when their two children were born, the home often seen on Chrissy's social media posts. With one too many homes and one of Hollywood's busiest schedules, the superstar couple has reduced the price from $23.95 million to $17.95 million.
After John and Chrissy purchased Rihanna's 90210 home, they spent considerable time and money on creating their own style. An important change was in turning the color scheme from cool to warm tones and decorating the kitchen in a way that would make a good set for Chrissy's cooking shows. Good at almost everything they do; the home lives up to the Legend-Teigen star quality.
Built in 1966 and decorated to the highest contemporary standards, the 8,520-square-foot home has seven bedrooms and eight baths. Drama begins at the entry with its 33-foot ceiling, a curving stairwell leading to a second-floor catwalk, and a peek at the family room where John kept his grand piano. Next, a large sunken living room with a floor-to-ceiling glass wall and views over the canyon. There is Chrissy's kitchen that was the ideal venue for a chef-author to test and film the creation of sumptuous recipes. The master suite has a brass-and-concrete fireplace, a balcony with far-reaching views, his-and-her dressing rooms, walk-in closets that are more like fashion showrooms, plus an Italian-inspired 'Glam Room.' All seven bedrooms are en-suite and have balconies. Also included is a gym and a comfy home theater. Special finishes and decor include mandala-patterned ceilings from Thailand, ebonized cerused oak floors, clay-and-steel-rolled walls, onyx sinks, and Italian-quartz countertops. Outside, the entertainment area includes more fabulous canyon views from the pool terrace, which has a heated saltwater pool, Jacuzzi, chef's grill, and wood-fired oven. A grapevine-shaded pergola is a romantic spot for alfresco dining. The home also has solar power and a 70kW generator.
The celebrity-quality home is listed with Marshall Peck of Douglas Elliman, Beverly Hills.
Source: marshallpeck.elliman.com
Historic Hearst Mansion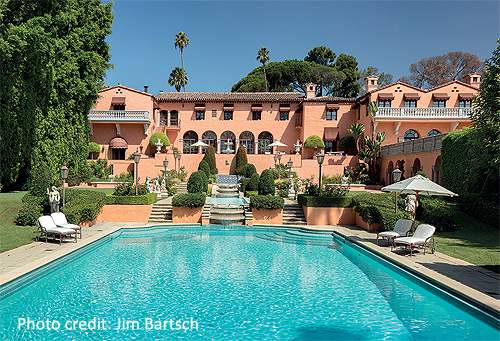 Located in the heart of Beverly Hills, the fabled Beverly House, the showplace of publishing magnate William Randolph Hearst, is back on the market at a reduced asking price of $89.75 million – down from $185 million in 2016. One of California's most historic homes, Marion Davies, Hearst's girlfriend, purchased the house in 1946 as a gift for Hearst. The couple moved there from the Hearst Castle, where they had been living in another historic California mansion, and stayed until William's death in 1951.
Beverly House is most well-known for its memorable movie scenes in The Godfather, where Hollywood movie producer Jack Woltz woke up to a bloody horse head in his bed, and the glamorous estate where Whitney Houston's character lived in The Bodyguard. The mansion was also a favorite of the Kennedy family, where John and Jackie spent part of their honeymoon in 1953, and later became the West Coast presidential election headquarters for JFK's 1960 presidential campaign. In 2018, Beyoncé filmed part of her groundbreaking visual album Black Is King on the grounds, and in 2019, Adel held her 31st birthday party there.
Designed in 1927 by Gordon Kaufmann, the architect who did the Hoover Dam, Hollywood Palladium, Los Angeles Times building and the Santa Anita Racetrack, Hearst's Beverly House is the quintessential emblem of Hollywood's Golden Era. The estate is well known for its H-form architecture characterized by long colonnades, wide balconies, arched floor-to-ceiling windows and its spaciousness. Some of the spaces include a stunning two-story library with hand-carved paneling and a wraparound walkway; a formal living room with its 22-foot-high, hand-painted, arched ceiling; a state-of-the-art spa; a billiards room with herringbone parquet floors and an intricately designed ceiling and carved fireplace – both from the Hearst Castle in San Simeon. The main-level hallway is a staggering 82 feet up to the 32-foot billiard room, which is open to the main hallway for a total of 114 feet visible upon walking into the entry. The grand upstairs hallway is more than 102 feet long and features a 40-foot wide, nearly nine-foot-ta
ll Dennis Abbe mural that was commissioned by Hugh Hefner. The gardens, designed by landscape architect Paul Thiene, are a focal point including cascading waterfalls to the pool. The main house and two guest houses sit on 3.5 acres.
The Beverly House listing agents are Anthony Marguleas of Amalfi Estates in Los Angeles, Gary Gold of Hilton & Hyland in Beverly Hills and Zizi Pak of Rodeo Realty in Beverly Hills. The property is listed by order of the U.S. Bankruptcy Court.
For details of these houses and other celebrity homes, please visit:
www.topTenRealEstateDeals.com
https://www.toptenrealestatedeals.com/weekly-ten-best-home-deals/home/john-legend-chrissy-teigen-have-too-many-beverly-hills-homes
https://www.toptenrealestatedeals.com/weekly-ten-best-home-deals/home/historic-hearst-mansion-back-on-market-at-reduced-price