Getting to Know 2019 Parade of Homes Winner, J. Howell Custom Home Builder
We're a custom home builder operating in Grand Junction, Colorado, and we believe that a home can be so much more than a house," opens Justin Howell, Founder & Principal of J. Howell Custom Home Builder. He continues: "Our motto is 'crafting homes, building community,' because we know that a home can be the most important place to grow relationships and create a community. We consider it a privilege to contribute to that."
Although J. Howell Custom Home Builder was officially founded in 2018, Justin is not new to the craft of home building. He grew up helping his father, who owned a hardwood flooring business. Through his experience as a young boy, he learned to pay attention to details and value hard work. He fondly remembers those days, which sealed his desire to build homes people fall in love with each time they walk through the door.
"From the very beginning, I knew that I wanted to be a home builder, and my upbringing certainly inspired that," Justin reflects. "I grew up on the job site, worked my way through college learning various trades and earned degrees in both Construction Management and Computer-Aided Drafting and Design."
Exceptional service
Before founding his company in western Colorado, he spent a five-year period working for a large, prestigious firm in the area. When he left the company in 2017, he knew the timing was right. He was ready to launch his own firm and took the leap.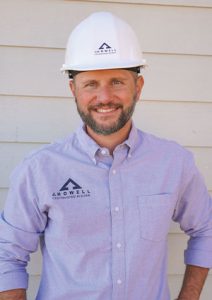 "Part of our success, no doubt, stems from that incredibly valuable stint I spent at another building firm; they are excellent," Justin shares. "I learned a lot about the building process behind the scenes; I learned how to service and take care of high caliber clients, and I learned the value of communicating clearly so that the building process would be an exceptional one for each customer we serve."
It turns out, Justin's passion was also a predictor for his success. In his 2019 Parade of Homes debut, he swept the judges' awards, including taking home the People's Choice Award and subsequently solidifying a reputation for superior craftsmanship and an infallible vision for excellence.
"The house we built for that show is perhaps the most notable in the brief history of the company," he remembers. "We knew that we were about to unveil something that was going to be design-forward, on-trend, and new for the Grand Junction area.
"As a team, we looked at the house and said: 'This is either going to go really well or really badly.' Fortunately, it turned out to be the former," Justin says, a smile flashing across his face. "There was a point during the process where we could have changed our plans, and no one would have known. But we stuck to our guns and took a risk – and it paid off."
Building dreams
Justin's now got his home building philosophy nailed down. He explains: "As a custom home builder, the thing that makes us truly unique is that we don't specialize in one style of home, design, or architecture. Rather, we're able to customize everything we do to meet our client's unique specifications, needs, and style to build them their dream home."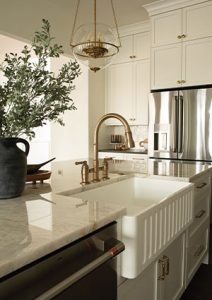 He continues: "This means we get to craft a beautiful farmhouse for one client, a mid-century modern inspired ranch for the next, and a 7000-square-foot estate home for another… all in one year!"
Justin is in the business of building dreams – or, more specifically, turning those dreams into dream homes. What separates his business from others are the people he surrounds himself with – staff and subcontractors alike are as conscientious and collaborative as he is. For Justin, it's imperative that they reflect the company's values and offer an exceptional experience for each client by adapting to their evolving needs throughout the process.
This nimbler approach, focused on an excellent customer experience, is a partnership between Justin, his team, and the faTitle Page Separator Site title milies he serves. "To offer an outstanding experience and final product, we limit ourselves to building four houses at a time," explains Justin. "A custom home is unique: a partnership between the builder and homeowner. We strive to make the customer's vision become reality and, in doing so, we can provide a more attentive experience for our clients."
He adds: "By building fewer homes each year, we are able to walk with our clients every step of the way. It also enables me to always be on site while working with subcontractors, ensuring every detail is accounted for."
While only four houses at a time are actively being built, the team is continuously working with clients through the onboarding and design stages so there is not a delay when it's time to begin a new build.
Stewards of construction
In the coming months, Justin and the team will launch a YouTube channel, featuring both walk-through videos of the firm's homes and video insights into J. Howell Custom Home Builder and the construction process – from initial concept and design through to final result.
"Ultimately, we're hoping to help inform customers, whether it's about J. Howell Custom Home Builder and building a dream home with us, or another builder," Justin concludes. "It all ties in with my future goal: to build on what we're doing now, but to continue to learn and improve along the way.
"At J. Howell Custom Home Builder, we value growth and constant improvement. We're stewards of the construction trade, and we're always looking to refine processes. In doing so, we will become a more streamlined and exceptional builder for the families and community we serve."