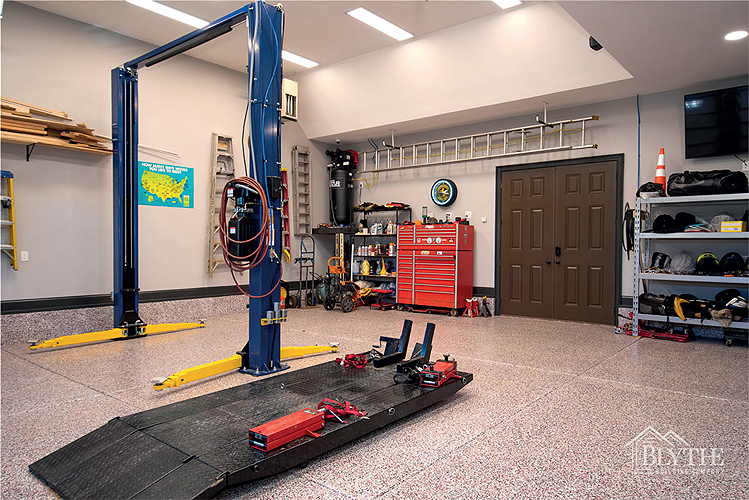 When many potential homeowners imagine their dream home, they tend to focus on the kitchen and master suite. The perfect countertop material, the finest appliances, oversized islands, and custom showers top their lists.
But for others, the garage is the focal point. And not just a little two-car garage. Something spectacular.
We had a recent luxury home project for a die-hard car builder where his dream garage took center stage. We made this passionate car guy's dream come true by nailing all the details…
A beefy car lift
If you are doing intensive work on cars in your garage, you need a lift. It's that simple. And not just a piddly little portable option. But a hefty car lift to make your job easier and spare your back and neck from strain. The lift has to be dependable and sturdy enough to handle a lot of wear and tear over the years and take the weight of anything you may dish out.
A reinforced concrete floor
When you have a two-post or four-post vehicle lift, there's a physics problem. The amount of weight per square inch on your concrete floor suddenly goes up astronomically where the feet of the lift sit. A regular concrete slab can't handle this.
A reinforced concrete floor can accommodate the tremendous weight load from the lift and car. Many lift manufacturers recommend at least four inches of reinforced concrete slab, but six inches is even better.
If done correctly, no one will ever notice the reinforcement from looking at the surface of the floor. But an unreinforced concrete floor that cracks and caves in a few inches or more would be a disaster.
Top-rate epoxy treatment
A concrete floor is functional and perfect for garages. But when you have a lot of cars in and out— oil, brake fluid, or transmission fluid will spill on the floor eventually. A regular concrete floor will soak in those liquids and be very difficult to keep clean. Plus, unfinished concrete tends to create a lot of dust, which no one wants in their workspace.
Some people choose to seal or paint the concrete, which is fine. But if you want the best garage floor option, we recommend garage floor epoxy. Epoxy is not paint. It is a thermosetting resin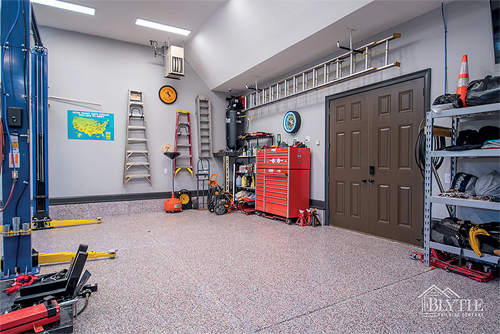 coating that is much harder and thicker when it dries than paint.
Epoxy looks professional, stands up to abuse, lasts a long time, and has a clear coat to make cleaning up a breeze. So, if you are looking for durability, high performance, and low maintenance, this is your pick.
A vaulted ceiling
A car lift generally needs more space than a standard eight-foot ceiling. So, we built a beautiful vaulted ceiling for this project to give plenty of clearance for the lift. The entire garage didn't need the extra height, but the side with the vehicle lift and the ceiling-mounted heater benefits from the extra overhead space.
Insulation and temperature control
If you want to use a garage as a year-round workspace, you've got to be comfortable. A ceiling-mounted heater or a mini-ductless mini-split unit (for heat and AC) can make a big difference.
If you want to keep your electric bill under control, insulate the garage and opt for fully insulated garage doors. It makes a noticeable difference in those steamy summer and chilly winter months. For this particular project, we also had to specially design the garage door on one side to open above the vehicle lift.
Abundant lighting
A workspace needs plenty of ambient lighting to help you see what you are doing and not feel like you are working in a cave. We built in plenty of recessed lighting throughout the entire garage ceiling to illuminate the space adequately.
We love recessed lights because they are efficient, sleek, timeless, and very low-profile. They don't collect dust on top like hanging fixtures or hang down and get in the way. Add some LED bulbs for a whole lot of brightness with low energy costs.
A modern computer and diagnostics station
Of course, a modern garage needs a computer command station for all the diagnostics you'll need to run. This office space is perfect because it is out of the way where things are a bit quieter. There is another computer station in the garage along the side in a spacious nook.
We also love the built-in desk with spacious seating for multiple people to look on and see the monitors. And we appreciate the shelving and hooks that keep all the tools, wires, computers, and necessities organized and easy to access.
Plenty of juice
We also provided numerous electrical drops and outlets to power the many tools this car-lover would need when he works on building new cars. The last thing you want is to run out of the power needed to accommodate all of your tools and gadgets.
Conclusion
Everyone has their own idea of what a dream home should look like. The architectural style, the color palette, the luxury features, and the landscaping all play a big part. But also, be sure to design your dream garage to go with your beautiful home.
Maybe you don't work on cars, but you have a collection you want to protect or display. Or maybe you want a fantasy garage space so you have room to park and room for a home gym or play space for the kids.
Whatever you can dream up, an experienced custom home builder can help you turn it into reality. Get exactly what you want and enjoy it for years to come.
Lee Blythe is the owner of Blythe Building Company. At Blythe, we know that building a custom home is not just about physical construction. A home is someone's dream, where people make memories and spend their lives. We take great pride in creating your dream home using classic design, the finest materials, quality craftsmanship, and the latest amenities.
https://blythebuildingcompany.com