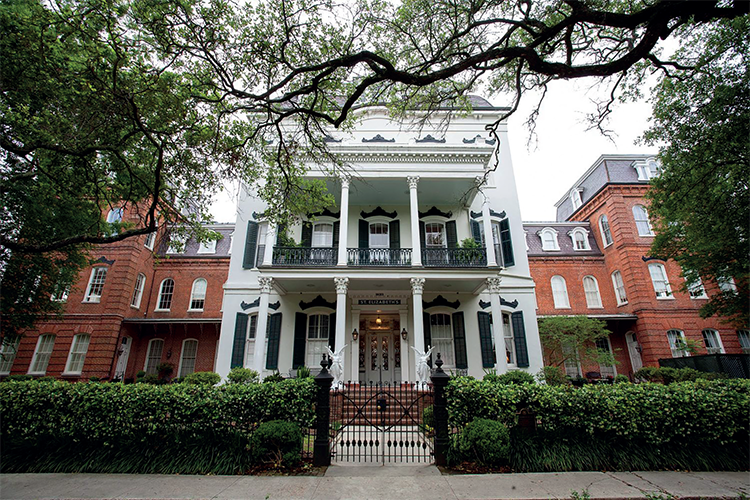 From New Orleans to New York
With the death of Anne Rice in December 2021 at the age of 80, New Orleans lost one of its most unique characters. The author of the 1976 smash hit Interview With a Vampire and its 13 sequels among her 40 novels sold more than 150 million books during her prolific career, forever changing the image of the vampire in literature and inspiring countless other writers. A New Orleans native, Anne championed the city's Southern Gothic aesthetic and owned many lavish NOLA homes, including an 1880's Saint Charles Avenue mansion that is said to be haunted.
In 1993, Rice purchased a three-story, red-brick, 19th-century building known as St. Elizabeth's, which had formerly been an orphanage and a Catholic girl's school. Anne turned it into the largest home in New Orleans, taking up an entire city block. She hosted charity fundraisers and gave public tours, using the money to restore the 47,000-square-foot building, which is on the National Register of Historic Places. Downsizing after the death of her husband, she sold the building to developers who converted the home to luxury condos. The largest and most spectacular unit, The Chapel, was sold at auction in 2018.
Used for religious services during the orphanage days, Anne used this section of her home to house her extensive doll collection. Now a 5,000-square-foot, three-bedroom, five-bath condo, the completely renovated Chapel features gorgeous 17' stained glass windows that bathe the creamy walls and blonde hardwood floors with subtly tinted light. High-end finishes preserve the home's historic details and distinctive charm. The stunning Great Room takes advantage of the condo's two stories and 24'-cathedral ceilings while an open floor plan seamlessly integrates the living and dining areas. The state-of-the-art kitchen includes Thermador appliances, Berloni cabinets, a butler's pantry, and a wine room. The spacious master suite features high ceilings and an ample walk-in closet, plus a bathroom with dual vanities, heated mirrors, and a 16-jet shower. The home also sports a library, den, laundry, and theatre.
The listing was held by Rosy Wilson of Dorian Bennett Sotheby's International Realty.
Source: www.conciergeauctions.com
SoHo sophistication
Reality Star and entrepreneur Bethenny Frankel arrived on the television scene with her runner up finish on The Apprentice: Martha Stewart, appeared on eight seasons of Bravo's Real Housewives of New York, and headlined several of her own projects including a talk show on FOX and the competition program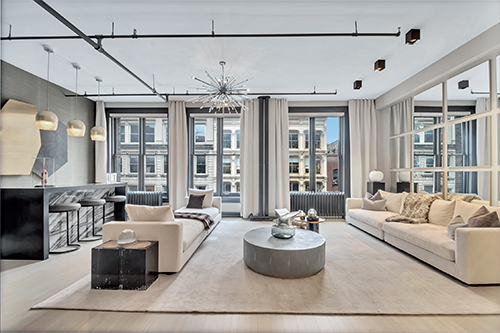 The Big Shot with Bethenny, currently streaming on HBO Max.
The multifaceted star personally renovated the Soho loft she has listed for sale at $6.995 million. The 4,000-square-foot, full-floor apartment has 11-foot ceilings and oversized windows that let in plenty of natural light. The home's sleek, modern style is enhanced by marble-and-oak features while exposed pipes and original columns maintain a classic Soho aesthetic. A thoughtfully designed open floor plan connects the entry foyer, massive great room, kitchen, open dining area and formal living room. The kitchen includes built-in stainless steel appliances, lacquer-finished cabinetry, a central island and a waterfall marble countertop with seating for six. A custom marble-and-stone bar enhances the living room, while another wet bar is concealed within the gorgeous media room that also includes a fireplace.
The primary suite is spacious and airy, with a custom-designed, built-in headboard, luxurious bathroom with both a shower and a free-standing soaking tub, massive walk-in closet and separate beauty room. The second bedroom is enhanced by a customized wardrobe and city-quiet windows. The home office has its own en-suite and an attached laundry room. The apartment also includes many modern upgrades such as an integrated sound system, central AC, custom lighting and motorized shade, while the building features a key-locked elevator, brand new video intercom system, a full-time super, and a stunning common rooftop terrace. Officially a four-bedroom, three-bath home, the residence is currently configured with two bedrooms but could easily be converted to four plus the office.
The listing is held by Noble Black, David Son and Erik Ternon of Douglas Elliman.
Source: www.elliman.com
For details of these houses and other celebrity homes, please visit:
www.topTenRealEstateDeals.com
https://toptenrealestatedeals.com/weekly-ten-best-home-deals/home/anne-rice-queen-of-vampire-novels-new-orleans-mansions
https://toptenrealestatedeals.com/weekly-ten-best-home-deals/home/bethenny-frankels-soho-loft-is-for-sale