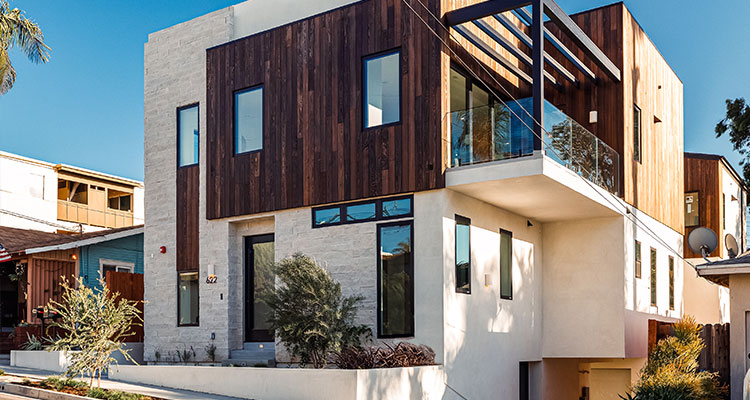 From earthy tones to inflation's impact, Omar Eldin shares with Modern Home Builders his reflections on current sector trends 
There's a lot more going on in the homebuilding industry than meets the eye. From trends to taxes, 2023 is proving to be a packed year, and for those looking to stay abreast of what's happening, we quiz Omar Eldin over at Revere Real Estate on the current ins and outs of the custom-building sector.
How did your career journey bring you to the role of Business Development Manager at Revere Real Estate?
I studied business administration with an emphasis in both marketing and entrepreneurship at the University of California Irvine, which gave me the skills necessary to excel in this role. As a Business Development Manager, you really have to be a jack of all trades. You have your fingers dipped in all different segments of the business. The main goal is to get the name of your business out there. We want people to hear the name Revere and immediately think of high quality, top tier, custom homes and a professional, competent, ambitious team building them.
For a broad scope of the industry, what are your reflections on how the custom home build sector evolved over the last three or so years?
The sector has changed substantially. The topics that come to mind include increased subcontractor cost for labor, increased material costs, and the aesthetics. In addition, I think that having virtual reality included in the custom home building process, so that the homeowner could see and feel what the finished product will look like, has also been really impactful.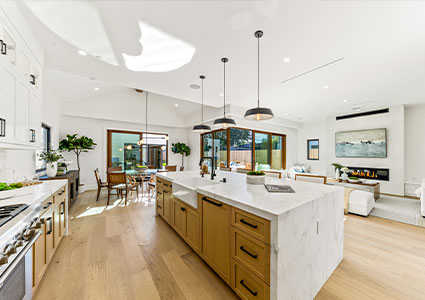 When it comes to current interior trends what are you seeing taking place in the market at the moment?
As far as interior trends go, the aesthetic is leaning away from modern farmhouse, and more into modern contemporary, modern traditional, or mid-century modern. The whites, blacks and grays are slowly being exchanged with white oak colors and earth tones. In addition, there is also a trend toward interior arches, and reeded wall accents, which involves slat wood panels with thin negative reveals.
What are these trends inspired by?
Mainly, by interior home designers. The inspiration stems from what people appreciate at this moment in time, as well as what is perceived as having timeless attributes. It's worth carefully considering not only what the trends are, but what materials and aesthetics will look good in ten to 20 years when the trends inevitably change.
From your perspective, what sort of exterior designs are becoming more popular as well? Why do you think this is?
It depends on the price point of the home, but for some of the higher-end homes, we are seeing a very thin fascia on the front of homes and a buttoned-up curb appeal to go with the clean look of the smooth stucco. This along with standing seam metal roofs are making the modern home extremely clean and timeless at the same time. The lines are less busy and less pronounced in certain areas, drawing attention to where the architect intended.
What is one aspect of the custom home build process you feel makes all the difference to the overall product?
The one aspect that has the biggest impact is architecture. Many trades such as structural, civil, or other engineering and construction-related trades depend on calculations and inspections. Architecture is what really sets a home apart. The flow, maximization of space, feel, and livability all stem from the efforts put forth from the builder and the architect.
Regarding any challenges that you see within the industry, could you describe what these issues are, and how are they impacting the process of project completion?
The major challenges right now are pricing for materials as well as financing costs. There are less lenders willing to lend a large LTC ratio of a project, and lending is done at a much higher rate. The cost for goods is still elevated from pre-pandemic levels even though industry leaders were expecting a larger reduction. Some materials with long lead times are not worth it and alternatives are being used more and more as supply chain issues seem to not be completely resolved.
How would you advise other businesses to mitigate these issues?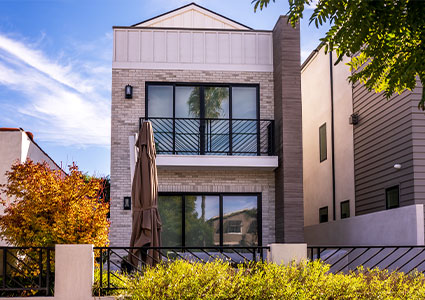 Businesses need to be very accurate with budgeting and planning, and not getting over zealous at this time. If you hold strict realistic standards, there is still plenty of opportunity. Always have some cushion for cost to build as well as lead times for materials. Do not be afraid to pivot as long as it does not sacrifice build quality.
How has the pandemic impacted the overall housing market? Especially when it comes to land and home pricing?
The pandemic created a weird era where inventory and rates were low for years, which drove prices up because of scarcity. On top of the scarcity, rates were negligible to overall costs. Now that rates are high and seem to only be going up to quell runaway inflation, supply remains low for a whole other reason. People do not want to move while rates are this high, creating the same scarcity we saw during the pandemic. Low supply may not last though, if and when rates start to lower, which hopefully creates some leveling out in pricing across the board.
Are there any new regulations or policies that have been brought into play that customers should be aware of regarding building, land purchase etc?
The most controversial policy has to be the Mansion Tax that Los Angeles has implemented. This includes a four percent tax rate on home sales between $5 million and $10 million. And a whopping 5.5 percent tax rate on home sales above $10 million. This equates to hundreds of thousands of dollars on the sale of a property that many are trying to avoid. This policy will come into vote once again in 2024, but it has wreaked havoc on the Los Angeles real estate market.
What are your predictions for 2023?
Rates seem to be staying elevated through the peak real estate season of 2023 at this point, meaning people are less inclined to move if they do not have to. With inflation and banking in question more recently, people are becoming aware of how these factors affect their purchasing power. People that have to move are doing so, and are hoping that rates come down so they can refinance. The scarcity will continue though as long as rates and prices continue to price people out. The luxury markets seem to be less affected by rates, mainly because they can afford the time it takes for rates to come down and refinance, or they put more cash down initially and cash out refinance when rates are lower.
Omar's concluding thoughts highlight that this real estate cycle has many factors combating each other. "At the moment, rate hikes are the only answer the Federal government has come up with to try and quell inflation, and while some markets grew at a breakneck pace during the pandemic, others are seeing a two percent decrease to accommodate the elevated interest rates. People with liquidity will still be able to buy real estate in addition to putting more money down, and planning a cash out refinance at a later date. The best case would be for rates to decrease once inflation and consumer goods are back to reasonable prices. This will allow more people to participate in real estate ownership and building equity."
Revere Real Estate
www.revererealestateco.com