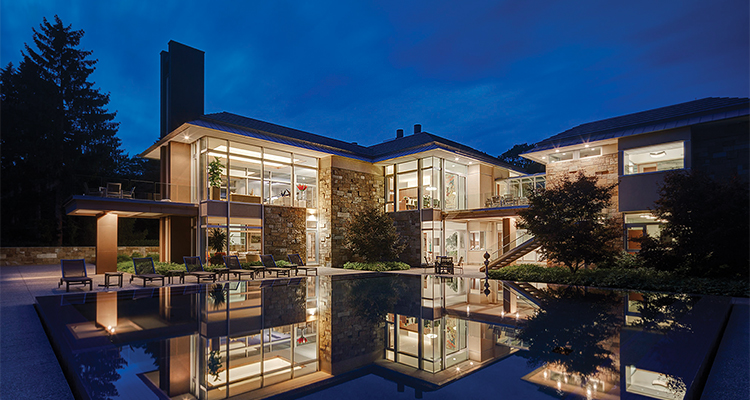 From craftmanship to superior customer service, Derocher Inc. is dedicated to exceeding expectation
Derocher Inc. (Derocher) is the premier residential builder in southeast Michigan, specializing in constructing homes that meet the highest of standards, with the truly personal touch only a family business can achieve. With decades of custom homebuilding experience, the company has emerged as an industry leader known for constructing the highest-quality custom homes in the region.
Derocher's portfolio includes everything from cozy, in-town residences to expansive hillside estates. With generations of experience in all types of architecture, including traditional, modern, and transitional, there are no limits to the company's capabilities.
James Derocher, Vice President, shares details of the company's history: "Our journey began with our esteemed President, Bill Derocher, whose unwavering commitment to excellence has built a brand synonymous with integrity, quality, and customer satisfaction. Through economic downturns and other global challenges, his dedication has been pivotal to our resilience and growth. Our history is deeply cemented in his unwavering commitment to our vision."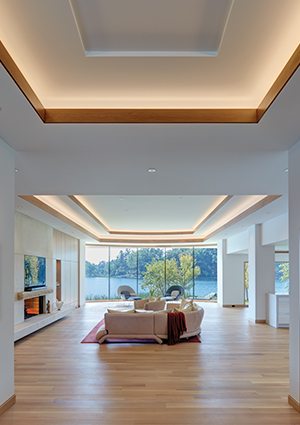 "My journey with the company spans my entire life, being Bill Derocher's son," he continues. "From the early days of assisting on job sites to my current role as Vice President, I have consistently sought opportunities for learning and growth. My formal education has brought diverse perspectives and systems to our business, complementing years of real-world managerial experience. However, at Derocher, success is a result of collective team collaboration and effort, not merely individual achievements or titles."
As a family business, Derocher's ethos is founded on integrity, trust, and personalized client experiences. "Passed down through four generations, these values permeate every aspect of our company. Our aim is not simply to construct houses, but to create sanctuaries that our clients call home. Collaborating with talented architects and designers, we achieve a diverse range of architectural styles, ensuring each home reflects the homeowner's unique taste and lifestyle. Our family-oriented approach extends to our clients, treating them as part of the Derocher family, setting us apart from other homebuilders in the Bloomfield Hills area," he enthuses.
Agility in adversity
Looking to the current state of the construction industry, James believes the sector is facing two major challenges: supply chain disruptions and labor shortages. "These disruptions impact material availability and costs, while labor shortages pose challenges to meeting project timelines and maintaining craftsmanship," he explains. "As a company, we adapt and overcome these challenges by enhancing project management, adjusting material procurement schedules, and restructuring field-activity sequences, allowing us to excel in these adverse conditions.
"The most rewarding aspect of our job is witnessing the genuine satisfaction of our homeowners when they express their delight in how our homes surpass their every expectation. This humbling experience becomes more meaningful, considering that many of our clients hold high expectations. When our clients return to build another home for themselves or a family member that is also a truly rewarding experience as it speaks volumes to our level of commitment to client satisfaction," James asserts.
"Our ability to thrive for nearly five decades can be attributed to several factors. First and foremost is our unwavering commitment to delivering unparalleled quality and customer experience. Our collaboration with the most sought-after architects and designers has allowed us to stay at the forefront of architectural trends while maintaining our focus on timeless materials and building methods. Another key factor is our presence in terms of strong site management. Daily involvement in the field from key personnel ensures we are receiving the highest level of workmanship from our trade and vendor partners. Furthermore, being a family-owned business has instilled in us a long-term perspective, fostering relationships that last beyond the completion of a project and contributing to our enduring success."
Team excellence
Alongside its superior customer service, the team at Derocher takes great pride in being actively involved in the local community. James elaborates: "We participate in various philanthropic initiatives, supporting local charities and foundations that raise awareness and funds for a variety of worthy causes, such as cancer and health conditions, as well as for children, veterans, and other deserving individuals."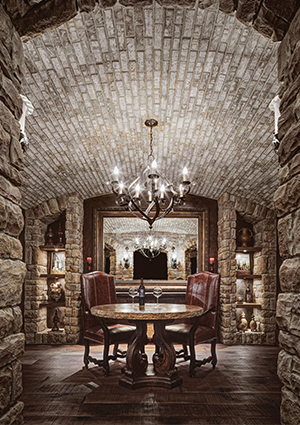 Looking to the future, for the remainder of 2023, Derocher's clients can expect the business to continue pushing the boundaries of residential construction. "We have exciting projects in the pipeline that will showcase innovative designs, sustainable building practices, and unparalleled craftsmanship. Our dedication to meeting the unique needs of each individual client remains our top priority," he continues.
"Over the next five years, we plan to maintain our unwavering focus on client experience and construction quality. Our precision and dedication to these principles differentiate us and will continue to drive our success. We will further expand our team, providing them with ample resources for personal and professional growth. Additionally, our Continued Home Care program, an a-la-carte-style home maintenance and preservation program, will be expanded to address the growing demand for comprehensive home care solutions.
"In closing," James concludes, "we extend our heartfelt gratitude to our valued clients, talented team members, and dedicated subcontractors for their continuous support. Their trust and enthusiasm motivate us to innovate and strive for excellence in creating architectural masterpieces that enrich the lives of our clients and their families. Thank you for your interest in Derocher, and we eagerly anticipate building a bright future together."