From college athletes to home building aesthetes: the story behind Peterson and Collins Builders
The science behind beautiful homes
The bond between Ted Peterson and George Collins, who now spearhead Peterson and Collins Builders (P&C), goes back a long way – and is as strong as iron. The year is 1977 and two keen sportsmen have just graduated from Bucknell University. A couple of years prior, they were busy tearing up the soccer field and dominating the basketball court, desperate to defeat the competition and set new personal records. George graduated with a civil engineering degree, Ted completed his education with an English degree, and with those complementary skills, P&C was formed, with the future uncertain, but 45 years later their success is a significant accomplishment.
After leaving campus and the sports field, a team was quickly formed, and it took the surnames of its founders. P&C was born and it was playing the game of modern home building.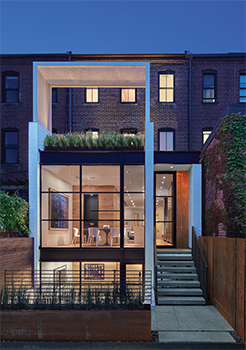 Indeed, as Ted informs us, only one thing was certain in that uncertain time: they did not want to work for anybody else. Soon, something else became clear. The duo had an ambition, a shared – yet decidedly simple – goal to focus all their attention on creating buildings of significance.
The first project P&C worked on was based in Washington, DC. The original contractor had been let go by the client, and in stepped Ted and George – the new kids on the (building) block. After working closely with the architect involved in the project, P&C knew that architecturally driven work was the way forward. Over the years, the firm has adopted its operations, closely tailoring its abilities to complement the processes of renowned architects and create buildings that can very easily be called works of art.
The art of building
"The architects were the gatekeepers of all jobs," Ted reflects, now sitting down with Modern Home Builders to celebrate P&C's 45th anniversary. "The reason we marketed to the architectural community was because we felt that if the client had hired an architect, then they were invested in the project. Thus, it was going to have an appropriate budget, challenging design with owners and architects that would appreciate P&C commitment to excellence and superior craftsmanship.
"So, in short, we focus on signature projects that have been drawn up by architects," he continues. "Over time, though, the stakes have changed. Around 50 years ago, the most expensive new build in Washington would have cost less than $1 million. Fast forward to today, and technology giants, including Amazon and AOL, among others, are making Washington DC real estate significantly more expensive. Consequently, the costs and expectations are higher, complementing our commitment to build at the highest level, continuously improving what we produce and how we build, a core component of the company.
Consequently, P&C has been recognized with a plethora of awards since its founding. A slice of that success is owed to those the firm works with. "For instance, I have a close relationship with Robert Gurney, who is one of the best modernist architects working in the area," reveals Ted. "Together, we make quite a team, Robert Gurney's firm wins a lot of awards, and because we are fortunate to collaborate on many of his projects, we participate in that recognition within the architectural community. Our work is wide-ranging: beautiful wineries, traditional homes, modern dwellings, historic restorations. We love the art of building, the science behind it, figuring out how to improve the process, and ultimately, the pride that comes with the final result that we create. Simply put, we are passionate about our work, and we care about producing projects that will last for decades, not just years.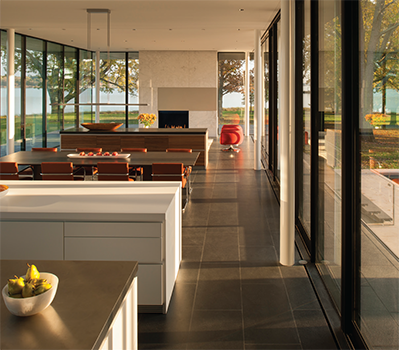 With completed projects across Washington, Maryland, and Virginia, P&C has undoubtedly found much success. But what fuels the fire behind this home-building hit? At the top, Ted and George fundamentally share the same values; both are set on creating a superior product. As mentioned previously, they care – but not only about the work. P&C is concerned about its clients, employees, and subcontractors in equal measure.
"We have employees that have worked with us for 35 years," Ted details. "Most of our employees never want to leave! Sure, they get offers, but we treat them well and they choose to stay. Robust, well-managed companies, especially in the construction industry, are driven by their employees as they are the ones doing the work. On-site, they are building and assembling the materials, managing the subcontractors and suppliers, and coordinating all aspects of the final product that are presented to the client as a finished piece of art.
Team commitment
"Since we are so committed to our projects, the homes that we build are of a very high standard," he asserts. "A good example is the Tred Avon River House, which is truly a sight to behold and won countless awards upon completion (AIA Northern Virginia Merit Award, Builder's Choice Merit Award, and the Chicago Athenaeum American Architecture Award). When someone hires P&C, one of the principals will oversee the job and act as a point of contact for the homeowner. There is no salesman involved – just George and me. In addition, we have a best-in-class range of superintendents working full time on each project; they schedule it, do the math, and go over all the intricate details, and are responsible for the daily construction of the project. We support them with our experience and knowledge of the building science.
"To back up that science, we warranty our projects for many years, rather than the industry stand of one year. We build really great houses and we charge a fair price," says Ted. "Our commitment lasts forever, as we continue to improve, correct all mistakes, and strive to do better. It is a small shop here, with 30-35 employees, so we are involved with the homeowners, superintendents, employees, and subcontractors on a personal level. On a regular basis, I will walk on a job, say hello to the team, and buy them all lunch. It is a small gesture, but one that goes a long way in acknowledging their importance to P&C – that much has been made clear over the last 45 years.
"George and I started this company when we were in our 20s," he concludes, reflecting on all that has transpired since the duo first left college. "Even though, we are in our late 60s, I have no intention of retiring; I love creating and building homes. It is part of who I am and I find immense joy in it – even after all this time.
www.petersonandcollins.com