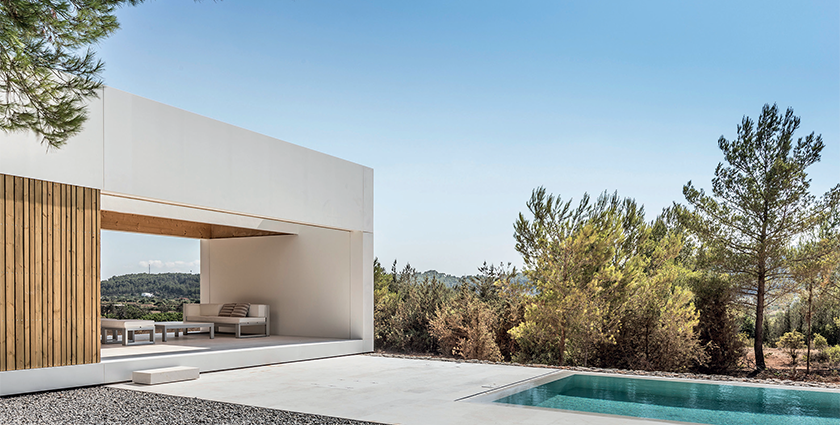 Gira, one of the world's leading full-range suppliers of intelligent system solutions for commercial and residential property has brought the latest switch technology to an eco-luxe retreat in the Ibizan countryside designed by a renowned Spanish architect in the Purist style.
Bringing the best of Scandinavian style to the Mediterranean, the Ca l'Amo house comprises five cuboid structures on the edge of a pine forest just outside Sant Mateu in Ibiza, near the north coast of this world famous Balearic island.
Designed by the award-winning architect Marià Castelló, based on the neighboring island of Formentera, natural materials, open perspectives and luxurious innovation are key to this captivating property. Three of the cuboids are connected by passageways and provide bedrooms, bathrooms and a kitchen living area. The fourth one is a covered space for al fresco dining and parties and the final building houses the guest annex which is separated from the main house by a generous swimming pool. With so many functional elements, the Gira E2 switch,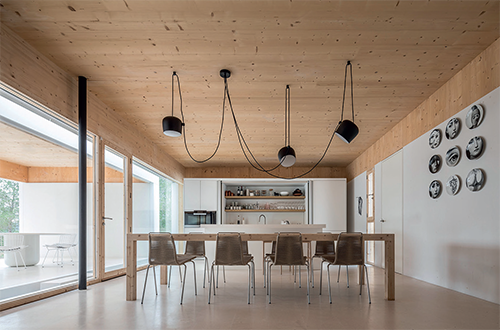 Gira indoor sockets and Gira USB power supply were the ideal components to future-proof the property, so that the owners can make smart home upgrades as and when they require.
Jacob de Muijnck, Director, Gira UK says: "We are always excited to see Gira products specified by the best-in-class architects worldwide, so that discerning homeowners can enjoy elegance and function with essential everyday tasks. Our minimalist E2 series is a design classic, shatterproof and UV-resistant, providing the ideal complement to the refined aesthetic of the Ca l'Amo house as well as ensuring that this new build can capitalize on evolving developments in today's technology such as the Internet of Things. For example, our brand collaboration with Senic includes the Nuimo switch which enables easy wireless control of Philips Hue lights and Sonos speakers within a Gira E2 frame so that all your sockets, switches and controls have design integrity and elevate the look and feel of your home."
This idyllic retreat situated among the pines and junipers, has streamlined designer sockets and switches for the ultimate in contemporary living. Gira include the following intelligent solutions:
Gira E2 Design Line – this elegant switch series works in tandem with the Gira 55 system, which offers up to 300 different functions, so that every aspect of the home can be easily managed with controls which enhance the minimalist decor with its Pure White Glossy color and refined style.
Gira Indoor Sockets – ensuring safety and convenience at all times, these sockets cover a wide range of functions and can be adapted and expanded with to suit your specification. From integrated increased contact protection and lighting to models with hinged covers – Gira has you covered.
Gira USB Power Supply A&C – everyone can ensure their devices are fully charged with sockets designed with two slots for USB A and USB C, for future-proof integration of new standards. Two devices can be charged at once with no extra connections required and you can enjoy a speedy charging time with a maximum electrical output of 3000 mAh.
Ca l'Amo was built on a 42,385 m2 plot, and the architect capitalized on the remains of terracing on this former farmland, incorporating the existing drystone walls into the site and choosing cross-laminated timber and limestone as key materials. The building reflects the Mediterranean landscape and its prefabricated wooden elements, gravel terrace and white façade ensure the cubes blend into their surroundings. With a rainwater tank storing over 200 tons it is almost self-sufficient in terms of water supply.
Beautiful, functional design is at the heart of Ca l'Amo, so that the property is well-ventilated and feels relaxing with rich, wood surfaces inside light-filled rooms. The arrangement of the interconnected rooms not only ensures exciting views, but also extensive air circulation throughout the house via full-length patio doors. The wooden elements of the façade can also be moved and used as flexible shades.
The minimalist interior is pared down to the essentials, providing room for socializing. Wooden ceilings and wall elements together with the smooth limestone flooring – as well as the Gira E2 and Gira System 55 series – create an atmosphere that skillfully fuses Scandinavian and Mediterranean influences. In addition to designer pieces by Gandía Blasco and Diabla Outdoor, there are also custom-made products specially designed for this house. Everything has its place – nothing superfluous is added. F
www.gira.com
https://m-ar.net
For a list of the sources used in this article, please contact the editor.