Foksha Homes and the possibility of the American dream
When Igor Foksha first moved to the United States, he didn't speak a word of English. Back in his home country of Ukraine, though, Igor was a successful furniture and cabinet maker. His career in the trade began when he was just a teenager – and, at the time, Ukraine was still under Soviet control. Despite his monolingualism, Igor emigrated to the US in the early 1990s.
He quickly found work with a remodeling company operating out of West Salem, Oregon, and slowly picked up the language – and colloquialisms – of his new colleagues. In 1996, trouble entered the remodeling market. With nothing to lose and now a fair grasp of English, Igor set up his own Salem-based cabinet shop.
The craftmanship on display didn't go unnoticed by the local community. A couple of years after opening his shop, Igor was invited to join a building firm as a carpenter, working on a number of high-end homes in the Portland, Oregon area.
The homebuilding bug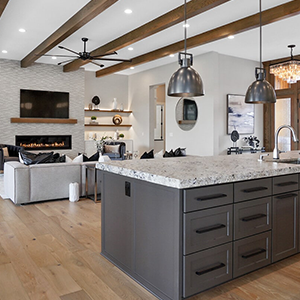 The experience inspired Igor. He'd worked on the 'Street of Dreams,' as locals called it – a long row of multi-million-dollar homes. A motivational work environment, for sure. Entering the new millennium, Igor wanted – and, for the first time, now had the means to create – his own slice of the American dream, building his first home from the ground up. Everything was his own. One hundred percent. Foundation, framing, fittings – the lot. It was perfect.
And then he built another. The homebuilding bug had taken hold, and Foksha Homes was to begin in earnest. "At this point in time, I was just 16 years old," recalls Igor's son, Oleg, who dials in from his car. He's been visiting family across state – a small detail, but an important one, as we will soon discover.
Oleg, an active member and President of the local Home Builders Association, talks to us about his early career, fondly reminiscing over when he first joined his father to create the family business. Igor's retiring soon, but Oleg still burns with ebullience. "Anyway, I got my real estate license, and my father started to build more and more," he circles back. "So, it was simple in practice: he built the houses, and I sold them."
High-end finish
Things went pretty smoothly until they didn't. When the financial crash hit in 2008 and the housing bubble burst, Oleg admits that you couldn't even give homes away. "We teamed up again but this time focusing on miscellaneous repairs, interior work, and getting houses ready for sale," he reveals. "Really, we were just happy to have an income. Looking back now, we very nearly didn't make it through the recession. With enough of those small jobs, and by saving every penny, several years later we were ready to build our first house together as a team.
"It went extremely well," he smiles. "People gave us amazing reviews; they loved the house, and it was affordable, which was important coming out of the recession. I think it won people over with the classic Foksha high-end finish and attention to detail that so many have come to appreciate."
From that moment on, Oleg explains, he and his father were inundated with requests from Salem locals to build their dream custom home. In fact, the company now rarely builds spec homes because of the demand it still gets for bespoke modern homes.
Currently, the father-and-son duo are working on a mammoth $3.5 million dollar build, and the cheapest home on its books comes in at $750,000, which stands as testament to the strength of the market. Indeed, it's a far cry from the scenes Oleg says took place in 2008.
Family first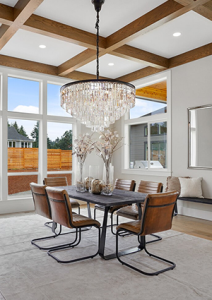 For many, working with family would be a dream. But, for others, it could feel more like a nightmare. Which is it for Oleg? "Let's just say, it's a very interesting dynamic…" he laughs. "No, in all seriousness, I have the utmost respect for my father, because he is the one that ultimately started the company. But that doesn't negate the fact that we have two very different personalities!
"To begin with, you have the age difference," he goes on. "Then, connected to that, there's our differing visions for the company. Indeed, I like to take on as many projects as I can, because I am trying to grow the business and expand it. Whereas my father is in a very different place; he's retiring soon, and therefore remains quite content with just building a few homes a year. However, I really want to propel us forward in the next few years by creating a company that will run itself. I want to hire more staff and take on more exciting projects."
As it stands, Oleg's wife, Oksana Foksha, carries out all company marketing; his brother-in-law creates the advertisements and website content; his mother, moreover, is the firm's bookkeeper. The F in Foksha almost certainly stands for family.
Forging ahead
Foksha Homes is turning 25 this year, which is in itself an incredible achievement, but when we factor in Igor's story, emigrating to the US without knowing a word of English yet carrying with him an enduring dream of a better life, it becomes quite remarkable.
Throughout our interview, Oleg's made numerous references to his children and the next generation. Will they be part of Foksha Homes one day? "I would love that to be the case," he says. "One wants to be a doctor, another an engineer, but one really wants to become my boss! This is my son. Once he was asked by my colleague what he wants to do for a living, and he said: 'Not this! I don't want to drive around telling people what to do all day like my dad!' It was the funniest thing. I couldn't help but think, 'That's my son, right there!'
"Our family shares the same trait of wanting to help and serve people," Oleg concludes. "And that's what we do here at Foksha Homes. Yes, we build custom houses, but what we're really doing is serving people, helping to turn their dream into their reality. My kids are in tune with that.
"My father, Igor, built an incredible foundation and reputation for the company, and now I want to take advantage of that by propelling Foksha Homes forward to the next level, to a place where he wouldn't have thought possible when he first arrived in the US. If my kids want to join me on that journey, then that would be a dream come true."