Find out why turning dreams into reality is a core mission at Big Canyon Homes
Crossing the canyon
Building a home begins with a dream: the endless possibilities that separate our tangible, lived reality from the realm of ideas. Bridging that gap and turning dreams into lived experience is Big Canyon Homes (BCH), a Utah- and Wyoming-based luxury custom home builder.
Operating since 1990, BCH has established itself as one of the most preeminent builders in the area; contemporary styles abound, with barrel roofs that mimic the rolling landscapes of the state region. Modern, eco-friendly, and technologically advanced, BCH's designs often feature state-of-the-art solar systems to limit both household utility bills and the individual carbon footprint of each home.
In Northern Utah, Salt Lake City, and Park City alone, BCH has constructed over ten Parade Homes. It has received numerous awards and accolades, including 'Best of Show' and 'Best Architecture' at the 2020 Salt Lake, Park City and Northern Wasatch Parade of Homes, as well as being registered as a LEED Platinum Builder and recognized as Energy Efficient Home Builder of the Year at the 2019 Global Awards Guide.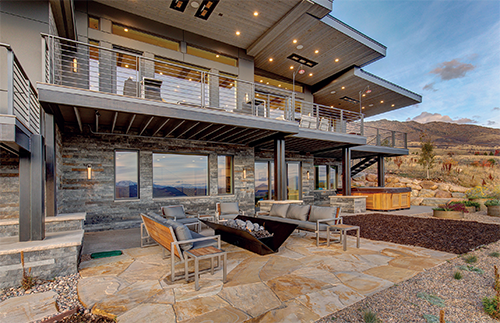 Pick of the lot
Indeed, the renowned builder is proud to be an industry leader in energy efficient luxury homes and Net Zero construction, meaning that homes built by BCH could produce as much energy as they use. "We are truly blessed in the sense that we can pretty much handpick our clients," says Paul Berman, President at BCH. "Therefore, we get to work on some of the most significant – and coolest – homes out there, which means an awful lot to us. We are incredibly passionate about what we do, and that is the way it has always been. Whether you sat down with us five years ago or 20, our work would be just as pioneering and our clientele just as eager to work with us."
Gaining momentum
As we begin to reflect over the history of the company, Paul zeroes in on the last two years and reveals how BCH grappled with the impacts of the pandemic. However, he flips the script on what we have often come to expect.
"If I am being completely honest, Covid-19 did not hit our company like it did with others," explains Paul. "In fact, we were actually inundated with requests for our services. We thought that, at least initially, the pandemic would have a huge, negative impact; whereas, what happened was that we were shut down for a couple of weeks and then, just like that, we were back up and running at full speed.
"We were gaining momentum every week, and since then we have remained very busy," he continues. "Many of our clients live in big cities, and the pandemic forced people to realize one salient fact about their living circumstances: their homes could become their offices. People soon understood it was possible to move away from big cities and live up in the mountains, skiing and playing golf and hiking, doing all the fun stuff they would otherwise want to do on holiday, while still working at the same company. In the end, the pandemic proved very beneficial to our workload."
Though Paul is reluctant to pinpoint one specific project, since the company has carried out innumerable examples of best-in-class modern home building, he does highlight the fact that BCH was recently featured in the Wall Street Journal for one of its award-winning homes.
"Truth be told, they are all special in their own way," he admits. "I really cannot say there is one that stands out, and I think that is a testament to our consistent, high-end process. A lot of times, we operate as a design-build service, even though we are not a licensed architectural firm. But we do have a team of architects working under our umbrella. That way, we can offer clients a complete, turnkey service.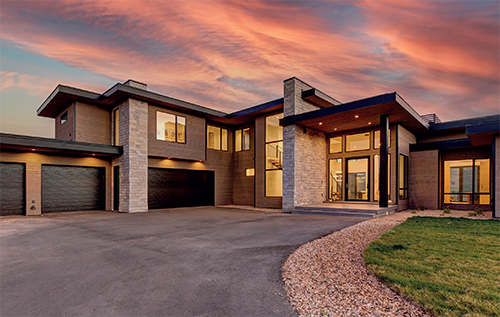 Just the way we are
"Typically, however, we are involved from the first conceptional drawings all the way through to the completed, constructed documents, and then obviously through the course of construction," elaborates Paul. "Then, on top of that, we offer a two-year warranty on all our houses. In fact, with most of our homes, if a former client has an issue, say, five-to-ten years down the line, then we as a company we will still take care of it. That is just the way we are, and we remain proud of that."
The next 12 months are going to be full-on. "We do not have any openings in the year ahead," states Paul. "Within the next two years, things are still going to be tight. We are very hands-on, and we are booked up. That could change; we live in very uncertain times. However, our clients are confident in us and we remain confident in our ability to overcome any coming adversity."
Looking further ahead, BCH intends to – as it has always done – put consistency first. The Utah- and Wyoming-based company wants to be doing the same thing it does now in five years' time… but better.
That means building more efficient homes with the latest, cutting-edge materials and with best-in-class, ultra-modern techniques. Doing all this enables BCH to answer a simple question: Canyon do it? Well, yes, it can.
www.bigcanyonhomesinc.com