Find out about Kent Shaffer Homes: a woman-led custom home builder on a client-focused mission
Putting down ROOTS and making MEMORIES
We were very fortunate and continued to grow our business during the pandemic," begins Kristen Shaffer, President at Kent Shaffer Homes (KSH), an Indiana-based custom home builder that we last featured in Modern Home Builders back in 2018. So, it has been good to catch up.
"Naturally, like everyone else, we did struggle, especially with procuring materials and dealing with labor shortages," she goes on. "Nevertheless, we made sure that we were able to meet deadlines – every time. One of the major changes we made during the pandemic that we are still implementing now is making all design selections upfront (instead of later on in the process)."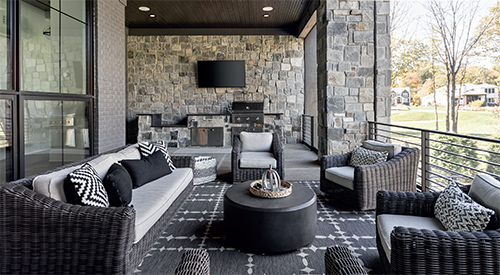 Once a client signs a contract to begin a build, KSH will start working on selections immediately, with the aim of getting these finalized within the first and second month of the project. "The process has become less stressful for our clients; they can now get their selections out of the way, and then just enjoy seeing their house being built before them," Kristen explains. "As far as costs are concerned, being a smaller company that does not spend money on extra staff and office space, we are able to absorb as many material price increases as possible in order to make our clients' dream homes attainable."
Kristen is a third-generation builder and recently took the helm of the company, leading as President at KSH, the family-run business that takes its name from her father, with whom we spoke in 2018. Yet Kristen is no novice; prior to her new appointment, she was already taking on individual custom home projects, including the 2018 winner of the Home-A-Rama in Central Indiana.
Bringing design to life
As President, Kristen has continued to grow the business and has more than doubled the number of homes that it builds each year. Meanwhile, she has managed to stay rooted in the family traditions and client-forward approach that her father and grandfather both applied over the course of their long and successful careers as builders.
Through the generations, the family name has become synonymous with craftmanship and high-end construction. KSH works with a knowledgeable and experienced team of designers, craftsmen, and some of the best architects in the state. "We are a smaller company and remain very hands-on," says Kristen. "As a result, we are able to create personal relationships with our clients; we are their main point of contact across construction and at all construction meetings.
"By utilizing buildertrend.com as a form of communication throughout the build process, the client's role has never been easier," she goes on. "The homeowner can approve all selections through there, view the project schedule, and send us any questions they might have. We also involve our designer upfront before we even meet with the architect. This enables us to put together a design plan, which then helps to guide the architect through our vision when they do step in. Further down the line, this prevents changes – both interior and exterior – being made later on."
The conversation then turns to a broader overview of modern home building as experienced by an individual client. "First, we sit down one of our customers to discuss their budget," explains Kristen. "We will help determine guidelines that the homeowner needs to follow to stay under that budget. For example, the square footage of each floor, the exterior elevation, and what kinds of finishes are wanted. All need to be discussed openly and honestly early on to avoid unrealistic expectations or any unwanted surprises down the road. We then set up a design consultation with the decorator to put a design plan together.
"Once we have the design plan in order, we will meet with the architect and start the design of the home," she details. "Both myself and the designer will be present in those meetings to help, and we will therefore ensure the homeowner stays on budget and make sure their design ideas are realized in an effective and practical way.
"After we have the final set of prints, we can price the home," adds Kristen. "Since we have a design plan from the decorator, this helps to guide us with pricing and makes sure that we are pricing what the homeowner wants. We are then ready for the most exciting part: building the home! Even then, we will continue to meet the homeowner at key phases of the build, making sure everything is as it should be."
By putting that process into action – time and time again – KSH has built more than just a portfolio of custom homes across Indiana. It has built a reputation for them. A strong one. With that kind of recognition comes plenty of exciting projects.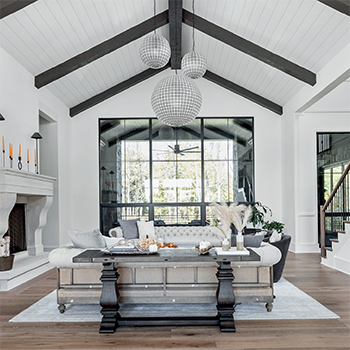 "We are currently working on a build where the client wanted 3D renderings created for the entire interior of the home," Kristen notes. "The decorator worked with the company to get pictures of all the finishes – light fixtures, flooring, furniture, and so on. We were able to provide the homeowner with a 3D view of exactly what their home would look like on the inside.
"Projects are just becoming cooler and cooler," she admits. "We have been doing indoor basketball courts and display garages with car elevators; however, I think my favorite touch is a secret door in a study or basement which leads to, say, a little speakeasy or a secret reading room for children. Right now, the most challenging aspect of being a custom home builder is rising prices and the shortage of materials and labor we are currently seeing."
KSH has remained creative when it comes to materials, adapting to what is and is not available at any one time; it is all part of the standout experience the company offers. Fortunately, Kristen goes on to highlight that she believes the availability of building materials is destined to get better.
Forming relationships
Although, she admits a shortage of skilled labor and rising costs will continue to be a challenge. "In the current market, where material pricing is constantly rising, it is really important to have a good relationship with everyone that you work with," Kristen asserts. "All our suppliers give us plenty of notice about price increases, and that means we can order materials in sooner if we need to. Many of the vendors we rely on have had a relationship with us for nearly four decades; they are just as invested in our success as we are in theirs!
"It is also important to have good relationships with our subcontractors because of labor shortages that are plaguing the industry," she observes. "Truth be told, subcontractors could go and work for just about anyone right now because of the high demand for skilled workers. However, our subcontractors will put us before other projects because of the relationships we have formed with them. Ours stay with us – and, in turn, we continue to trust them because of mutual respect and appreciation built slowly and steadily over time."
KSH is keeping busy. For instance, it has a Home-A-Rama-featured house coming up that it will be breaking ground on in 2022. "The show is located in Promontory in Zionsville and will be hosted in the spring of 2024," Kristen concludes. "The scenic lots in this new development have to be seen to be believed; it will be stunning. Further down the road, we aim to be doing what we have done for the past 40 years: completing builds that allow our clients to put down roots and make memories to last a lifetime."
www.kentshafferbuilders.com