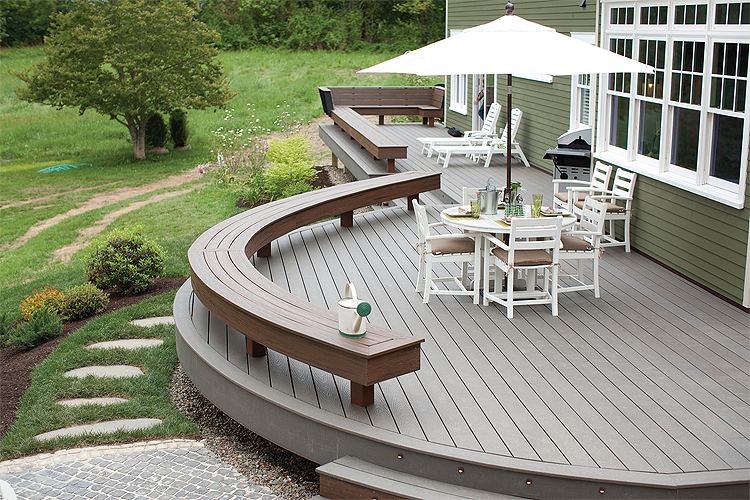 While homeowners have increasingly invested time and money into their outdoor spaces in recent years, there's now an even stronger interest in outdoor living, as homeowners everywhere adjust to a new normal by reimagining how to use and enjoy their exterior spaces. And, there are no signs that demand for multi-functional outdoor living spaces and garden upgrades will be slowing any time soon.
The variety of outdoor product offerings available today – along with an ever-increasing pool of competitors – requires that builders be skilled at the art of the sale, as well as the art of design and construction. Simply put, if you're not upselling your customers, you're missing out on a critical opportunity to maximize profit, grow your business and better serve the full needs of your clients. Here are several strategies I've found to help sell enhanced outdoor spaces and decking more effectively, efficiently and profitably:
Sell the total package
A beautiful backyard consists of more than just a deck. The foundation and integrated design accessories typically aren't top-of-mind for most homeowners, so it's up to you, the builder, to present your clients with all the available products and information so they can make the best choices for their yards and budgets.
I always start a project by reminding homeowners that the key to a durable, high-performance deck is what lies beneath the surface. For homeowners looking to get a lifetime of durability and satisfaction out of their outdoor space, protecting the wood substructure is essential. Applying a protective joist and beam tape, such as Trex® Protect™, is a simple and effective solution that adds minimal cost to a deck project. This easy-to-apply tape is designed to protect timber joists and beams from moisture that can lead to rot and the loosening of deck screws and fasteners. And, unlike asphalt tapes, it uses a butyl-based adhesive that won't bleed, dry out as quickly, or curl up and hold water.
Lighting and railing are other easy add-ons for enhancing safety and ambiance to any outdoor setting. Given the myriad of options available, this is an area where clients can truly customize their space and let their personality shine. Share images from previous projects as inspiration and to reinforce the important role these components play in creating an ultimate outdoor living space.
Inspire confidence and possibilities
With the 'total package' approach in mind, have a discussion about options early in the planning process. You will position yourself as a true specialist and a full-service partner by demonstrating you're thinking ahead. Ask your customers questions about how they plan to use their new deck, and present ideas that ignite inspiration.
Ideally, decking and railing decisions should be made simultaneously – as a purposeful pairing early in the design process. Additionally, as the first thing neighbors and guests are likely to notice about an outdoor space, railings have the power to translate into lucrative referrals.
Introduce clients to online design software and encourage them to experiment with different features and options to help expose them to new possibilities. Designing an outdoor living space
from scratch can be overwhelming, but I've found that there are several online tools and resources that provide a user-friendly way to experiment with the many decking and railing choices available, as well as other outdoor features.
Focus on value vs. price
When it comes to decking materials, many consumers limit their options due to preconceived perceptions about the cost of composite decking. A great way to address this concern is by quantifying the long-term value of a composite deck.
The cost – and time – required to maintain a traditional wood deck can far exceed the upfront investment in a high-performance composite deck that will last for decades and retain a like-new appearance with just an occasional soap-and-water cleaning. Make sure your clients understand and consider the cumulative expense of power-washing, sanding, staining and painting a wood deck – not to mention the value of all the time they get to spend enjoying the deck rather than working on it. Once you've shown them the math, customers are often surprised to learn that wood decking can be more expensive than composite in the long run.
Today's wide range of offerings and price points make it even easier to convert customers to wood alternatives. Trex, for instance, delivers a comprehensive selection of decking options that are both aspirational and attainable.
Trex Enhance Basics®, for example, is specially-engineered to provide builders and homeowners with a high-performance, lower-cost decking option. Available in proven and popular monochromatic shades, the collection provides a premium quality, low-maintenance decking option for budget-minded customers.
For customers seeking unparalleled performance and aesthetics, Trex's flagship Transcend collection provides second-to-none performance with elevated aesthetics that mimic the beauty of exotic wood. Every board features a high-definition grain pattern and stunning colors.
All Trex decking is made from a minimum of 95 percent recycled materials, making it an eco-friendly and low-maintenance alternative to wood. Furthermore, the entire Trex portfolio offers superior durability and wear-resistance backed by a 25-year Limited Fade and Stain warranty.
Given the constant influx of new products, advancements in technology, and the evolution of backyard design, there's never been a more exciting time to be in the home building and renovation business. Make the most of every project by promoting yourself as an outdoor living expert – rather than just a builder – and offering your clients complete outdoor living solutions, along with a healthy dose of inspiration and guidance.
Karl Harrison is a Trex Pro decking expert and founder of Karl Harrison Design. Trex Company, Inc. is the world's largest manufacturer of high performance wood-alternative decking and railing, with more than 25 years of product experience. The #1 brand in outdoor living is proud to be named one of the 2020 100 Fastest-Growing Companies by Fortune magazine. Stocked in more than 6,700 retail locations worldwide, Trex outdoor living products offer a wide range of style options with fewer ongoing maintenance requirements than wood, as well as a truly environmentally responsible choice.
https://uk.trex.com
http://karlharrison.design