ERT Group's CEO discusses ambition in the wake of post-pandemic evolutions
Bradley Thomasma, CEO, joined ERT Group (ERT) in 2017, following in the footsteps of his father, Tom, President, and grandfather, Eugene, in leading the family-owned, southeast-Michigan-based homebuilding company. Modern Home Builders sits down with Bradley and Tom for the first time since early 2021, to hear about how they have been faring as the world transitions into a post-pandemic new normal.
"It's been a heck of a two years, I must say," Bradley starts, "and I'm sure I'm not alone in that sentiment, as a primarily single-family home builder and developer here in the US. We've seen the steepest and quickest of inclines and contractions during this short period, and any changes like that force you to think critically about your business. It's the mindset of adapt or die, which leads to you streamlining the areas that aren't performing properly, and adopting new approaches that are succeeding elsewhere.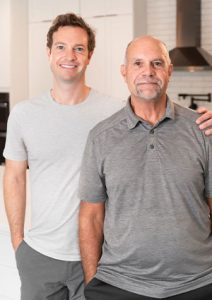 "We've been focused on the post-pandemic adaptations for some time now, from a construction, sourcing, design and sales standpoint. Between the supply chain issues and the new-found flexibility to live, work, and shop remotely, we have phased out certain custom offerings, to make way for an online design and sales platform that we're hoping will shape the future. This will offer clients the ability to choose their lot, their home, its style, its elevation, its design, and then any additional options. Furthermore, they will be able to put down a deposit to reserve their home, and then monitor the ongoing construction from the comfort of their phone.
"It's always interesting how ambition matches with reality," he continues. "You have an idea and then you try to implement it, which is especially challenging in the complex business of homebuilding. I initially had this vision, of wanting to make buying a home with ERT like walking into an Apple store. I wanted to deliver a high quality, distinctive, and repeatable home, and also provide an enjoyable and engaging user experience for our customers. We are constantly trying to marry technology with the boots-on-the-ground complexities of homebuilding, while creating processes that remain simple, flexible and repeatable. That's the ERT way."
"When I was active in the company," Tom interjects, "I operated like the majority of other builders, who are very much creatures of habit. The easiest approach, in the old-school sense, was to just repeat what you've always done, and whatever you know best. Bradley joined at a time when everything was truly outdated, and I applaud him for coming in and modernizing everything from our operations to interior design finishes and products. That's the one thing that really sets us apart, we are always up-to-date with the latest selections for our clients."
Location is king
With a new demographic joining the playing field, it's up to homebuilders such as ERT to act upon market trends to continue to meet their consumers' demands. For some time now, Bradley has been anticipating the current changes that the US is seeing, as he details further: "We've been expecting this general downsizing movement for a while, as it also coincides with the need for more attainable housing. If you build smaller houses, they're going to be less expensive, and more people are going to be able to afford them. This also aligns with the two major buying groups that we're currently serving: baby boomers and millennials.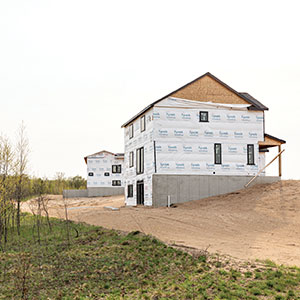 "The value standpoint has shifted, and people are realizing that less is more, in terms of square footage. Nowadays, the 'big house with a big yard' is being surpassed by the small house with a small yard, located in a more livable and walkable community. Location is king and smaller houses allow for greater flexibility to spend those discretionary dollars on other elements of life. Younger pockets are looking for homes at delayed stages in life, in comparison to earlier decade generations, with more people staying in school longer and accruing more debt in the process. It's more common for people to live longer with their folks, after which they come up against the affordability issues that have been caused by growing supply chain costs and now interest rates too. At some point, something's got to give.
"We're currently trying to fight these issues up in Northern Michigan with a development project," Bradley explains. "It's a beautiful area full of lake-shore farms, vineyards, and farm-to-table restaurants, but it's missing middle-housing options for both people who live there year round, and those shopping for a second home. It's a place that our family has been connected to for over 100 years; my grandparents summered up there, as did my dad, his cousins, and myself. The year-round demand for the area increased post-Covid, with buyers looking to move to outdoor areas away from the big cities. So, we're excited to help address this supply problem and deliver beautiful homes to an area that we love.
"In going back to what my dad was saying," he concludes, "most builders are going to build the same product over and over again, to the point that they have refined the entire process. I don't know if it's the lost artist in me, but I was so opposed to doing anything cookie cutter or repetitive when I joined six years ago, because I view architecture and structures as an inherent connection to our experience of the world. I think the biggest learning curve for me has been centered around how to execute this vision, whilst balancing the bottom line. We're getting there, and I truly believe we've set the stage to bring high design and repeatable homes in a way that's aligned with buyers' pocketbooks and preferences for the future."