Cultivating excellent culture
With a closely-knit team, ERT Group prides itself on building exceptional homes through a dynamic company culture and design-build expertise
Over 50 years ago, Eugene R. Thomas built his first home with his own hands. With that, he brought to life ERT Group (ERT), a 'dirt to doorknob' homebuilder and developer that has grown in size and reputation to achieve the acclaim it enjoys today. As a family-owned company, we spoke with Bradley Thomasma, third-generation CEO and grandson of Eugene R. Thomas, along with Ariana Vespa, Head of Sales, to discover the secret to its longevity and homebuilding success.
"My dad is a wily veteran and the anchor of our business," Bradley begins. "He partnered with Eugene R. Thomas (the 'ERT') some 35 years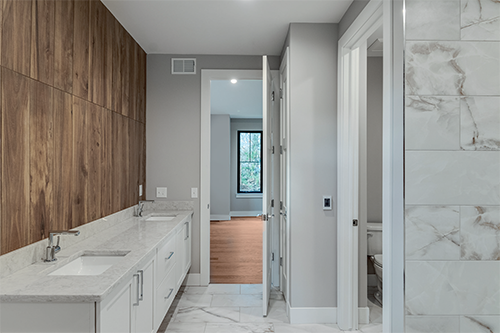 back and carried on my grandfather's legacy through the booms and busts of the past half century. When I joined, I wanted to bring fresh ideas, young legs and new energy to the business, along with a scalable vision."
The company has since established itself as a quick responder to the trends in the home-building market place. Its vertical integration of builder-developer, along with the forced catalyst that has been Covid-19, has changed the company's sales process to bring high-end design to repeatable homes in a way that is easy and personal for homebuyers. "We're creating an online sales portal that allows buyers to choose from predesigned home plans, styles and selections that range from traditional to contemporary, and we're allowing for some limited home selections that do not impact construction in regards to specification or timeline," says Bradley.
"In this environment, sourcing and planning is huge; it's a reiterative process. We allow for upgrades to fit lifestyle and preference, but we take the headaches and angsty decision-making away from buyers. Everything we offer is of the highest quality, and our homebuyers know that from touring our houses, or learning about our company through other references," Bradley stipulates.
Adapting to change
During the pandemic, Michigan was one of the few states that deemed residential construction a non-essential business. Consequently, ERT more-or-less came to a halt. However, the company was fortunate and prepared enough to keep its employees: "We realized the need to eliminate our own supply-side risk by streamlining our sales and selections process so that materials could be ordered at the start of construction, or even before, "Bradley shares.
"Additionally," Ariana continues, "we realized the need to retool our sales arsenal to allow buyers the ability to make design and selection decisions from the safety of their own home. We saw a spike in buyers looking to move to secondary markets (and out of high-priced cities with limited space and access to outdoors), and those who were looking for homes remotely. From this, we saw an opportunity to provide a service to these buyers with an intuitive design interface."
As a result, the company witnessed a massive tailwind of cost increases and time delays, which meant that it needed to "sharpen our pencils from a costing and sourcing perspective, as well as begin to think about the integration of technology into our company to serve buyers accustomed to making purchases online," Bradley notes.
Distinguished catalogue
Not only does its technology innovation and flexibility make ERT Group a stand-out name, but equally so is the diversity and depth of knowledge embedded in the team. "From investment banking to legal practice, our team has a unique set backgrounds and a bevy of experiences which contribute to our culture and company success. Apart from my dad, whose 35 years of experience and wisdom is vital to our operations, everyone here is incredibly talented, committed and under 35," expresses Bradley.
"Tackling an old-school industry with new school thought, and a team that is young and willing to push the envelope in an innovative way is what knits together ERT's strong and personal company culture. We always start with the philosophy that we care about the people we work with and for. These include our trades, vendors and co-workers as well as our homebuyers and clients. We're a company founded on hard work, and a commitment to quality. It's a way of operating that puts people first," Ariana says.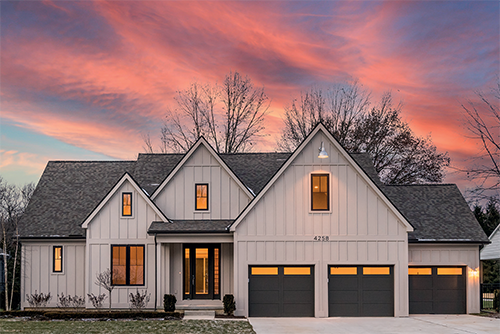 "Internally, we maintain a company culture that follows a creed of moxie and levity. We do this with constant communication within our company, as well as through support for each other. We hold weekly meetings to discuss challenges, ideas and issues in addition to coordinating events that allow us to break free from the 'work mentality', and develop empathy and connection for each other on a level that transcends the job. We're a family business, and we encourage the people at ERT to live a healthy, balanced, engaged lifestyle that prioritizes family, which in turn contributes to a healthy, supportive culture where everyone is personally invested in the business because they know the business is invested in them, their growth and wellbeing," Ariana informs us.
Bringing this melting pot of expertise together, the company has curated a distinguished catalogue of home building projects over the years, which Ariana is happy to discuss. "We completed a couple of really beautiful homes for some wonderful clients recently. Each home was custom-designed by ERT and started as a spec. The homebuyers who purchased the homes, loved the homes and designs, but had some particular requests. These included glamour items, like terraced-landscaping, heated tile floors and an outdoor fireplace, and functional items, like a utility sink in the garage and specially-located electrical outlets. We paired executing our designs with creating a bespoke experience for our buyers. We brought them into the conversation and were able to incorporate their requests, meet their needs and put together a beautiful end-product that matched our initial vision."
Bradley then continued to provide a detailed example of an ERT development in Metro Detroit. "We put our sticks in the ground in 2018. I had been working with my dad, and I said to him that I was not going to build anything that was a generic, new construction commodity product or that resembled that early-2000s 'McMansion', and that I wanted to do something architecturally distinct and character-driven. We made the decision build what we called 'right-sized luxury' homes, ranging from 1700 to 2500-square-feet. No one was building ranches, or single-story homes, but we saw the shift in downsizing trend among empty-nesters and the price-stretched demographic of the millennials and thought these homes would nicely target both buyers. One trait about us that is particularly unique is we have the capabilities to build out the concepts of our own designs. My dad has decades of experience in design and is incredibly talented. So, we are able to pencil out many of our own concepts and designs and then work with architects that we vet to add finishing touches. In this case, we partnered with highly-regarded custom architect, Brian Neeper, a local to the Metro Detroit region, to create unique home plans consistent in modern farmhouse style, a complement to the surrounding natural environment of the neighborhood. To this day, I don't know another builder, at least in Michigan, that has gone out to develop a community that has this kind of continuous design while building all individual homes in line with that style."
Future development
Ariana continues with this topic and shares exchanges with customers that have been deeply rewarding for the team, in terms of witnessing the end use of ERT's finished product. "Bradley and I recently visited home buyers in one of our communities and were able to catch up with them, check in and see how they were living, and enjoying their home. One homebuyer in particular invited us in and took us on a tour of her home. She explained how she utilized the space, and it was an extremely special experience for us a builder because we got to see how we impacted someone else and how what we built was being used and appreciated."
Now, as the company looks forward, Bradley is excited to continue the legacy his grandfather began all those years ago. Most of all, he is determined to keep growing, thriving, building beautiful homes, and having fun, regardless of possible challenges. "The key to executing here, of course, is doing so at a price-point that's attainable to the upcoming younger demographic, and that's a springboard for a different conversation altogether, but needless to say, there are changes that need to be made from a regulatory and policy perspective.
"Beyond this broad brushstroke, we have some internal compasses pointed at areas that we think will have significant market growth in the coming years. Mainly, we think that single family rental is here to stay but there's a lack of transitional product serving those younger folks looking to have a home within close proximity to a vibrant town or community, and that's exactly the market we want to see flourish," he concludes.
ERT Group
www.ERT-group.com
Services: Home builders