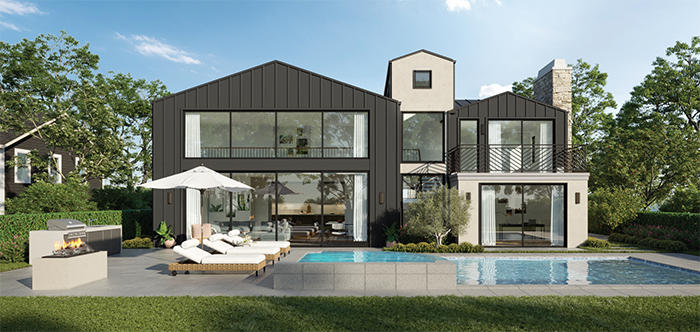 Drew D'Angelo reveals how SkySail Coastal Estates elevates the purchase of a luxury home to 'the ultimate lifestyle experience'
Stepping into his forties, Drew Rebulio D'Angelo has spent more than half his life in the SoCal homebuilding and development sector. His passion and enthusiasm for property began at age five, and at age 21, he became assistant to his stepfather, a veteran in the industry. This role introduced him to almost every aspect of construction, from design and civil engineering, to architecture, biology, zoning, planning, land development and entitlement.
He spent time as the manager of a billionaire's personal private equity fund, where he personally oversaw purchases, refurbishments and sales, as well as qualifying as a licensed real estate agent. He has worked as realtor and advisor to an investment company, and is the co-founder and owner of a real estate brand called The HD Team, alongside Hoda Hajirnia (anecdotally, the pair met on the Bravo TV show, Real Estate Wars).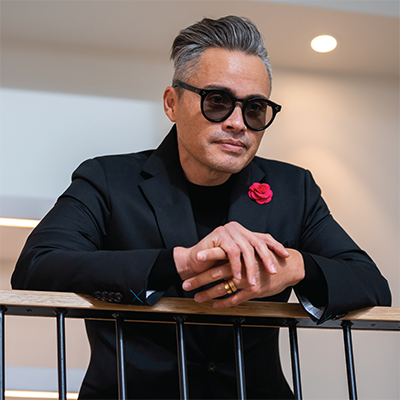 Now considered an expert in California entitlement, valuing his personal entitlement projects at 'around $1 billion', we find Drew as Managing Partner at SkySail Coastal Development alongside his trusted partner, Robert Pereira. "After some discussions around the portfolio at the investment company, we bifurcated luxury homes into their own category, because you can't put $500k and $5m homes in the same category," says Drew. He created the SkySail brand alongside the then partner of the investment company. The logo and website, and projects were classed under the SkySail name, but without any promotion or fanfare.
Design inspiration
This approach was maintained for over three years, until a decision that changed both the direction of SkySail and Drew's own career. "One of the investment partners offered to back me in my own venture – it was a gift that I will never be able to repay," Drew reveals. "He said SkySail was mine to grow, so I took the helm, became Managing Partner and was determined to crush it! I took a brand that hadn't really had much attention, hired Alexandra Taylor for public relations to raise its profile, found the right team of experts, and created the mandate that we were going to deliver three to five deals a year maximum with a relentless pursuit of delivering the ultimate experience."
Why limit at three to five? "I am not interested in building hundreds of homes," Drew admits. "I have done my time in that world of sub divisions, complicated environmental impact reports and multiple jurisdictional permits. Now I am hyper focused on a few projects at once, so I can deliver the best experience without losing vital intimacy coupled with a quality team."
Reformulating what can be a transactional experience, peppered with stress and inconvenience, Drew created the SkySail home buying approach. Clients are given direct access to Drew himself, and each project receives his input from initial drawing to final handover. "I am there to ensure that each home is delivered down to the last intricate detail and it is these individual elements of each venture that continue to entice and excite me," he says.
"Hunting for the right property is awesome, but the part I really love is creating a singular vision and having it come to life. I draw the home, I make design inspiration boards, and I give these to my team and say 'let's make this real'. With an impressive portfolio – is it possible to pick one that shines brighter than the rest? "There are so many special nuances to each project, but 2401 Windward is special because it was the first project where I was graced with complete design freedom and finance to build my dream vision," Drew enthuses. "I immediately knew the direction of the property, inspired by the unique veteran olive tree that sits out front, unlike any native green in the area. I transferred my vision to paper, sent it to my architect and broke ground."
Drew recognized that the existing mid-century modern property on the site had the right bones to convert into an industrial-style farmhouse. "I have such warm memories of the project, I took my kids with me on site and they were engaged with every aspect of it, later it was bought by a wonderful couple, who lovingly named it 'House of M'. Once you name a house it becomes a destination, and we love that level of intimacy at SkySail – 2401 Windward is special."
The passion Drew pours into these homes is transparent and real. "It's not about making money for me; it is about executing an elevated experience, thanks to the collective vision of my team dedicated to a cohesive mission. The team is what creates consistency, and I am adamant on working with the same people consistently," he continues. "In my project management days I learned the importance of setting clear and concise expectations, yet being willing to change approach to get everyone on board. Accountability is key to long-term success in this business. If I am not responsibly passionate as the leader, then how can I expect them to be passionate?"
Community focus
Another foundation for the success of SkySail is its focus on specific areas of Coastal Orange County, California. "We work in Newport Beach, Corona del Mar and a few other areas that all have 'micro climates'. Basically each has its own character, and you can't generalize them down to 'it's $1500 a foot'. They are eclectic, and that allows us to put a custom spin on what we are trying to achieve." These communities have their own personalities and styles, which directs the design intent of each home. "You can't put a modern farmhouse in a Mediterranean community but, if you can combine styles creating a seamless wood-metal flow from inside-out, that is the California lifestyle design you are going to win."
SkySail additionally benefits from the fact that historically these areas have been undervalued compared to other marketplaces around the globe. "Prices per square foot were 30-40 percent below what some competing markets were reaching," says Drew. "This advantage for buyers was highlighted during the pandemic. During that time, I always say the landscape became the forefront of the picture. California had always been this beautiful place for people to visit. Then coronavirus changed how people work and live, and they started to say 'why don't we move here and enjoy the lifestyle that makes us feel like we're on vacation?'"
This influx of buyers caused demand to outstrip supply at a certain price level – there are not enough completed projects in the luxury sector. "Homes that sell for $20 million are usually built specifically for somebody, they're not being listed on the market," agrees Drew. "So, we try to deliver an uber-luxe high-end product that features on-trend designs. The luxury market place has been very receptive to this model."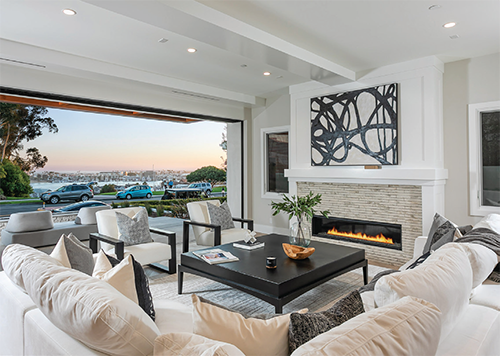 Smart options
Technology is an essential element of each SkySail project – not just as an intrinsic part of the design and delivery process, but also through solutions embedded into the home. "All our homes are equipped nicely with tech and we won't build a home without solar panels," he confirms. Drew, a dedicated surfer, admits that spending time in the ocean and seeing environmental damage first hand makes it even more imperative for SkySail to build in a responsible way. "It's really important to me that we are eco-smart, savvy and sensible about the environment, this also helps us when designing a home within its natural resources i.e. view, trees, stone, topography all play an essential role into our design."
Returning to the interior of the home, Drew explains that every SkySail property has an App feature that controls a variety of solutions. "We can include over the top additions such as automatic wine decanters, with temp settings that detect red, white or bubbles," he says. "You can set your oven from your phone, and have more serious advanced security features, that allow our homes to be monitored remotely. This is attractive to clients who travel as they can check on their properties – and their children – from their phone or lock/open the home for access while they are away.
"Technology has changed the landscape in home building and development and it has changed valuations, too," he continued. "When comparing a smart and non-smart home, these buyers will choose the smart option. They don't want to spend $200,000 upgrading – they want turn-key; just bring their toothbrush and move in!"
Experience, quality, finish – once a client has worked with SkySail and felt the difference that this approach makes to the homebuying process, they want to return again. Confirming this, Drew discloses that nearly 100 percent of his clients have already committed to buying another SkySail home. "We have done the math and the figures show that all we need is 20 families to keep SkySail set in perpetuity. It starts with one family buying a home, staying typically three to seven years and moving to another one. With the acquisition model of building three-to-five homes a year and having 20 families cycling through that product with additional intimate referrals, that's the goal."
SkySail difference
Drew's experience as a realtor supports the ongoing success of SkySail, as the business pays a premium rate to agents that bring buyers to the table. "We pay six percent, which is pretty uncommon," he says. Coming from the agency side, he understands the benefits of incentivizing the brokerage community, instead of cutting commissions. "Part of the reason I decided to do this differently was that I thought developers missed the value that I was delivering. Technically it's my job to sell the property, but if an agent brings me a buyer, I will pay them handsomely for doing that prior to hitting the market or bringing us a deal in general."
After speaking with Drew, it's clear that the SkySail difference is driven from the top down. He executes his role for the love of the projects and his team, rather than seeking accolades or acclaim, and while he has ambitions to build brand recognition globally, SkySail's reputation will never be compromised on that journey. "We do this because we love the process and the people – it's what makes us different on quality, 360 degree experience and deliverability. Our dedication means we will always work to make sure each home is delivered perfectly," he concludes.
www.skysailcoastal.com