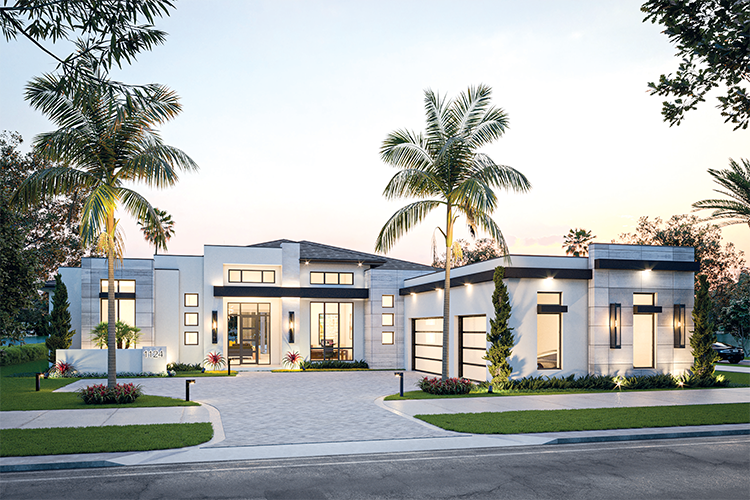 Luxury living
The builder behind some of Southwest Florida's most recognizable luxury properties, Divco Custom Homes has operated with customer satisfaction as its highest priority for almost 40 years now
From prestigious gated communities to the waterfront neighborhoods of Naples, Marco Island, Estero and Bonita Springs, Divco Custom Homes has been leaving its mark on Southwest Florida since 1984. Over the course of the last three decades, over 1000 families have entrusted the business with the delivery of bespoke properties that celebrate their spirit and individuality, and this trend has continued into 2021.
"Commitment to customer satisfaction and belief in our design-build process remain key factors in Divco's ongoing success," declares Vice President of Sales Alan Foster. The latter of these factors – design-build – is a highly-regarded approach to custom homebuilding in which, rather than the traditional method of appointing a builder and architect separately, Divco operates as a single entity and sole point-of-contact for its clients on both the construction and design fronts.
Talents and energies
In many ways, the custom homebuilding process can be seen as a three-legged stool, consisting of the builder, the homeowner, and the architect. All three entities are vital for success. Understanding of this fact, Divco encourages its homeowners to convey their dreams and desires, determine a budget and make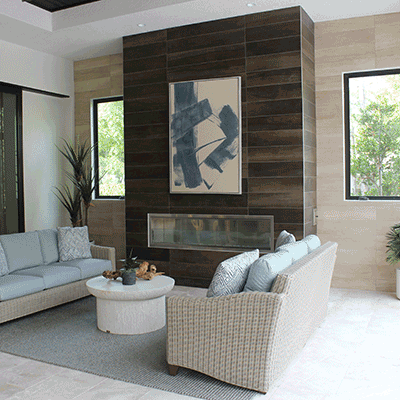 decisions when they are presented with choices. The company then looks to its architects and residential designers to help imagine, draw and create an overall vision for its homes. Finally, builders balance a homeowner's wants and needs with costs, provide 'value engineering' and weigh in on a home's buildability – all of which serve to keep the process moving forward in a positive manner.
Having served the Southwest Florida region for over three decades, Divco has developed strong relationships with many of the area's best industry professionals and can, as a result, pair their talents and energies with those of the company's clients. As the business pre-qualifies its homeowners and asks the hard questions before the construction process begins, Divco's design-build approach, combined with the skills of the individuals it hires, ensures that the firm can deliver award-winning homes on time and on budget.
"Designed to eliminate the stress and hassle of the building process for Divco customers, our modern methods are a vast improvement on traditional processes and not only make for better teamwork between interior and exterior working parties, but also help to streamline projects and condense delivery schedules," Alan states. "As a company determined to make homebuilding an enjoyable, exciting experience that can enhance people's lives, customer satisfaction matters most."
Essentially, custom Divco homes are born out of a nine-stage process. Step One is the selection of a homesite. Whether that be close to the beach, the marina, a bustling arts center or a golf club, the company aids homeowners in choosing somewhere that suits their priorities.
Stage Two of the custom home process sees homeowners discuss their expectations with Divco, as the parties begin to build the basis for a strong, long-term relationship, as well as generate ideas for the project ahead. This is followed by Stages Three, Four and Five, which involve the development of individual finishes, the creation of conceptual designs and working drawings, before the signing of a construction agreement.
Design choices
After a visit to Divco's on-site Design Studio in Stage Six, the fun really begins for homeowners in Stage Seven, when they start to see their new home come to life. Close communication with field management during Stage Eight ensures that fresh ideas, questions and curiosities are addressed before the final stage – Stage Nine – in which clients are finally able to step inside their new home; a dream, thanks to hard work and collaboration, made reality.
"Our growth and continuing success have always depended on our ability to translate customer needs into a fully self-performed design-build process carried out by experienced professionals," Alan says. "Exceptional home delivery and staying on budget makes for happy clients, and customer satisfaction is our number one priority."
Overseen by Owner and CEO Stephen Kauffman, as well as a core group of senior management executives, Divco benefits from some of Florida's most skilled building, financing and design teams. From administration to construction, these groups of professionals not only enjoy decades of experience, but also a rare dedication to efficient, effective service. "The people employed by Divco and our sub-contractors are extremely important," Stephen asserts. "These are the people who homeowners interface with on a daily basis and that is why we try to maintain a professional office that is anything but a stressful workplace."
In recent times, Divco has been challenged by the market to further diversify its already broad range of custom home styles. Focusing on modern, transitional, and coastal designs, the company regularly adapts its models to better serve its customers and more effectively accomplish their wishes.
"At Divco, we use a combination of CAD (Computer-Aided Design) and 3D rendering software to help clients visualize their custom home plans," Stephen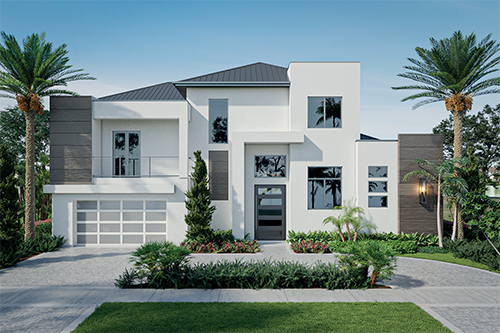 remarks. "As a result, we continually introduce new model homes and updated design concepts targeted to the lifestyles of the communities we are building in. Additionally, we have a great track record of completing these homes in a timely manner without any major issues."
Among its new releases in 2021, Divco has launched the Andora, Cayman, and Spring Lake models. According to Stephen, these brand-new concepts were carefully designed and built around experiences the company has had in communities similar to those in which the newbuilds can be found.
"A modern-style luxury home, the Andora is located in the renowned Fort Myers community of Miromar Lakes," Alan explains. "The waterfront Cayman model is located on Marco Island and embodies the Island Coastal design, with accents of blue inspired by the ocean. Finally, the modest, modern, Spring Lake model is being featured in the beautiful neighborhood of Montebello, located in the heart of Naples.
"In general, we are adopting a more modern architectural style for our new model homes, with the inclusion of partial flat roofs, large windows, and other exterior characteristics. These are, of course, combined with floor plans designed around the aspirational Southwest Florida lifestyle."
Future plans
Though the Covid-19 pandemic has made for a highly challenging year for people and businesses across the United States, Divco has defied expectations in terms of the company's growth and ongoing success. In fact, Stephen reveals, the firm's prospects have improved significantly.
"In the aftermath of the Covid situation, as a company, we have almost doubled our yearly sales totals," he reports. "Now, our efforts are dedicated to working around the current material and labor shortages in an attempt to complete our homes in a timely manner.
"Before the pandemic began, we had a history of using the same sub-contractors and material suppliers from project to project, with some of these relationships dating back to the 1980s. Thanks to our size, and these long-term relationships, we have been able to stay at the top of our subcontractors' and suppliers' lists. In some cases, they only work for Divco now, and given the scarcity of subs and suppliers, it has proven to be a major benefit for us."
As we approach the end of 2021, Divco's sales remain concentrated in three targeted areas – Miromar Lakes in Estero, North Naples and Marco Island. With plans already in place for the construction of new sites across these communities, Stephen and his team are optimistic, and enthusiastic, about the future.
"We are very excited for 2022!" Alan proclaims. "In the next year or so, we plan on releasing the contemporary Carmela model, which will be featured in Miromar Lakes, as well as entering a new neighborhood in the community with the upcoming Amelia model.
"The Amelia will be released in 2022 in the San Lorenzo neighborhood of Miromar Lakes. The model will be contemporary in design and a real next step in building when it comes to modern-style homes."
In the short-term, Divco aims to continue building in its current construction area, better utilizing its staff and further improving its exulted reputation. Looking further ahead, in three to five years' time, Stephen is confident that the business can start taking its patented taste for efficient luxury to new regions and more communities than ever.
"Through the years, we have designed and continually modified many processes, including a detailed plan review, specifications, color selection processes, construction scheduling and quality control,"
Stephen says in summary. "We want this continuous improvement mindset to remain a key part of the way we work going forwards. The better we can control the building process, the better chance we will have to achieve maximum customer satisfaction."
Divco Custom Homes
www.divcohomes.com
Services: Custom homebuilder