Discover the driving force behind Ruebl Builders' lasting success
Better by the generation
Jason Ruebl's grandfather was a cabinet maker in the 40s and began building homes during the turn of the decade. Although Jason's grandfather passed away, his legacy of hard work and dedication to beautiful homes lives on through his company, Ruebl Builders (Ruebl). "He started building his own spec homes, which is how Ruebl began," shares Jason. "My father, Bill, then took over the business. He started working for my grandpa, and basically took the company to the next level and was very successful in his endeavor," says Jason.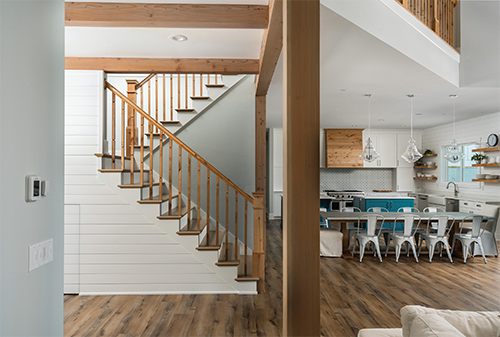 Three generations of business have refined Ruebl to be a leading homebuilder that prioritizes relationships with both its team and its clients. "We have a great group that surrounds us, and that culture of unity is what forms the bedrock of our success," says Jason. In our conversation, Jason is joined by Scott Gallert, the Project Manager, who has been integral in contract completion, and, according to Jason, is an excellent example of the type of people working at Ruebl. "We would have never got this far without the people who are part of this team, people like Scott. There are always challenges along the way with budgets or design ideas. However, we are very fortunate to have expert people who know how to overcome any challenge in order to exceed our clients expectations," shares Jason.
"Everyone here is truly a team player," Scott adds. "It is like a small family, we get to know each client, their styles, personalities and hobbies. Taking the time to learn about each client helps us incorporate the perfect details and design into the craftsmanship we put into each custom home, which is one of the reasons I chose to be a part of this team. Regardless of whether you are an employee or a subcontractor each person plays an important role in the building process."
Jason expands on Scott's sentiments by paying tribute to the fantastic skills that Scott brings to the team. "Scott has been a great addition. He is very communitive with our clients. We are in challenging times where the last two or so years have been difficult regarding the sourcing of materials, but Scott does a great job staying in touch with customers at every stage.
"From a quality standpoint, he is also impeccable at ensuring that everything is the way it should be. There are contractors who occasionally want to accept that something is good enough for the sake of moving onto the next phase to meet the deadline. Scott doesn't have that attitude. He wants to get it right regardless of how long it takes. For me, Scott is an example of the sort of people we have here; the ones that get the job done to the best of their ability, no matter the time or the cost that it takes, because the client's happiness in their new home is what matters most to us," says Jason.
When it comes to additional reasons why the company excels within the industry, Jason expresses that its leading attribute boils down to attention to quality. "Being a small company has its benefits. One of them is that it enables us to be very detail oriented. We manage the number of projects we take on so that I can be onsite for each contract and remain closely involved with the project.
Exceeding expectations
"We really pride ourselves on not growing to the point where I can't be part of the work, because I want to be able to see what is going on, especially if there is ever an issue. This is why communication is a big factor for the way in which we work. For example, although I don't expect Scott to answer calls over the weekend, I know he cares, and wants to be part of the team, so he will take those calls. It's acts like that that help us stand apart from our competition," Jason explains.
To demonstrate how the company approaches its work, we then go onto to discuss its Eagle Lake project, which is a signature project the business completed in Wisconsin. "We built a beautiful white oak timber frame home that had a rustic mountain aesthetic on a lake, despite not being in the mountains. It's a heck of a project and the client relied heavily on us to build the home of their dreams. Clients trust Ruebl Builders along with the architect, the interior designer, and our contractors. Obviously, money can become a factor in a project this large, but the client was very receptive to our ideas and we were able to exceed their expectations."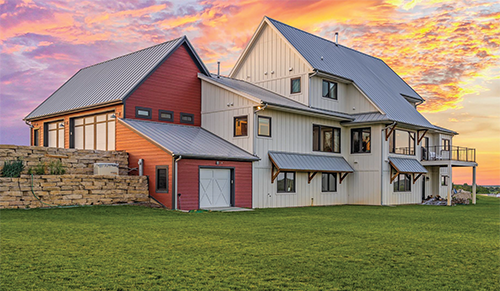 Improve & refine
Scott emphasizes that the business' approach to relationships is what encourages customers to trust Ruebl. "The Eagle Lake project was a fantastic example of the sort of relationships we have with our customers. Many clients often ask, 'if this was your home, what would you do?' This is where we are able to use our knowledge of the client's interests and passions to add specific design and details that are unique to that particular client; not every home builder knows their clients as well as we do. We proceed to work out what it's going to cost, and we maintain transparency accordingly," says Jason. He shares that Ruebl is proud of the ways this approach has been able to bring together exquisite projects, and both Jason and Scott are excited for the work on the horizon.
Considering the challenges that the last two years have brought the construction industry, Jason looks to the future with hope. His goal moving forward is to remain a small company to maintain the excellent quality for which Ruebl has become renowned. "I'd like to keep up the close relationships that we have, so we need to ensure that the business doesn't grow too big. Other than that, I have nothing to complain about; we have been very blessed. God has blessed us more than I can ever imagine to get us to where we are today.
"My personal project is to ensure that everyone within our team has a great quality of life; the painter, the cleaner, the glass suppliers, no matter who they are. Of course, we are always working to improve and refine what we do, but that is what strengthening a company is all about. I think if there is anything we want to work on, it's the little things that make this company just that much better," Jason concludes.
www.rueblbuilders.com