Customer care and construction capability – discover Sweenor Builders' school of thought
OVERDELIVERING as STANDARD
Founded in 1989, by circumstance rather than design, Sweenor Builders' (Sweenor) story is one of self-made success. As President, Jeff Sweenor, explains: "I had every intention of joining the family candy business. However, when I was 24 and newly married, I took a summer off to build my own house. Having renovated the family store, I had some experience, and with the help of a professional, I built my house, fell in love with the process, and haven't looked back since."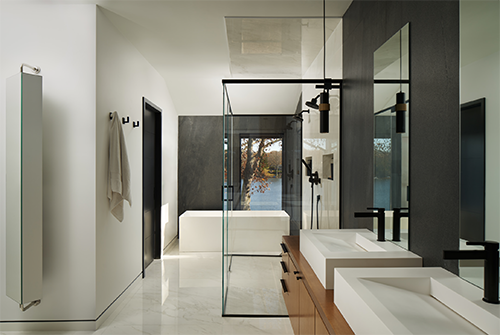 The early years presented a steep and hands-on learning curve. Up until 2015, the business was still relatively small, but gradually ramped up operations thereafter to achieve today's 65-strong workforce with full design capabilities, including in-house carpentry and cabinetry functions.
"Doing things the right way, and not taking short cuts has been a key lesson along the way," explains Jeff. "Trying to do something a little faster or skipping a step is not the right approach. Doing right by the client is of paramount importance and pays dividends."
Thirty years on, Sweenor has become one of Rhode Island's most sought-after builders. Jeff is directly involved in each project, and remains focused on continually broadening and deepening his expertise, attracting the best in the business, and expanding capabilities.
"Most of our projects are water-front or water-view, and as such, involve heavy regulatory compliance. Being able to navigate the layers of red tape is a skill set in itself," he explains. "This is a distinguishing feature of our company. We can quarterback the entire effort for the client."
In terms of project design, Sweenor prioritizes understanding clients' desires and requirements, and balancing those within budget constraints. "Our designs are our clients' signatures. We typically go above and beyond standard specifications. While that naturally costs more money, we have plenty of clients that feel the value is there, and from a retail perspective too. We really try to overdeliver on promises."
Experience & expertise
One such special project is located in South Kings Town. Its idyllic waterfront location is close to Jeff's heart from his university rowing days, and he was excited to meet with the clients. As Jeff explains: "The house posed some design challenges, as it's on a steep slope down to the water. We basically carved out the middle of the property to change the floorplan and roof line. Additionally, the basement was very under-utilized due to low ceilings, but we excavated more height, and installed the duct work underground to maximize living space."
The project was finished with a polished concrete floor, and clean lines. A second phase included a backyard renovation, with a patio and elevated deck, a linear fireplace and small plunge pool. "We worked with the Azek Company, which manufactures innovative, low maintenance, and environmentally sustainable outdoor living products, to ensure the house was, number one, maintenance free, but also sleek and modern in finish," continues Jeff.
Jeff relies on the experience and expertise of his team to deliver these high-end projects. While many of the workforce boast considerable experience, particularly, in carpentry, others are not long out of high school. As Jeff explains: "We wanted to create an environment where our more experienced job training is great, it doesn't always lend itself to an environment where you are free to make mistakes, go outside of your comfort zone and experiment with things that require a higher level of skill.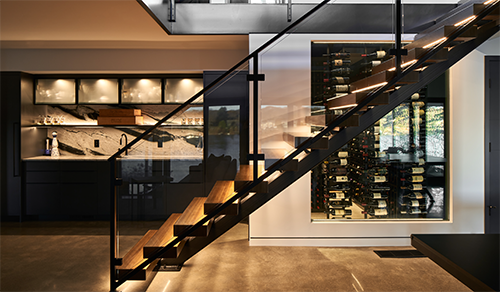 Constantly improving
"We trialed an eight-week, after-work program, paying our senior staff members overtime to teach but without mandating the classes. The motivation to participate lay in improving skill sets, and subsequently, remuneration. We developed a curriculum based on our common processes, tailoring it to our business. It was a great success. We received extremely positive feedback, and there was more value in it than I anticipated."
As such, Jeff and the team decided to take their idea to the next level, targeting graduated seniors looking for an alternative to college. The business hired a group of students as laborers and provided a training program in the evenings, covering basic tasks and safety, and progressing to skilled processes. The business extended full-time employment contracts to three of the eight, and continues to bring younger people into the business in this way.
Jeff continues: "I tell all the kids that you can start and end your career with this company, and it is a career, with plenty of scope and potential for earning a good living. By changing the perception surrounding the industry, we are able to get younger kids interested in what we do."
Ambition has always been a driver for Jeff. "In five years, I don't see us changing our path but I do see us constantly improving. We recently acquired a small masonry outfit, a family firm that we'd been working with for over 25 years. We currently have so much masonry work that we really needed to do that, to play offence to ensure we don't fall behind. My daughter, Natalia, is starting to get involved in interior design and I am very optimistic that she will steer us in the years to come, alongside my son, Ryan, who leads a framing crew and is all about increasing our capabilities.
"Our houses are complex. We are constantly working to increase our capabilities and our ability to deliver premium results," he concludes.
www.sweenorbuilders.com