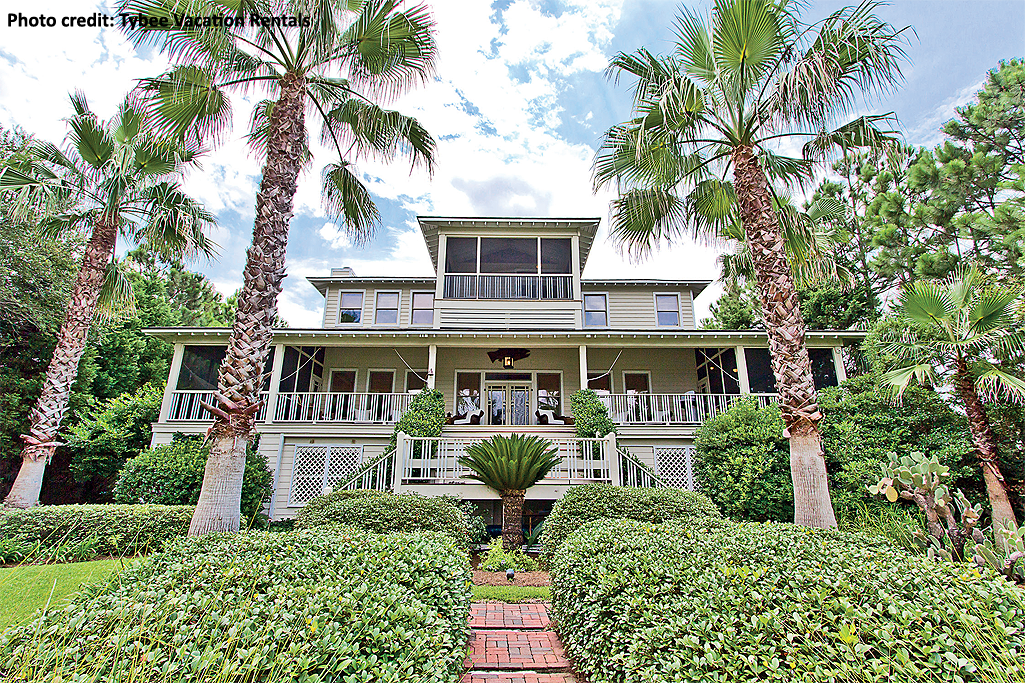 Sandra Bullock isn't just America's sweetheart, an Oscar-winning actress and great mom, she's also a real estate mogul with properties from coast to coast, who has invested her money and time wisely. She put her charming Tybee Island, Georgia home up for sale in the spring of 2019, which sold in February 2021.
Bullock purchased the beachy 3,360-square-foot cottage and 2,848-square-foot guest house in 2001 for $1.5 million. An architecturally stunning main house and guest house on almost three acres made up of nine parcels, the home has private access to one of the prettiest white-sand beaches in the country. The estate has the capacity to sleep 12 family and friends with a large pool, game room, gym and basketball court. Structures include the 3,360-square-foot plantation-style main house with multiple screened verandas, double-height living room ceiling with beachy decor, and a 2,848-square-foot guest house with living room fireplace, a crow's nest and an outdoor grill. Overall, there are seven bedrooms and six baths between the two buildings. The home is decorated with emphasis on white linen and wicker with a contemporary airy, coastal vibe, and all furnishings were included in the sale.
Sandra Bullock isn't the only celebrity to discover the tranquility of Tybee. Other stars have also been keeping it under their hat such as musician-actor John Mellencamp and best-selling-author Mary Kay Andrews who also have homes on the island. Miley Cyrus and John Travolta have frequented the area and, although his home is on Hampton Island, one of Ben Affleck's favorite restaurants, the North Beach Bar and Grill, is also on Tybee. When celebrities unwind and want a little fun, they can hop over to Savannah for a dose of deep-south exploration.
Realtors Rachel Umbreit and Ruthie Lynah-Whitlow of Celia Dunn Sotheby's International Realty handled the sale.
Source: www.toptenrealestatedeals.com
Matt Damon's Pacific Palisades Mansion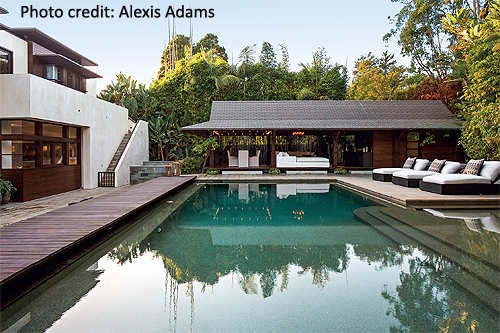 For the first time in decades, Matt Damon will be making a move without his best friend, Ben Affleck. They moved their families together to Los Angeles' Pacific Palisades – even on the same street – back in 2012. Matt and wife, Luciana, purchased their luxurious home for $15 million, and have now put it on the market for $21 million.
This time it appears Affleck will be staying in Los Angeles to be near his three children while the Damon family moves to their six-bedroom penthouse at the Standish in Brooklyn Heights, New York, which they purchased in 2018 for a record-breaking $16.745 million. This may be the first time so many miles have separated the two best buddies since their school days.
The Damons have excellent taste in homes from their stunning Spanish-style Miami Beach home, which they sold to move to California, to the magnificent contemporary now for sale, the Damons have been living in tropical climates with lush year-round landscaping and a 365-day, indoor-outdoor lifestyle. Their current 13,508-square-foot home has seven bedrooms and ten baths, inside a private-gated entry. The home's focus is the center atrium soaring to 35-feet with mahogany ceilings and light pouring in through clerestory windows branching out to the open-plan living. California-style formal rooms open seamlessly via movable glass walls allowing for vanishing thresholds between living and landscape. The house contains a chef's kitchen in mahogany with bluestone countertops, the master suite has its own private terrace, dual dressing rooms, massage room and bath. Also included is a game room, bar office, staff quarters, wine storage and tasting room, and a media room. Outside is a pool, spa, children's play area, a waterfall, koi pond and Hawaiian-style covered lanai for dining and lounging among tropical plantings.
When it comes to celebrities, Pacific Palisades has turned into the 21st-century Hollywood when it comes to where they choose to live. Its huge population of film industry, sports and music stars practically guarantee rubbing elbows with several when shopping at Palisades Village. A few include Dan Aykroyd, Chevy Chase, Billy Crystal, Julia Louis-Dreyfus, John Goodman, Steven Spielberg, Kate Hudson and Diane Keaton, who might be checking out paint colors for her next house flip.
The listing agent for the Damon home is Eric Haskell of The Agency, Beverly Hills.
Source: www.theagencyre.com
For details of these houses and other celebrity homes, please visit:
www.topTenRealEstateDeals.com
https://www.toptenrealestatedeals.com/weekly-ten-best-home-deals/home/sandra-bullocks-sweet-georgia-island-home
https://www.toptenrealestatedeals.com/weekly-ten-best-home-deals/home/matt-damons-pacific-palisades-mansion