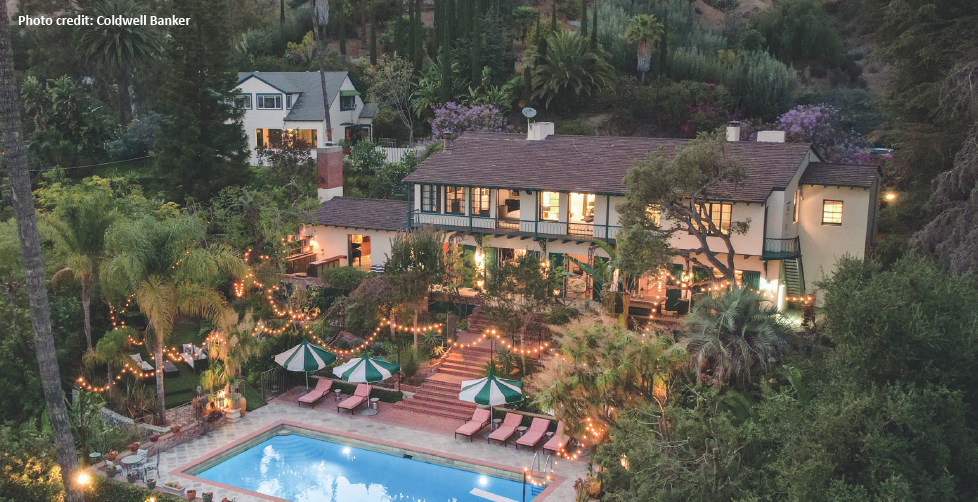 Now living most of the year in a secluded mountain home on the Nevada side of Lake Tahoe, where she recently had to chase off a black bear from her garden, Helen Mirren and her director-husband Taylor Hackford feel that it's time to either sell or rent their storied Hollywood Hills home of 30 years. Finding it a little hard to let go, they are offering it for sale at $18.5 million or for rent at $45,000 a month.
London-born Mirren has had a fabulous career, the only actor to achieve the Triple Crown of Acting in both the US and the UK with Oscar, Emmy and Tony awards. Her Academy Award win was for Best Actress in the film The Queen acting the part of Queen Elizabeth II. Taylor won his own Academy Award for the short film Teenage Father and has directed such favorites as An Officer and a Gentleman and Against All Odds.
Built in Hollywood's earliest days in 1911 and located on over six acres, the 10,200-square-foot Mirren-Hackford estate includes a guest house and a total of nine bedrooms and 11 baths. A popular neighborhood with the Hollywood crowd, the home has had only four owners: Dustin Farnum, star of DeMille's Squaw Man; Mark Hellinger, writer/producer whose short story became the Bogart/Cagney film The Roaring Twenties; Gail Patrick, executive producer of the popular 1950's/60's Perry Mason television series where the home was sometimes used as a film location for the show, and Mirren-Hackford. The house has all the great features of its era, including large rooms, lots of French doors that open to the hilltop breeze, a paneled library, beautiful hardwood floors and large fireboxes in the fireplaces. One special room is the cozy bar with bar stools and comfortable sofa and chairs for more intimate entertaining. The large formal rooms and outside living area with pool and downtown views cover entertaining for large groups and family get-togethers. The early California indoor/outdoor architecture makes the house warm, inviting and relaxing for both family and friends. It's this element and the home's adaptability to different lifestyles that make the house a hard one for Mirren to let go.
Hollywood Hills is awash with celebrity residents such as Leonardo DiCaprio, Keanu Reeves and Halle Berry. It has been the neighborhood of choice since the beginning of filmdom due to its proximity to the studios and is known for its views and star-worthy gated homes nestled behind deep privacy foliage.
Joyce Rey of Coldwell Banker Global Luxury, Beverly Hills, holds the listing.
Source: www.joycerey.com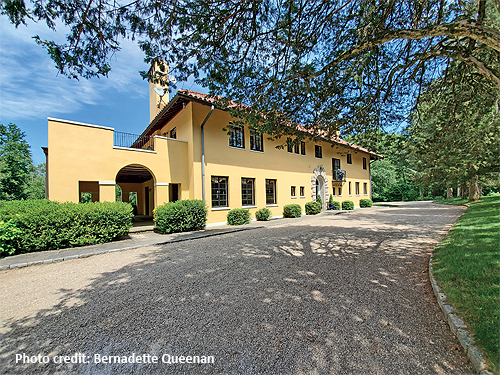 Mark Twain's final home
Samuel Langhorne Clemens was fascinated by thoughts of adventure as a boy, dreams that he later wrote about when he took on the pen name Mark Twain, which translated, was steamboat slang for 12 feet of water. Later in his life, he moved to Connecticut to be closer to his publisher, and he eventually purchased a stunning estate outside of Redding that he called Stormfield – named after his last published story during his life, Captain Stormfield's Visit to Heaven. He was only able to live there for two years before he died in 1910. It is now on the market, listed at $4.2 million.
Twain was a prolific writer who produced a variety of literary works, magazine and newspaper articles, poetry, short stories and novels. Many say his most notable are The Gilded Age, written in 1873, and, of course, The Adventures of Tom Sawyer, written in 1876. Twain was an avid traveler who visited a good portion of the world and wrote about the countries he visited, which he both praised and criticized. His experiences broadened his critical thinking on many subjects, including religion, resulting in his strong opinions on many subjects.
At age 72, Clemens purchased Stormfield, where he lived until his death. Sited on 28 acres adjoining a 161-acre land trust, the 6,300-square-foot home is built in the Tuscan villa style, which Clemens fell in love with during his Mediterranean travels.
After his death in 1910, the house was badly damaged in a fire but was reconstructed in 1925 incorporating the same look, original gardens, stone walls and pillars. There are four bedrooms and six baths, three fireplaces, large formal rooms and a big eat-in kitchen with adjoining family room. The living room has the extra bonus of hand-painted, wood-beamed ceiling and fireplace with a library alcove. Floors are hardwood and marble. The house has a detached pool-carriage house with a heated pool, and there is a three-car garage with a caretaker cottage above that has two bedrooms, bath, living room, kitchen and deck. There are multiple terraces around the main house for outdoor dining.
Although people usually associate Twain, who William Faulkner referred to as 'the father of American literature' with Missouri and the Mississippi River, he lived in many places including San Francisco, Nevada, Cincinnati, Philadelphia and New York. He lived most of his adult life in Connecticut, including Stormfield and his home in Hartford, which is now the Mark Twain House & Museum and is open to the public.
The listing agent is Laura Freed Ancona of William Pitt Sotheby's International, Ridgefield Brokerage, Ridgefield, Connecticut.
Source: www.williampitt.com
For details of these houses and other celebrity homes, please visit: www.topTenRealEstateDeals.com
https://www.toptenrealestatedeals.com/weekly-ten-best-home-deals/home/helen-mirren-taylor-hackford-hollywood-hills-home
https://www.toptenrealestatedeals.com/weekly-ten-best-home-deals/home/mark-twains-final-home-is-stunning-for-sale