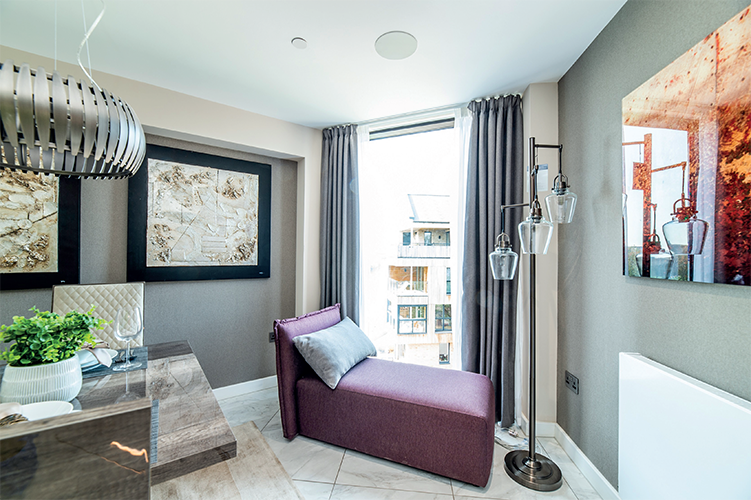 The interior designer behind the luxury show homes at riverside residential development The Yacht Club, Nottingham in the UK, has shared her top design tips for autumn 2021.
Ghazala says: "This year seems to be one of change for so many of us, and that is something which is being reflected in the style of our homes, and how we are choosing to decorate and rework the space to suit new lifestyles.
"We are seeing a shift from the minimalistic, Scandinavian-inspired trends, with neutral tones, that have been popular for a number of years now – to the more colorful, expressive styles that incorporate much more variation, with nature and eco-friendly designs proving to be very sought-after.
"The shift away from the use of crisp white and neutral tones in homes is gaining traction as homeowners opt for more color.
"Pristine white kitchens in a minimalistic design are no longer the firm favorite among households, as the trend for more textures, colors and unusual statement accessories and tiling take center stage.
"Following the pandemic, more people have made the move towards home working. As a result, individual spaces and home offices have become essential – open plan living is no longer king of interior design, as more and spaces in order to manage their new post-pandemic routines."
What are homeowners choosing?
Ghazala continues: "The trend for nature and incorporating natural elements into the home has grown in popularity this year, as we all pine to bring a burst of the outdoors indoors.
"Perhaps it is a consequence of spending more time inside over the last 18 months, but nature is making its way into our homes through the use of color –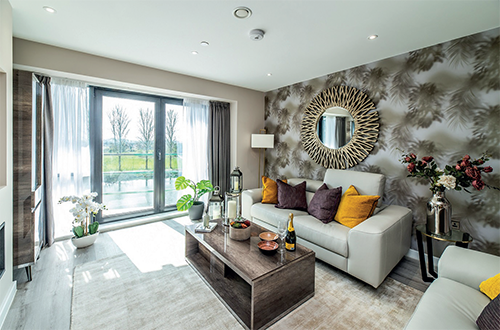 earthy tones like sage and olive greens, oceanic blues and subtle fleshy shades are taking over home décor Pinterest boards and glossy magazines alike.
"Eco-friendly design is also on the rise, as people gravitate towards textured accessories and handmade ornaments made from natural materials.
"The trend for remote working has seen a huge increase in the need for home offices – and inspiration for an Insta-worthy workspace design is everywhere.
"Light, simple and spacious rooms filled with only the essentials – a comfortable desk and chair, high-spec tech, fast Wi-Fi and a few key pieces for decoration are the best way to create a space that'll help to inspire productivity and clarity. A cluttered space does not help a cluttered mind!"
What color schemes we can expect to see more of this season?
The use of warm, earthy colors is going to continue and it is likely that designers and homeowners alike will become even more bold with their color choices – expect to see lots of deep blue, emerald green, cozy greys and plenty of sage green in the coming months and into 2022.
What are some of the trends to look out for in 2022?
The immaculate, sparkling white interiors of previous years will continue to fade as color will dominate the décor trends next year.
Homeowners are keen to express their personalities through interior design – with a mix of fresh, modern style, statement pieces, textures, patterns and of course, color. The bolder the better!
A favored trick from interior designers is the use of texture – any well-designed space will have a number of different materials, from light wood to tiling to woolen throws and velvet cushions. The variety of texture adds an extra element to the space, giving it both a stylish and a homely feel.
The same goes for patterns – using a mix and match approach, next year will see many more stripes, checks and polka dots in striking colors to provide added interest to rooms.
How has the pandemic changed our preferences?
In terms of changing lifestyle habits following lockdown restrictions – as well as sleek new home offices, many homes will also see a change in their layout.
Open plan living is no longer top of the must-have priority list when it comes to the ideal home, as people seek more privacy and individual spaces within the home that they can make their own.
From snugs to studies – we are looking for quieter, closed spaces for relaxation, work and entertainment. Given that many of us have spent a great deal more time in our homes over the last year than previously, the need for our own space is understandable and it is influencing our design choices as a result.

Ghazala Mogul is an interior designer at KMRE Group Ltd – the Leeds-based developer behind The Yacht Club and other residential projects around the country. With a wealth of experience delivering private rental sector schemes, as well as student housing, in partnership with investors – KMRE is committed to developing safe, sustainable, well-designed and highly sought-after affordable homes, generating real returns for investors.
www.kmregroup.co.uk