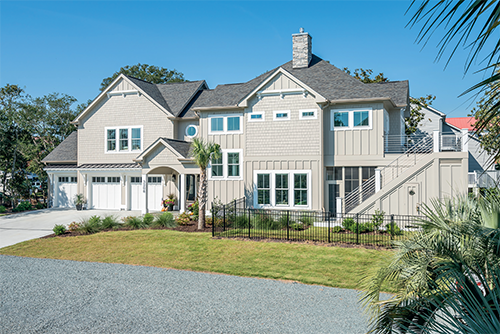 Planning the perfect home
Leading custom homebuilder, Centerline Development, designs and builds dream homes for customers all across North Carolina
Known for its acute attention to detail and quality craftsmanship, Centerline Development (Centerline) has thrived for 26 years. The company believes in creating homes that are warm, comfortable, efficient and personalized. Its dedication to customer service has remained unparalleled over the last few years, even in the face of adversity.
As an unlimited building licensed company, Centerline has flourished in the North Carolina construction market. The company has been based there for two decades, as its President, Satterwhite, details: "We have been based in our office in North Carolina since 2001, working mostly with custom, single family homes, and a few light commercial buildings.
"I started working for my father, Jack Satterwhite's construction company in high school. There, I had the opportunity to work with a whole range of subcontractors. Learning the business from the grass roots was a very valuable lesson, as it helped me to understand the importance of all trades. Whilst in college at NC State University, I continued to work in the construction industry, by owning a pressure washing service, and from there I grew Centerline Development."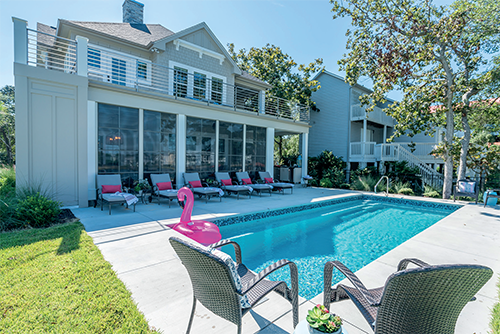 Strong relationships
Today, Centerline specializes in custom design-and-build projects. "Most of our homes are built for retirement communities, and we take great pride in designing and tailoring our product to meet the requirements of an aging lifestyle. Large doorways, zero curb shower entry, wider halls, handrails, limited stairs, elevators, and wider lanes in the kitchen are all part of the design for our customers.
"Most of our clients live out of town, so we have a dedicated team member to communicate with each client during the build, to make sure we are building their dream correctly. Our website has a special area for homes under construction so the clients, as well as their friends and family, can follow the progress on our website. A picture is worth a thousand words, and this is very true for new homes. Clients have reviewed the pictures on the website and made changes using them as reference, which saves us lots of time and money," Jeff discusses.
Building strong relationships with clients and subcontractors is one way that Centerline Development ensures the success of all its projects, as Jeff affirms: "The relationship between our team, our subcontractors and the client is crucial to keeping the project on schedule and budget. We normally build custom homes, so no one has built the floor plan. These plans have not been streamlined over time and multiple builds, so clear communication and cooperation between all parties is a must for a successful outcome.
Working responsibly
"During the construction of a custom home, each party is the other parties' customer. I am the client's customer, the client is my customer, and the subcontractors are both our customers, so this means every person will need to give and get information and services to get the house right. For example, a client needs to select the tile from our vendor in a timely matter, so we can order it, and then the tile contractor needs to send the tile requirements to the supplier so it will arrive in time for installation. Everyone is everyone's customer, or the system does not work effectively."
Over the years, Centerline has used its impressive network of industry specialists to create dozens of gorgeous custom homes. One project is particularly close to home for Jeff, as he reveals: "One of our spotlight projects is Yacht Drive, on Oak Island. This project is very special to my family, as it is our personal home on the island. My wife Tara and I had wanted a home on the water for many years but could not find the right location. Finally, in 2017, a house became available on the Intercostal Waterway in the Zone X flood zone. We purchased the home, and relocated it to another lot close by, to remodel and sell it.
"After moving the old home off the lot, we could now build our dream home with a water view. Designing and building the home was not without its challenges, a small footprint, impervious coverage, permits, and storm water issues were just a few of the hurdles that had to be overcome.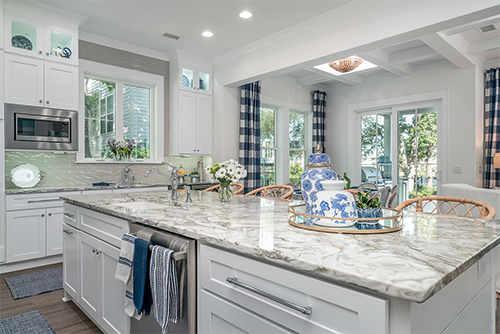 "The house was completed in the middle of Covid-19. Even with all the supply chain problems we finally completed our dream home after a yearlong process. Tara wanted to mix old and new items in the home to make it special, so we included 100-year-old pocket doors in the office, vintage leaded glass in the pantry door, and some 60-year-old nautical ship lights in the baths. Outdoor living was also very important, so we invested in a pool area and outdoor kitchen with a shrimp cooker."
Jeff and his team take the same level of care with each and every personalized home. Knowing just how important it is to clients, Centerline is dedicated to all-around, industry-leading customer service. "Outstanding customer service is an absolute must in the custom home business.
"At Centerline, good clear communication is paramount. We communicate with all parties as soon as possible about positive developments, as well as any challenges that come up, so that everyone has the necessary information to make informed decisions; iPads, phones, and facetime are all used to get the information to the right person at the right time," Jeff confirms.
Socially and environmentally conscious construction is equally important to Centerline. The company consistently works to Energy Star recommended standards, as Jeff comments: "We have been a part of the Energy Star program for almost 20 years. The program has changed over time, making it harder to meet the new standards. It is a fine line to walk between staying on budget and meeting Energy Star standards on all projects.
"With the new regulations, larger square footage incurs a large penalty, so we offset it with spray foam, tankless hot water heaters, low emission windows and doors, thicker walls, slab foundations, and solar panels. We all need to do our part to reduce energy consumption, so we build homes that are less costly to maintain and condition by selecting more effective products to put in the homes."
Working responsibly also means fostering a positive and supportive working culture. Centerline achieves this through regular training, and specialist support for team members with niche interests. "Without the right people, Centerline Development does not have a business.
"We want our team members to grow and learn at Centerline. Training is very important; we have sent two team members to get their commercial driver licenses, and another team member was interested in cabinet design, so we sent her to CAD training to design cabinet layouts. This business is always changing so we support continued growth through training," enthuses Jeff.
These values keep Centerline focused on high-quality construction and mutually beneficial relationships. Despite the challenges brought on by Covid-19, the company continues to prosper, and is gearing up for major growth in 2023: "We believe next year will be major for the company, because the supply chain will be better and more domestic supply is coming online.
"We also expect growth in the custom coastal market, and increased activity in the light commercial area for Centerline. We are also seeing lots of interest in our cabinet division, where we sell and install four lines of cabinets for a range of customers, so it's going to be exciting to see where that takes us."
Centerline Development
www.GoCenterline.com
Services: Custom homebuilder