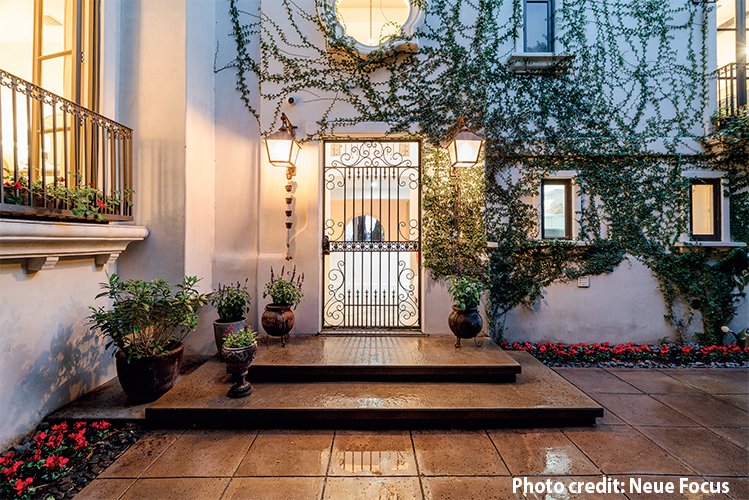 Pop singer Camila Cabello has recently put her Hollywood Hills home on the market priced at $3.95 million. Perched above Sunset Strip, the 3,579-square-foot home brings a taste of the Mediterranean with its walled garden and wrought-iron gate, arches and brightly tiled fireplace surrounds. The four-bedroom, four-bath home was built in 1977 with all 21st-century updates while still retaining its original charm. With complete privacy in mind, the wall that encloses the rear yard and saltwater pool welcomes indoor/ outdoor living.
Kitchen and baths are sleekly modern with loads of character in the public rooms. Glass doors stack out of the way to create a vanishing threshold between the family room and outdoor terrace and greenery.
Ideal for performers, the house has a complete recording studio with professional equipment and a vocal booth. The split-level house has distressed wood floors and tile throughout. The master suite has its own fireplace. In addition to the pool there is an outdoor fireplace, grilling and dining area. There is also an attached two-car garage and laundry room.
Hollywood Hills is the ideal location for easy access to the studios, a magnet for star-seeking tour buses and as the backdrop location for many films. Celebrities who have lived and do live there include Katy Perry, Ben Affleck, Kevin Costner, Britney Spears, Bryan Austin Green and Justin Timberlake.
Denise Rosner of Compass, Beverly Hills, holds the listing.
Source: www.compass.com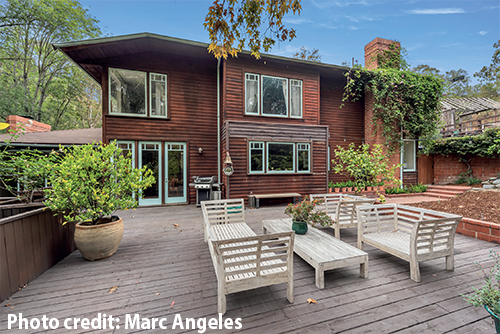 Kennedy connection
Privately tucked away on a country lane that meanders off of Sunset Boulevard in Los Angeles is a small community of 16 secluded homes that has attracted world-famous politicians, actors and industry leaders. One house on the sparsely populated lane was previously the home of California Governor Arnold Schwarzenegger and his then-wife, Maria Shriver. Maria is a world-famous journalist and former host of several television news shows and the daughter of Eunice Kennedy and Sargent Shriver. The home is now being sold by its current owners, attorney-and author Maxwell Kennedy, who is the son of Robert and Ethel Kennedy, and his wife, Vicki Strauss Kennedy. It is priced at $11 million.
Located on 1.75 acres between Will Rogers Historic Park and Rustic Canyon Creek, the 4,177-square-foot home, a mixture of New England and California-contemporary, was built in 1981. The neighborhood is zoned equestrian with a meandering, picturesque creek and several footbridges, riding and hiking trails. The five-bedroom home has six baths, airy rooms with large windows and skylights, three fireplaces, a cheery kitchen and an adjoining family room. There is a sauna, spa, grotto-style pool and a lighted tennis court in a setting of ancient oak, sycamore and eucalyptus trees.
The home in L.A.'s Pacific Palisades neighborhood was the family home for Schwarzenegger and Shriver and their four children from 1986 until the couple parted ways. In 2013, the house was sold to Max and Vicki Kennedy for $12.9 million, keeping it somewhat in the Kennedy family.
Pacific Palisades has been a celebrity residential hotspot for decades, including Steven Spielberg, Tom Hanks and Rita Wilson, Michelle Pfeiffer, and Dennis Quaid. Matt Damon has lived there for years near his friend Ben Affleck but recently moved to New York's cold winters, leaving Affleck behind to enjoy California's sunny outdoor living.
The house is listed by Billy Rose and Santiago Arana of The Agency, Beverly Hills.
Source: www.theagencyre.com
For details of these houses and other celebrity homes, please visit:
www.topTenRealEstateDeals.com
https://toptenrealestatedeals.com/weekly-ten-best-home-deals/home/camila-cabello-lists-hollywood-hills-home
https://toptenrealestatedeals.com/weekly-ten-best-home-deals/home/arnold-schwarzenegger-maria-shrivers-longtime-california-home