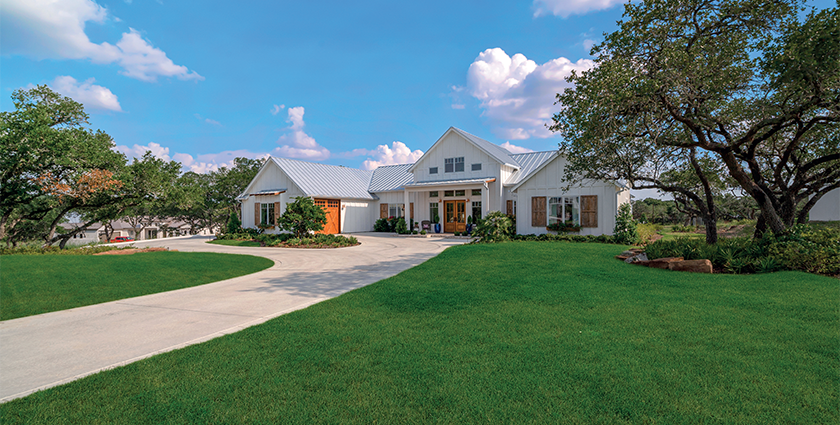 Bourn out of adversity
In its first year of business, Bourn Custom Homes had to contend with an unprecedented global health emergency – however, it has now found itself in a stronger position because of it
The story behind Bourn Custom Homes (Bourn) isn't exactly conventional – but that's what makes it so special. "Though we formally established the business in 2019, this journey started around seven years ago," begins Gary Bourn, President at Bourn Custom Homes. "At the time, we were meeting with lots of different custom home builders in a bid to create our dream home. But we never really found a perfect match. Therefore, my wife, Jill, and I decided to take the task on ourselves, and we built our very first home together as a husband-and-wife duo.
"Before that, I was working as a full-time strategic consultant and Jill was a schoolteacher," he adds. "After selling our first custom home in 2019, that all changed; the wheels were firmly set in motion, and we chose to continue with the business in earnest. As we grew, we welcomed new people into our team, and that brings us right up to today."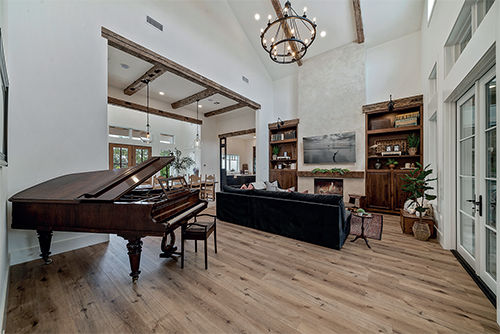 Though not necessarily a comprehensive company history, Bourn has already begun to carve out a strong reputation in Bulverde, Texas for its beautiful, 100 percent bespoke homes. In that sense, its history continues to be written with each custom-designed floor plan drafted, each beam carefully slotted into place, and each pair of house keys proudly presented to a client.
At the heart of that history, though, will undoubtedly remain the core relationship underpinning the entire business – the one between Gary and Jill. "We were high school sweethearts," explains Gary. "We were married at 19, and we're still best friends. Jill has a very unique set of skills that I don't have, and vice versa. She carries out all the design work, communicates with the clients, and holds everything together; whereas, I'm the one out and about, running the jobs, making sure the trades are showing up, and keeping our sites in immaculate condition. Coupled together, these wonderfully diverse skillsets mean that timescales are shortened and build times are reduced. There's a constant flow between us; we're continuing to grow together alongside the business, and there's no sense of slowing down. Indeed, we're up for some pretty big awards within the San Antonio and wider Texas area this year, so we're really excited to see where things are headed."
A different experience
In hindsight, establishing a commercial business in 2019, just months away from the unforeseeable arrival of the pandemic, was an incredibly risky venture. In fact, as Gary jokes, it was probably the worst thing he and his wife could've done. As we slowly ease out of the Covid-19 crisis, moreover, a host of other challenges have appeared, including skyrocketing energy prices, rising interest rates, and global supply chain issues.
"However, establishing Bourn in the months prior to all this was also a blessing," reveals Gary. "Since we were so new, we didn't have an age-old blueprint that we had to stick to; for many companies, it was hard to detach from practices that had been ingrained over decades of work. In contrast, Bourn was highly adaptable; we kept rolling with the ever-changing times in an unprecedented period of uncertainty with vigor. That meant we also started planning ahead: if a project began in June, then we ordered the lumber in April; and if we needed windows for a new build, then we ordered them as soon as the contract was signed. As a result, we've consistently outperformed our competitors; while build times can be as high as 18 months elsewhere, ours haven't risen above 12.
"With the tremendous adversity we faced in our first year of business, there was no choice but to be incredibly organized and detail-orientated," he continues. "In turn, that's enabled us to provide a different experience when it comes to a custom build. For instance, we've embraced technology, viewing it as a source of power to improve and enhance our services, rather than an obstacle to overcome. Once we've started a project, we update our clients with the latest progress every single week. To do so, we use an application called Trello, which is quite common, but we've built it out in a way that allows us to keep our clients accurately up to date, without having to constantly go back and forth via text or email. We post progress pictures, answer client questions, create materials lists, and so on. It offers our customers a sense of continuity and calm throughout what can sometimes be a stressful period of time; if they need anything, then they know where to find it. We also capture drone footage of the build process and upload it to the app, creating what we like to think of as a scrapbook for our clients, which they can then fondly look back on at the end of the whole process."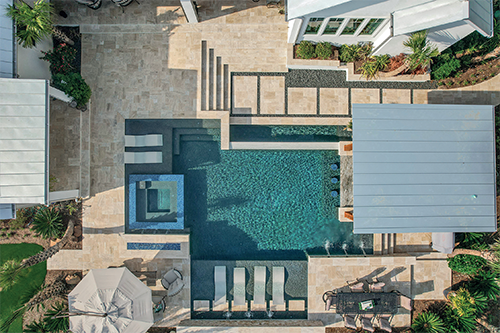 Finding a perfect location, designing a dream build, and putting those elements together to create a unique house that clients can happily call home. Bourn is proud to carry out these interwoven services, supporting families and accommodating their various needs as they change over time. Whether an idyllic cottage fronting a serene pond or a mammoth estate with all the latest smart home technology, the Texas Hills Country-based builder works diligently to make individual dreams become mesmerizing realities – time and time again.
Bourn is also partnered with the National Association of Home Builders, the Greater San Antonio Builders' Association, the Texas Association of Builders, and incorporates its own rigorous quality control standards and assessments. The relative youth of the firm offers other various unspoken benefits. Indeed, Bourn is spearheading its very own gender equality drive, and Gary it determined to put a voice to it.
"In this company, Jill plays an integral role," he asserts. "Yet sometimes, because of the gender bias within the industry, people often see my name on the paperwork, and they assume that I'm the one doing all the work. That's certainly not the case. People don't realize all the challenges that women face in this industry. It can be as simple as a vendor asking her to put them in contact with the actual builder. In reality, she's the one on that building site and she knows it inside out.
"People see a successful company led by a husband-and-wife team, and they typically assume that the husband must be doing a great job," Gary adds. "We run this company in a completely equal way, and that's what I attribute all our success to. Jill is unbelievably talented, detailed, and does not miss anything on-site. She's in boots and beat-up jeans, getting stuck in and getting dirty; she's not just sitting comfortably away somewhere going through the books. Being a woman in the home building industry is extremely difficult, and as a company we're determined to change that for the better."
Last year, Bourn entered its Parade of Homes Project for 2021 into the Builders' Association Awards. Needless to say, the attention to detail and capacity for bespoke design that we have since covered was immediately recognized. The company won the People's Choice Award, Best Outdoor Living Space, Best Water Feature, Best Interior Design, and Best Overall Home – almost a clean sweep.
"Being awarded all those accolades was huge for us," admits Gary. "It showed people that Bourn is not just a simple mom-and-pop shop that can only build certain homes, but instead that it can build high-end, luxury houses to custom specifications for a diverse range of clients. Jill designed the project, creating a home that could be multi-generational, accommodating the needs of children and grandparents in the same setting. She also incorporated elements of outdoor living to reflect what our country is best known for. It was a traditional farmhouse; we used a lot of reclaimed wood, antique furniture, and big tables which could seat more than ten people at a time.
"One feature that received a lot of attention was our use of an auxiliary preparation kitchen," he explains. "You do all your messy work and cooking in there, and they you bring it out to the main show kitchen to serve, where everything is nice and clean. When you step outside, moreover, you are greeted by an infinity edge pool, allowing you to swim while looking out at the beautiful Texan landscape. The mixture of deep blue water and vibrant leafy greens is stunning. It's small things like that which set us apart from the competition."
More recently, Bourn created a waiting list for its design and build work – it's just that popular. As our interview has made abundantly clear, that's not entirely surprising. "Going forward with the business, we're going to be even more selective with our clients," concludes Gary. "In the same way that people want to find a great builder, we want to find excellent clients. We intend to maintain the size of the company because it works extremely well as it is; people applaud the build process, the communication, and the best-in-class execution. But that's not to say we won't grow. We refuse to become complacent, and we'll continue to develop internally, becoming more focused on building the best homes that we can within our rapidly evolving market."
Bourn Custom Homes
www.bournhomes.com
Services: Custom home builder