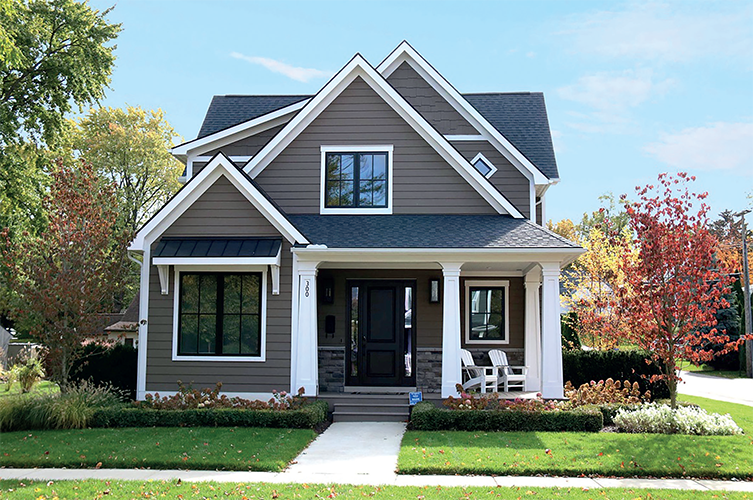 Dream homes on-demand
Having started off as a small firm performing remodel additions, Michigan-based company Bloomingdale Homes transitioned, early on in its journey, into the construction of new homes. Since then, three generations of builders later, the business is 95 percent focused on the delivery of stylish, custom properties, and renowned for the work it produces.
"At Bloomingdale Homes, we are completely different to most builders because we are a true custom homebuilder," explains COO Eric Bloomingdale, one of the core Bloomingdale family members leading the business. "For us, that means we deal with people wanting to construct a dream home and so, over the course of 300 projects so far, we have never built the same home twice."
One benefit of always starting afresh and not using construction templates is that Bloomingdale can remain flexible throughout the building process, making decisions quickly and whenever required. This adaptability also enables customers to carefully shape every detail of their home-in-progress.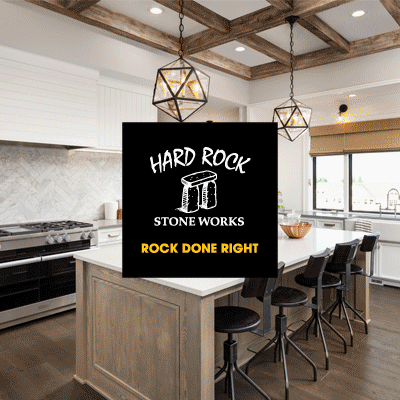 "We work very closely with our customers to achieve their visions," Co-Founder John Bloomingdale declares. "Ultimately, customization and unique, strong, structural builds are what have helped us gain a reputation across the industry. For instance, we recently sold a property in Birmingham, Michigan, that was already framed in, the roof was on, the windows were in, but the customer wanted to add a full extra bathroom in their master suite, so we crunched the numbers and let them know the cost. We were the only people who had done that for the client. Everyone else he had asked just said no upfront."
The long-standing relationships Bloomingdale has forged with its customers, as well as its suppliers and subcontractors, have been particularly important to the business during the last two years in light of the challenges posed by the Covid-19 pandemic. Even with labor shortages and supply chain issues dominating proceedings, the trust Bloomingdale has built up with its support network enabled the firm not only to confront the difficulties of the Covid crisis, but to overcome them.
"Even with the pandemic in the background, there is a building boom taking place in Michigan," Eric says. "Great subcontractors are picking and choosing the best builders to work with and because we have always treated our subcontractors right, they are helping us get our work done quicker than others. The same goes for suppliers. Our relationship building efforts in the past are really paying off and we are now all working together as a team to achieve the best results."
Family values
Among its latest projects, Bloomingdale has delivered entire builds complete with wine cellars and exotic hardwood floors. Focusing mainly on the Birmingham area of Michigan, the company is seeing no shortage in demand for its expertise and services.
"After spending a long time working in Rochester, we have been doing a lot of work in Birmingham in the last two or three years and that has been more on the spec home side of things than regular customer builds," reports Project Manager and Co-Builder, Lindsey Rusin. "We have a lot of people from out of state moving to Michigan right now, which is fueling the housing boom and stoking demand for our homes. At present,we are finishing up probably four or five sites and we have about ten or eleven in the works in varying states of progress – whether that is waiting on permits or tearing down old lots."
One of the more common design trends encountered by Bloomingdale of late has been the customer's desire for space. As a result, basements are being built two feet deeper than in the past and rooms larger. These adjustments are accompanied by a rising demand for outdoor luxury living essentials like balconies and swimming pools.
"Even with our spec homes, customers can come right along and make them their own," Eric remarks. "We will give clients a model or mold, but they really get to take it over and change every detail until they are satisfied.
"We don't steer clear of creative ideas and we believe that, for our clients, the world is their oyster. For instance, if it's in a customer's budget and they want to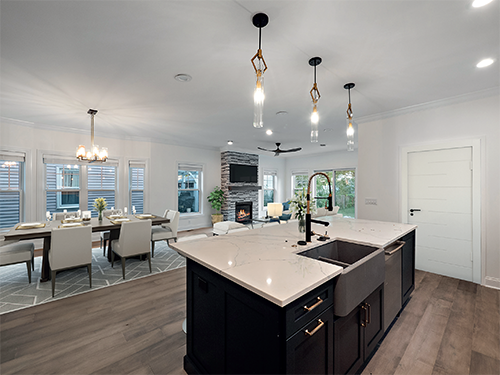 turn their basement into a green room, we can make that happen. We can fix the water, adjust the lighting and create a great grow space for cultivating plants or food."
Throughout all this time, and across the entirety of its portfolio, Bloomingdale has been united by its shared values and a company culture reflective of its roots as a family organization. With the Bloomingdale brothers such an active force in the shaping of the business, both now and in the past, their presence is visible in every area of the company.
"Everything we do is about family," company Treasurer Bruce Bloomingdale states. "Our lumber yard, for example, has been established in Rochester for 100 years and they know us very well. Our dad is very good friends with the owner, Todd Upton, and the people that come to do our foundations, framing and contracts are people we have known for many years. Everyone we bring on board for our projects is proud to be working on Bloomingdale homes because they know we will treat them well and run our site smoothly."
Bruce's nephew, Connor Bloomingdale, is living proof of the family connection at Bloomingdale. As a third-generation employee, the company has been part of his life since he was a teenager.
"I have been working summers at Bloomingdale since I was 14 and I just started working full-time here two and a half years ago," Connor states. "The biggest thing for me is when people walk up to us in Rochester and say, 'Oh, you guys built that house on this street. That's a Bloomingdale house. We like those.' People know our work and now, down in Birmingham, we are starting to hear the same thing. Our work leaves an impression, and even in areas where we are just performing remodels, every house is different."
Exciting projects for the future
As a small, tight-knit family business, Bloomingdale not only benefits from close relationships within the organization, but also from a clear and united approach when it comes to the long-term future of the firm. First and foremost though, as we enter 2022, the company hopes to stay focused on its spec projects, continuing to build throughout the winter.
"We always build during the winter," John points out. "It's a bit more challenging, but we have a couple of properties we are working on that are at the higher end of the scale and are set to reach around $4 million each. They are large, unique homes and we are very excited about moving forward with those, so we are just going to continue to build for the next two to three months and make sure they are ready for the market in the spring."
In the longer-term, Bloomingdale hopes to build upon its strong foundation, inducting the next generation of leaders like Connor and Lindsay into the business, and expanding its delivery footprint to allow more customers the opportunity to live in the home of their dreams.
"As we've mentioned, we have a number of new, multi-million-dollar homes coming up, and whilst we are still active in the neighborhood and custom market, we see a lot of future for spec homes," Eric notes. "1230 Latham in Birmingham, for example, is a five bed, seven bathroom property that is going to be amazing. It has a walkout basement and backs up against the Rouge River, which makes you feel as if you are living on a trail up in North Michigan.
Next generation
"Elsewhere, we are looking at new business ventures and bringing builders together to really expand on what we do," he adds. "We want to grow our business and increase our volume. We have strong investment portfolios and I also just got my real estate license, so I am eager to get started in that area.
"Ultimately, the most important thing is that the next generation of this company is enthusiastic and ready to take it forward. I have children, Bruce has children, my sister has children, so if we keep the business healthy, they will all have a chance to lead Bloomingdale – if they want to take on that opportunity – in the future."
Connor, the most recent of the new generation to forge a significant position for himself at Bloomingdale, is as optimistic about the future as Eric suggests. "2022 is looking exciting because, after a year and a half of Covid, companies are beginning to get their feet back under themselves and start work again," he asserts. "They are going to be more efficient and the areas we are building in are becoming ever-more profitable. The quality and individual nature of our homes remains undiminished too. One of the houses we just built on a lake is absolutely beautiful and there are features on-site there that I have never seen before. If this kind of property is a sign of things to come, then the future of this company could be sensational to say the least."
Bloomingdale Homes
www.builtbybh.com
Services:Custom home builder