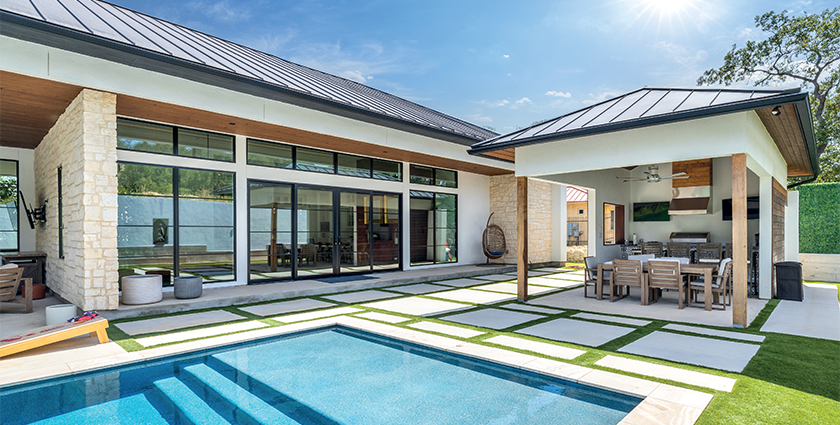 Every house is a milestone
For over 45 years, Bayless Custom Homes has built houses and forged relationships that not only have a strong sense of purpose, but also withstand the test of time
In Tyler, East Texas and San Antonio, South Texas, the Bayless name has become a marker of quality; those distinct areas are covered by Bayless Custom Homes (Bayless), which is itself split into two companies: one headed by Gary Bayless and the other by his son, Clint. As co-owners of the titular business, the pair make quite a team, building a vast range of custom homes, from cottage-style to Victorian. With each project, Bayless seeks to infuse traditional design with up-to-date finishing and technology.
Founded by Gary some 45 years ago, family was always going to be a central factor in the business. "Clint began working with me very early on," he explains. "He would often join me after school and at the weekends, conducting trim work and other small tasks. He effectively grew up in construction, and eventually joined the business full-time. We're still working together today, delivering the finest service for our brilliant clients."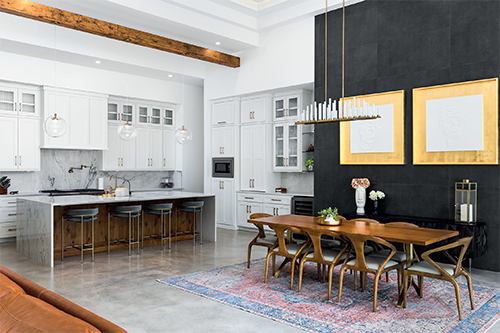 Similarly, Clint fondly remembers his early years. When asked about company milestones, he's quick to return to those long summer evenings and weekends at work with his dad. "A key milestone that comes to mind is when my father first taught me how to use a saw," he says. "I must've only been 12 years old at the time. By 17, I was already a framer! I'm grateful for all the knowledge that he's since passed down to me. He made certain that I understood every facet of the building industry.
"However, we consider every house to be a milestone," Clint continues. "Above all, we concentrate on detail and quality throughout the build process. Indeed, our slogan is 'Building for Purpose,' and that purpose is for people to truly love their forever-homes. To that end, we work closely with our architects and designers, and then we provide best-in-class building and general contracting services to get the job done. Moreover, for us, building for purpose means not taking on too many projects at once. We don't spread ourselves thin; we only build five-to-six homes at a time because we want to be on-site every day. Handing work off to a superintendent might be efficient, but it's not optimal. If you work with Bayless, then you'll always work with us – not someone else."
Over the decades, Bayless has amassed an arsenal of solutions to combat common construction problems. From the initial land purchase to the final build, Bayless has its customers covered. Even after the house is complete, the firm offers a host of after-care services such as touch-up lists and one-to-two-year warranties on its products. In this sense, the services that Bayless provides can be understood as being resoundingly holistic in nature, covering every aspect of home building with a robust attention to detail that puts clients at ease during what can typically be a stressful time.
Attention to detail
Bayless specializes in historic renovations like camel-backs, single and double conversions, complete home remodeling, and preservation services for older buildings and brickwork. In addition, Gary and Clint have carried out comprehensive storm repairs, numerous kitchen and bathroom remodels, as well as a plethora of outdoor living arrangements like custom-built pergolas and fine wrought iron gates.
One particular project that they remain proud of is the Goana Residence, an incredible $2.5 million luxury custom home. "In particular, that was a tremendous milestone for the company," says Clint. "I've always wanted to build a truly modern home and that's the first one that I consider to fit the bill. I've built a lot of contemporary residences, but none like this: it featured a basketball court, a putting green, and a whole suite of other unique features. Even something as rudimentary as the air conditioning vents were premium; we had them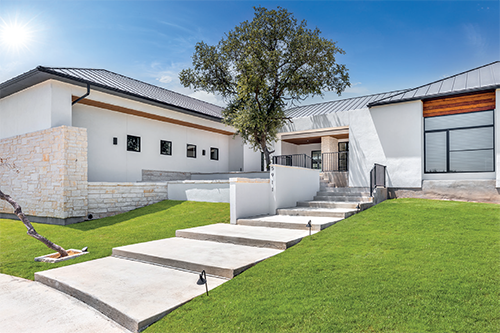 manufactured right here in San Antonio so we could create the perfect look for our client. That's the level of detail we're talking about. We also sourced the finest teak wood wrapping for the white stucco façade, built a swimming pool, laid engineered hardwood and polished concrete floors, and imported stunning Mexican tiles for the countertops. In short, it was a beautiful house to work on."
As Gary points out, though, that's just one home in a long list of greatest hits. Remember, at Bayless, every house is a milestone. "A few years ago, we built a custom home for a client who happened to be incredibly wealthy, and that was exciting a building point of view because he had one instruction: just make it look cool!" he laughs. "The house fronts a stunning lake and therefore we built rounded bedrooms to offer beautiful views from all sides. We fitted a bespoke swimming pool, an expansive balcony, and a volleyball court. It turned out really well – and others thought so, too! The house was awarded first place at the Parade of Homes in 2019, which was just the cherry on top."
Work with the community
Other significant projects include Bayless' appearance on the Emmy Award-winning reality television show, Extreme Makeover: Home Edition, which saw Gary and Clint take on the challenge of building a new custom home in just one week for a deserving family. "For us, it's important to be involved in the wider community," says Gary. "By giving generously, it's incredible how our company can bless so many people through projects like these. Indeed, we're committed to social responsibility, and as an example of that, we founded Widows in Need, a charity program that organizes help for widows in the local church community. It could be as simple as bringing in someone to change an air filter at their home, or just something that they wouldn't otherwise be able to do alone. We also built Hope Haven's new 6500-square-foot foster home for teenage girls pro bono, raising over $2 million for a truly worthy cause. The dormitory-style facility will provide long-term housing for up to 16 teenage girls that need care and a safe place to stay."
Since then, Bayless hasn't slowed down. As Clint remembers, the business only worked in a reduced capacity for about a month or so when Covid-19 first hit, with things quickly picking up soon after.
"One major challenge we've dealt with surrounding the pandemic is the lack of available materials," he says. "Though we're easing into a post-pandemic period, those issues still haunt us today. In fact, just before this interview, I was told that a project would be delayed by another two days. Windows are incredibly hard to procure, for example, and we've had to order them in advance. Lead times of three weeks have turned into three months – or more. Across the country, houses are stood there, completely finished, except for the fact that they don't have any windows!
"As a knock-on effect, the health of the construction industry in Texas has taken a hit, and it's been quite slow to recover following the Covid-19 crisis," he concludes. "However, we're projecting strong growth in the future, especially since lots of new businesses like Tesla and Samsung are moving here to build their factories and workspaces. Until then, we'll just keep on trucking and doing what we do best: building for purpose. We aren't in any rush to grow; we're more than happy where we are and with the excellent services we provide."
Bayless Custom Homes
www.baylesscustomhomes.com
Services: Home builder and general contractor