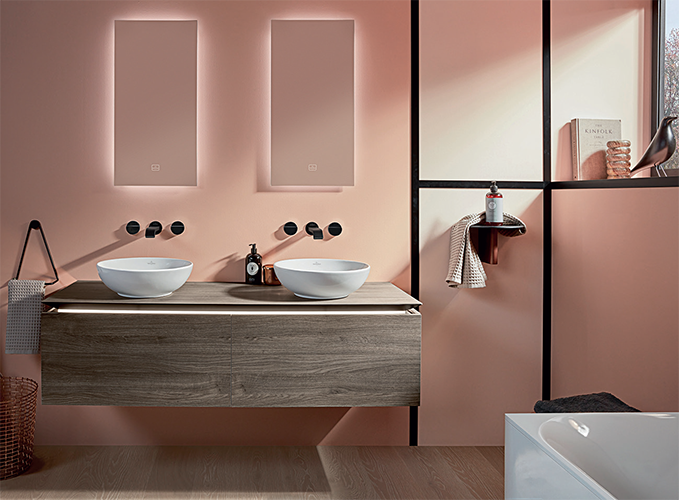 The arrival of Covid-19 and subsequent retreat into the home made many of us realize that our bathrooms needed an upgrade. While the design, color and features of the space are clearly important (and we will discuss those), hygiene as a factor also came to the fore, and as Jean-Jacques Lhenaff, Leader at LIXIL Global Design, Americas noted, as a result of this, we are now seeing trends toward bathroom products that bring a sense of cleanliness, and technologies such as touchless faucets and bidet seats will continue for the foreseeable future. "During the early days of the pandemic, many were made aware of shower toilets and bidet seats in particular, and they now expect this convenience more and more – builders should take note that accommodations including power outlets should be made for them in the future," he pointed out.
"From a more stylistic perspective, this trend translates into simpler designs that lean toward a contemporary style, with surfaces that are easier to clean and maintain. A new generation that has less connection to the traditional styles now represents the largest age group of home buyers, and they expect designs that are practical and easy to live with."
Buyers also envisage their bathroom design to last an average of 20 years (according to Villeroy & Boch.) As one of the world's leading premium brands for ceramic products and therefore well placed to predict what is up and coming, they noted the importance of 'timeless design' – in their words, the bathroom is 'not a place for passing fads'. That doesn't mean everything has to be white, though – for the Villeroy & Boch Artis vanity washbasin collection, German-Danish designer Gesa Hansen deliberately opted for muted, earthy shades inspired by nature.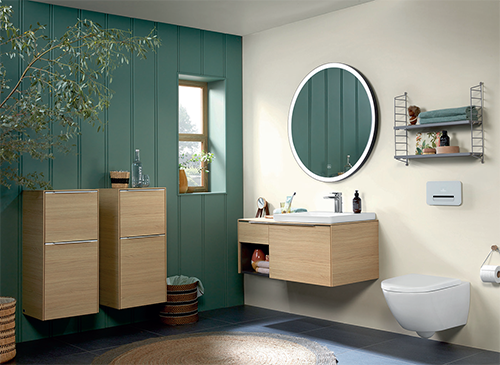 AJ Tentler, Delta Faucet Company industrial designer and NKBA Thirty Under 30 winner also agreed that we could see more bravery with color in the bathroom: "People are looking for either a muted color pallet for comfort, warmth, and a feeling of safety. Or, they are opting for bright colors which give energy and inspire," they said.
Remaining with the topic of colors and finishes, Garry Kirkbright, Senior Designer at More Bathrooms remains more tempered – he believes monochrome and grey will stay popular, with fittings kept simple and modern. This includes a range of black, whites and greys. "Right now, there is a big focus on minimal and modern designs with clean white lines. Chrome is an ever-present in the popularity stakes, but black and variants of gold have also seen a rise during 2021 and that appears to be continuing into 2022," he added.
According to Maris Park Borris, Delta Faucet Company's CMF/Trend Specialist and Industrial Designer, visual and physical textures are also coming into play – she describes it as a reaction against the 'sensory deprivation' of the last year.
Another important consideration is that the bathroom cannot be all style and no substance – it has to be efficient and environmentally-friendly, as Jean-Jacques noted. "Water efficiency is certainly a focus for all. The new generation of younger homebuyers are driving the market, making sustainability a key feature.
"We are at an inflection point where climate change is no longer a trend, but more an imperative after the years of drought and other natural disasters we have experienced. From a product perspective, we see more products with lower water consumption, now going beyond CAL Green or WaterSense. You also see more responsibly sourced or reclaimed materials, as well as living finishes. End users are increasingly looking at the provenance of materials and products, and companies that offer transparency and a responsible supply chain score high in consumer's minds."
Villeroy & Boch also emphasized the need to consider the use of resources, and they highlight their new TwistFlush flush technology as an example, which reduces water consumption, thanks to a powerful flush and a conical bowl.
Clever technology, that in Garry's words, offers customers 'convenience and ease of use' is also on the agenda for 2022. "WiFi linked appliances, which are also known as smart appliances, will become only more and more popular as time moves on," he said.
Describing it as 'hidden helpfulness', Delta Faucet's Maris believes 'the features or tech that have gained the most momentum…are things that aid your daily function'. Intuitive solutions, like their Touch2O® Technology, which turns on water with a simple touch, is a good example of unseen technology that actually improves everyday life. It also brings us almost full circle back to Jean-Jacques' original point about technology and the role it plays in hygiene.
What unites all of these expert predictions though, is the perfect combination of form and function, resulting in a style of a bathroom that doesn't go out of fashion. Villeroy & Boch say this can be achieved with high-quality materials, clever functionalities and a timelessly beautiful design. "An inordinate amount of time is spent refining proportions and details," ends Jean-Jacques. "That is how to make your bathroom design timeless."