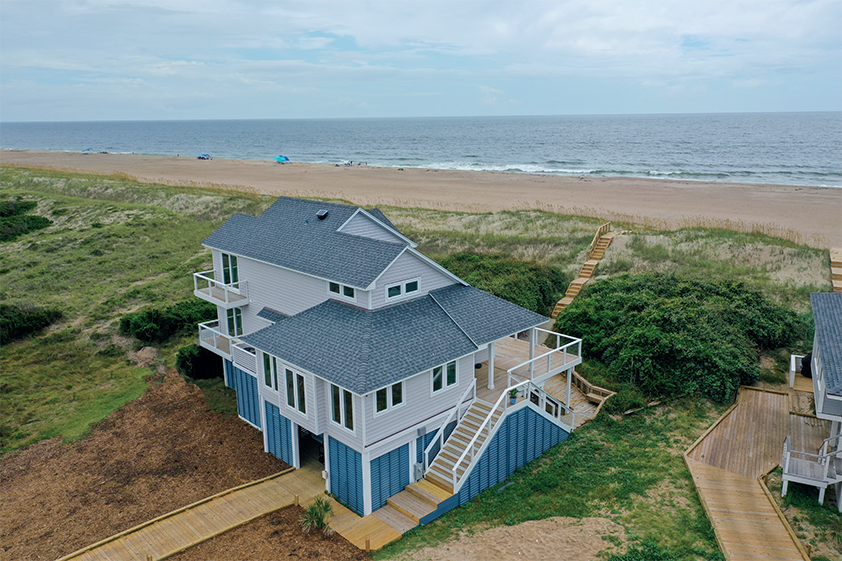 Bald Head Island Building Group
Outlasting the storm
Specializing in new home construction and custom builds, Bald Head Island Building Group is passionate about both the island in which it resides, and the homes that occupy it as it strives to deliver the best service for its clients
The only way to get to Bald Head Island, which can be found off the coast of North Carolina, is by boat. According to Rod Hyson Senior, the President of Bald Head Island Building Group, the beautiful, pristine island is a place where no tree over six inches can be cut down, no two houses are the same, and a vibrant palette of colours paints the village. "It's a place where you make friends; it's friendly and you don't have to get caught up in the crazy world of egos. Everyone gets along really well here," he says.
The residential builder began as a property owner, and as time went by, the business dipped its toes into real estate, entering 1998 as an independent management company. "Over the next couple of years, we decided to jump into the building phase with a partner. From 2000, we built 17 homes. Initially they were of steel frame construction, and then our business opportunities enticed us to become a developer in Brunswick County, which, at that time, was one of the fastest growing counties in the US. There was a lot of new construction taking place as people were moving to the area from the north, so we joined in and started building condominiums and private residences," he says.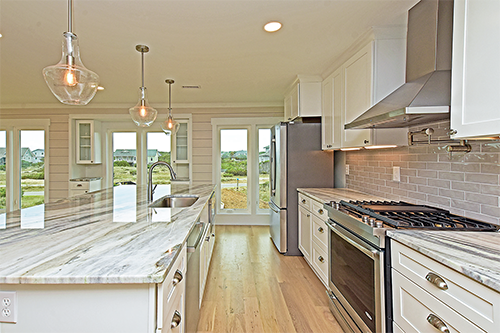 Helping to rebuild
Over the years, Bald Head Island Building Group became a major property management company, providing up to 55 homes for vacationers, as well as specializing in repair and maintenance on the island. Then, sadly, along came Hurricane Florence, which dealt 36 inches of rain, and gale force winds for seven days, inundating the island with major damage. "At that point, there were only 950 homes on the island, and at least 250 became uninhabitable. We took care of the homes we managed, and then national companies came in after the disaster and began tearing houses apart, stripping them down to the studs," shares Rod.
"There weren't a sufficient number of home remodelers or builders on Bald Head, and owing to the fact that our homes were severely damaged – as were many of the properties – we decided to re-enter the construction business in a big way, which led us to form Bald Head Island Building Group as a general contractor. During that period, we rebuilt about 15 homes, and began creating individual residences for owners on Bald Head."
Rod is incredibly proud of the homes that have been erected and restored under his company's name. He mentions one home in particular that is blessed with breath-taking views of the island's marshlands, as well as the ocean. "As a matter of fact, we are nearing the point of placing the sheeting on the roof. It will be one of our signature builds, as we are utilizing highly state-of-the-art building materials. The home is a two-by-six exterior stud construction, with a metal roof, and foamed insulation throughout, which adds a lot of durability and strength to the structure, and, on top of that, it is located about an eighth of a mile from the ocean," he says. Rod adds that the business has to ensure its houses are as sturdy as possible to stand in the face of storms that frequently hit the island.
"It will be a great home; almost 3000-square-feet, with decks throughout the exterior. We will also be building a crofter, which serves as a stand-alone part of the home, with a master suite in it, and where golf carts can be housed underneath," Rod describes.
Employees first
In order to bring together the success of projects like this one, Rod, with the help of his son Rodjr his business partner, have recruited a strong team of folks that share the same philosophy as the father-and-son duo. "We believe that if we take care of people, they will take care of us, and I feel that this is how our business has continued to succeed. We try to have fun, and we also try to make money, but most importantly we want to satisfy our clients. So as long as everyone is happy and doing what they love, then that's what really counts. From my time working with this business, I can see that our operation has truly impacted Bald Head, and honestly, the time when that has been so evident has been during the pandemic.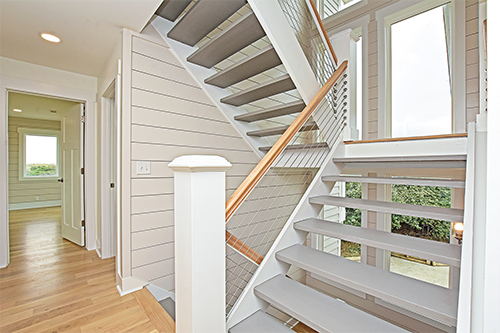 "You have to remember that the only means of transportation to get here is by ferry, and during a time where traveling was prohibited, we became an incredibly isolated community. On top of that, there was social distancing and all the supply chain issues we faced; it dramatically increased our cost. For example, what normally takes a half-an-hour boat ride to get to Bald Head, very quickly became two hours. So, we emphasized to our employees that we would pay them when they got to the ferry, not when they landed on the island. It slowed things down a little bit, but we managed to get through it, and fortunately, we didn't lose any of our people, and that is all owed to the fantastic culture that we try to create here," Rod informs us.
In the best interest of his crew, Rod encourages anyone who shows signs or symptoms that they don't feel well, to feel secure and comfortable enough to go home and look after themselves. This, he says, has been a true testament to the company's culture in which the business puts its employees first, no matter what.
For the remainder of the year and beyond, Rod is looking to ensure that his company maintains an ethic of excellent communication with its clients in order to overcome any logistical issues that it faces to bring a project together. "When we began building homes with our partners in 2006, one of our concepts was to create a seamless process, especially since most of our clients are not residents on the island. So, we have to rely on the internet, and be able to communicate efficiently. Our goal now is to refine those capabilities and help folks pick out their lot, work closely with the architect, and, overall, meet their objectives as the home buyer.
"Many of them rent out their homes, so having a company that can advise them on what makes their home attractive to renters is what will continue to keep us going. Ultimately, we want to minimize the need for them to be on-site so that when they do join us, we can spend that time working through the final details of the home, so that the job gets done a lot quicker," he emphasizes.
For Bald Head Island Building Group, its clients are friends. As Rod reflects on the possibilities of his company's future, he wants to ensure that his friends receive the best experience in making their dream homes a reality. He concludes our conversation by noting how proud he is of the work his son and the business' team have put into securing the success of being one of Bald Head's favorite residential builders. "We're going to continue to serve the property management and home building sector, and remain a premier builder that offers state-of-the-art services to deliver a quality product," he concludes.
Bald Head Island Building Group
www.baldheadislandrentals.com/bald-head-island-building-group
Services: Residential builder