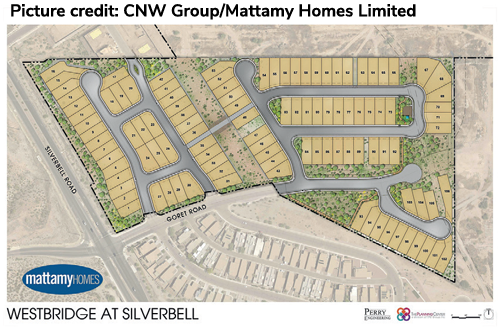 The 27-acre property, purchased for $2.44 million, will contain 105 home sites. Mattamy's new community will be known as Westbridge at Silverbell.
"We're all excited about this opportunity to continue to expand our robust presence in the Tucson market, especially in this incredible setting and location," says Anjela Salyer, President of Mattamy's Tucson Division. "The Westside is currently under-served for homebuyers looking for thoughtfully planned homes and proximity to everything our city has to offer, and as such we see this new community as a rare opportunity."
Mattamy will be offering six brand-new floorplans for the spacious new homes that will showcase the company's popular open-concept designs and range from 1,633 to 2,560 square feet. The community is expected to appeal to a wide range of potential homebuyers at various ages and stages of life, who are looking for unique housing opportunities in a magnificent location close to downtown Tucson.