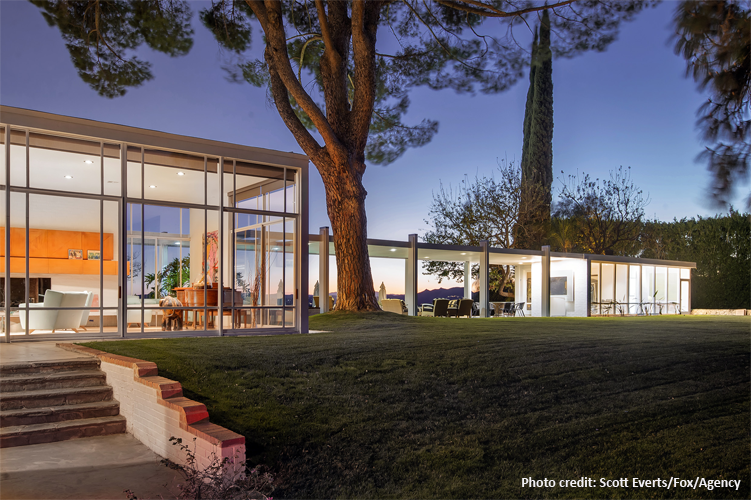 Southern California's star-studded home, Farralone, was built for Chase Bank heiress-and-socialite Dora Hutchinson. It was a long-time home for Frank Sinatra and, according to legend, was the site of JFK's affair with Marilyn Monroe. It has been a film site for many films and television shows including Mad Men, Californication and Dreamgirls. Recently restored, updated and renamed 'Byrdview,' it is for sale at $21.5 million
In 1949, Dora hired futuristic-architect William Pereira to design Farralone. He was one of the most famous and prolific architects of the time, who had also been a film-set designer, director and producer for several 1940's movies, winning an Oscar for his special effects photography work on Cecille B. De Mille's Reap the Wild Wind in 1942. He later became a professor of architecture at the University of Southern California, where one of his students was Frank Gehry. In his career, Pereira worked on over 400 projects including the 1933 Chicago World's Fair, Washington D.C.'s Kennedy Center, the Los Angeles County Museum of Art, and his most famous, the Transamerica Pyramid in San Francisco. In 1963, Pereira made the cover of Time magazine for his work on the city master plan for Irvine, California.
Located on 4.3 acres in the Chatsworth neighborhood, Farralone is perched on a hilltop with 360-degree views over Los Angeles, mountains and the surrounding 3,000 acres of nature preserve. Also included is a bar, formal dining area, a den-office, large chef's kitchen with island, breakfast nook with view and top-of-the-line appliances, a number of fireplaces, and endless entertainment areas both inside and out. Its private location away from prying eyes and long-gated access at the bottom of the pinnacle make the house extremely attractive to celebrities hoping for a true getaway.
Hutchinson's guest lists contained the Who's Who of Hollywood, including Lucille Ball, Ava Gardner, Frank Sinatra and the Rat Pack. When the excitement of the celebrity party scene started to wear thin, Dora moved back to her native New York City and rented the home to Sinatra, who stayed for almost ten years, starting a whole new era of entertaining for Farralone.
In more recent times, the property has been a filming backdrop for films, music videos, television sitcoms and fashion advertising.
Now priced at $21.5 million, the listing agent is Craig Knizek of The Agency, Beverly Hills.
Source: www.theagencyre.com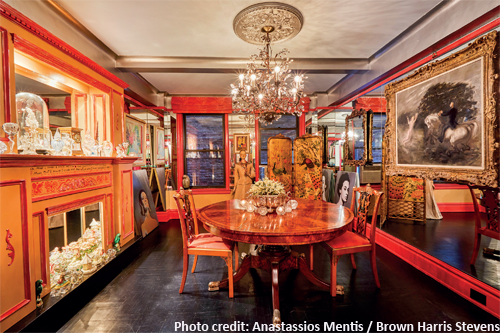 New York color
Gloria Vanderbilt's Manhattan apartment was just as colorful and fashion-forward as the lady herself. Gloria, who died in 2019 at the age of 95, was a socialite known around the world, great-great-granddaughter of Cornelius Vanderbilt, and the mother of CNN anchor Anderson Cooper. She was also an artist and clothing designer who made her own fortune when she first put her name on a pair of designer jeans. What followed was a career that made denim-fashion history. Her charming Beekman Place apartment was listed for sale in July at $1.12 million. The apartment is now in contract and, according to the listing agent, received many offers substantially over the asking price. The sale has not yet closed, nor has the final sale amount been revealed [at time of writing].
Built in 1931 and designed by George F. Pelham, Gloria's home is in a ten-story, 38-unit full-service building located in one of Manhattan's most exclusive neighborhoods. The pre-war building retains many of its original details, including the canopied front entrance. It has a 24-hour doorman, new fitness center, and access to the River Walk just across the street. In addition to strolls along the River Walk, the building is close to restaurants, shops and other activities.
Vanderbilt's apartment has three bedrooms, three baths, an eat-in kitchen, a library and a cozy fireplace. Gloria turned it into a magical setting with her unique flair for art and design. Under her ownership it came alive with color and whimsy, making a visit there a true experience for her many friends. An additional two-bedroom apartment on the ground floor, which Gloria used as her studio, will be for sale soon, though a price has not yet been determined.
Celebrities have long been drawn to Beekman Place, including Lillian Gish, Joan Crawford, Sigourney Weaver, Bill Blass, Aristotle Onassis and Tom Jones.
Ileen G. Schoenfeld and Aracely Moran of Brown Harris Stevens, Manhattan office on Broadway held the listing.
Source: www.bhsusa.com
For details of these houses and other celebrity homes, please visit:
www.topTenRealEstateDeals.com
https://toptenrealestatedeals.com/weekly-ten-best-home-deals/home/l-a-s-1-celebrity-home-sinatra-to-monroe-mad-men
https://toptenrealestatedeals.com/weekly-ten-best-home-deals/home/gloria-vanderbilts-apartment-is-colorful-just-like-she-was